Retail Theater: Competing in an E-Tail World
There is much discussion in marketing circles about how brick-and-mortar businesses can compete with the pricing and convenience of e-tailing. Yet for all the appeal of e-tailing, brick-and-mortar businesses maintain one huge advantage: the ability to go beyond just selling product and allow the consumer to experience and create a personal relationship with their brand.
The best illustration of a brand experience I know is one I witnessed firsthand. It happened at The Sage Room, our favorite restaurant on Hilton Head.
The Sage Room can make any foodie's heart beat faster just thinking about what's on the menu. But a truly outstanding restaurant is more than just the food, however wonderful. On our semi-annual pilgrimage to The Sage Room we were seated at the 10-person "chef's table"--seats where we could talk with the chefs and watch our meals being prepared--when another couple came in with a woman celebrating her 80th birthday. We were talking with Matt, the owner, while the woman stared at the menu. We could hear the couple attempt to explain some of the more exotic entrees.
Sensing something might be amiss, Matt nodded to us and leaned over to the woman. "I hear it's your birthday. What would you like to have for dinner?" he asked. The woman said she was deciding when Matt told her to forget the menu and just tell him her favorite dinner. The woman insisted she could find something on the menu and Matt switched gears. "What's your favorite meal?" he asked. When she replied chicken fried steak, he smiled and, without so much as a foodie grimace or a roll of the eyes he asked, "Can I make it for you the way I make it for my grandma?" Matt then disappeared into the back kitchen sticking his head out only to ask if she preferred potatoes or grits. All three meals appeared at the same time and were served with a flourish. While the couple enjoyed their gourmet meal, the woman beamed as she ate her chicken fried steak and grits. The Sage Room had indeed created a memorable birthday dinner and brand experience for all.
Delivering the promise
While many brands promise a great experience, delivering on that promise is harder than it looks. The type of great brand experience it takes to overcome the advantages offered by e-tailing do not occur by accident. In successful brands, the desired experience is fundamental to how the brand is defined and is an authentic part of the company's culture.
For example, a brand that defines itself as a jewelry store that sells quality jewelry may provide a different experience than one that defines itself as a jewelry store that helps its customers commemorate a life event or create a lasting memory. A customer can buy a bracelet at each store, but having an attentive salesperson ask about the occasion, the customer's likes and dislikes, and then suggest a special bracelet that will be treasured forever creates a lasting personal experience that will bring that person back again and again.
To fully capitalize on the advantage a brick-and-mortar business has in establishing a personal relationship with customers requires a business to make delivering the brand experience consistently second nature. What we at MSA call retail or restaurant "theater" begins with creating the proper setting in the location, one that reflects the personality of the brand and appeals to the target customer.
Next comes hiring and training the right people to serve customers on the front line and to support the effort behind the scene. Proper training must go beyond making people proficient at completing a task to making people understand the brand and how to provide the brand experience. Training is reinforced by the actions of management and by all internal communications. The marketing message and the media selection target the right consumers and set the proper expectations. And it all comes together in a great experience that brings customers back time and again.
E-tailing is not going away. We all buy online when we need an efficient way to buy stuff. However, brick-and-mortar businesses that execute retail or restaurant theater to deliver a great brand experience will always have the ability to develop a strong and loyal customer base.
Kay Ainsley is managing director of MSA Worldwide, a leader in franchise consulting that provides strategic and tactical advice based on real world experience to new and established franchisors. Contact her at kainsley@msaworldwide.com or 770-794-0746.
Published: October 12th, 2016
Share this Feature
Recommended Reading:
Comments:
comments powered by

Disqus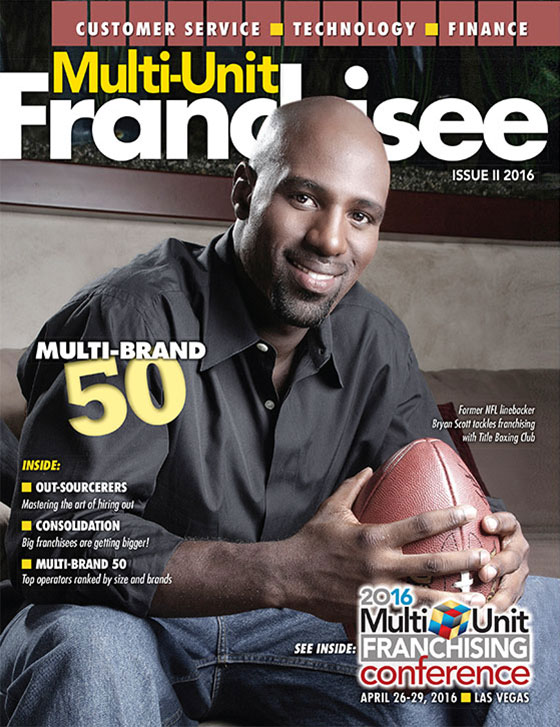 Multi-Unit Franchisee Magazine: Issue 2, 2016
Conferences
InterContinental, Atlanta
OCT 18-20TH, 2023
June 18-20, 2024 Marketing-Operations-Technology. Be a part of this ground-breaking new space for ideas, inspiration and networking for Franchise...
More than 15 years of passion and fascination with the franchise system. Thanks to having met many Franchisees, today I can help new ones and those...