Rollin' Stone: Franchisee/Franchisor Gathers No Moss
A conversation with John Metz invariably leads to all kinds of topics, peppered with opinions and pointed insights gleaned from his many, and diverse, business adventures. Metz has a colorful history in franchising, as well as real estate. He's spent time with brands including Denny's, Dairy Queen, Marriott, Howard Johnson, Bennigan's, Old Chicago, Burger King, Hilton, and Days Inn. "I've been involved with at least 25 different types of businesses since 1999," he says.
In 2008, he became a franchisor by acquiring the 30-unit Hurricane Grill & Wings system and setting it on the path to growth and financial success. The brand now has 75 units open for business with healthy financials to boot. "Hurricane broke $100 million in system sales in 2015," says Metz, who has now proven his mettle on both the franchisee and the franchisor sides.
At 62, Metz says he's nowhere near finished with his franchising journey. He's currently in the middle of a deal that would see him open a minimum of 20 new restaurants for one new brand in the American heartland. He would, of course, also own the real estate. That's how he rolls.
He's also building a Marriott Residence Inn scheduled to open in the last quarter of 2016; taking his Hurricane Grill & Wings brand international with a new deal in Italy and another in Canada; and is launching his newest brand, Hurricane BTW, a spinoff of his successful Hurricane brand ("BTW" stands for burgers, tacos, and wings). The first corporate store opened in December and two more are on the way.
With all this going it was high time to catch up with him since our last profile in 2009.
Name: John Metz
Title: President
Company: RREMC
No. of units: Denny's, 41; Dairy Queen, 1; Marriott Residence Inn (currently building); as a franchisor of Hurricane Grill & Wings, 75 (4 corporate and 71 franchised); 1 Hurricane BTW
Age: 62
Family: 2 ex-wives, 2 children, girlfriend and her 4 children
Years in franchising: In one capacity or another since 1989
Years in current position: 15 years with Denny's
Personal
First job:
I was a Fuller Brush salesman for two years beginning at age 17. I did really well and my dad hated it because he said I was making too much money and he was trying to teach me the value of a dollar.
Formative influences/events:
Those two years at Fuller Brush taught me a lot about sales and presentation. I also learned how to approach and work with all kinds of people along the socioeconomic spectrum.
Key accomplishments:
I'm still solvent (laughing). I think working with my great team to build and establish the Hurricane Grill & Wings brand is right up there. It's critical to surround yourself with a great team. Also, I'm proud of the way we've built our Denny's system.
Biggest current challenge:
Let's see... there are the proposed increases in minimum wage, Obamacare, and the NLRB joint employer fiasco. But honestly, all of these potential challenges have solutions. It's just a matter of working out the details.
Next big goal:
Working on a major deal to take Hurricane Grill & Wings into Canada. It's very difficult to go into a foreign country with a U.S. brand. This move will take a lot of resources over the next couple of years. Meanwhile, we're still building two to three Denny's each year. Then there's our new fresh fast casual brand, Hurricane BTW. There's a lot going on.
First turning point in your career:
Early on, I had always taken over distressed units and turned them around. But with Denny's we started acquiring high performers, and it was a game-changer. It was so much easier to take over a winner than a loser. The difference is night and day. Fixing stores is much more work--it can take 3 to 5 years to fix a beat-up store. Now that we've weaned out the underperformers, life is a lot more fun.
Best business decision:
Going to work for Peat Marwick Mitchell & Co. (now part of KPMG) in New York. I learned some great stuff there. Then I went to work for Servico, a publicly traded hotel company, where I got some tremendous training and understanding of franchising.
Hardest lesson learned:
Failing. A few years ago, I acquired Roadhouse Grill and put it in bankruptcy five days later. I invested heavily to try to turn the brand around. But I couldn't get creditors to confirm our plan of reorganization. It got shut down and I lost more than $1 million.
Work week:
I work six days a week, on the road and in the office. I work a half day every Saturday with the president of Hurricane Grill & Wings. We sit down together and get a lot done. I visit all my Denny's restaurants at least three to four times per year. That's important and I know the name of every GM. I visit all Hurricane franchise locations at least one time per year. If you can't be in your restaurants you can't be in the restaurant business.
Exercise/workout:
I used to run and work out five days a week. But then I messed up my back and rotator cuff. Now I try to work out three times a week, but I would like to get it back to five days.
Best advice you ever got:
I had just graduated from business school, and an astute businessman told me the answer to most business questions can be found by talking to people at a given company. If you listen to what people say, you'll find the answers to what you're looking for.
What's your passion in business?
Empowering people to do the best job they can for themselves and be the best they can be. We see all of our managers as partners: their pay and bonuses are based on their store's performance.
How do you balance life and work?
There is no life, it's all work... but I love it.
Guilty pleasure:
None any more.
Favorite book:
Every one of Bill O'Reilly's books. The last one I just finished was Killing Reagan.
Favorite movie:
Love James Bond movies. I'm waiting to go see the newest one, "Spectre."
What do most people not know about you?
That I was a Fuller Brush man. I have six kids--two of my own and four of my girlfriend's. They range in age from 16 to 22.
Pet peeve:
I only like white coffee cups. It helps me see the consistency of the coffee I'm drinking.
What did you want to be when you grew up?
A builder. I always loved building things. I actually studied engineering at Cornell.
Last vacation:
Florida Keys.
Person I'd most like to have lunch with:
I'd love to have lunch with Obama. I just want to know what makes him think, what's his motive. Where does he think we're going from here?
Management
Business philosophy:
Empower people to be the best, do the best. It's my job to give my people the tools they need to get the job done. Let the managers get the job done. We charge every store the exact same fees. That way everybody's on the same playing field regardless of high or low volume.
Management method or style:
Empowering. We get all Denny's GMs together once a year for a big conference, and we also get them together regionally three to four times a year. We do the same for Hurricane Grill & Wings with an annual conference, and get our corporate managers together three to four times a year for similar meetings. One of the main discussions is, "What do you need from corporate to help you succeed?" I think we're doing a good job because we have very low turnover in our management ranks.
Greatest challenge:
Probably the way our Denny's stores are comping over last year: we will end 2015 at a 9 to 10 percent comp. What will happen this year? We'll be hard pressed to do 2 or 3 percent. It was a great ride this year, but I'm not sure what will we do in '16.
How do others describe you?
They think I work too much. Crazy, pensive, think outside the box. It's no good to be inside the box... that's where everybody else is!
One thing I'm looking to do better:
Trying to get our stores more integrated with all the automation technology out there--things like POS with dashboards. I'd like to be able to touch a button and get detailed information on a real-time basis.
How I give my team room to innovate and experiment:
We have four districts for Denny's. We let them run autonomously. We're open to ideas and we want to hear what our people have to say.
How close are you to operations?
Very. I visit stores, look at data, and stay in touch with managers.
What are the two most important things you rely on from your franchisor?
Brand standards and purchasing.
What I need from vendors:
Denny's does a great job for us, no complaints. For my Hurricane stores I need partners, not suppliers. We look at them as stakeholders in our brand. We work together. Best service, best products.
Have you changed your marketing strategy in response to the economy? How?
For Denny's we have reduced our own marketing spend because Denny's is doing a better job. Denny's is doing a great job with social media--they are leaps and bounds ahead of the competition. They are just doing a fantastic job with this. I have a real disdain for coupons so we try to stay away from that. With Hurricane we have moved into digital and social media marketing.
How is social media affecting your business?
We spend a third of our marketing budget in social media: Facebook, Instagram, Twitter, Tumblr, Yelp, Open Table. It's a lot to manage but we have a great program to manage it across all media platforms.
How do you hire and fire?
We hire our restaurant managers and above in our office. GMs do it at the store level. On the Denny's side we have an HR manager. On the Hurricane side we do recruiting and testing for corporate and franchise stores. I always say a good manager versus a mediocre manager is probably worth 20 percent more in sales.
How do you train and retain?
We use all the Denny's e-learning materials, and it's great. At Hurricane we have created the Hurricane Eye, which is also an online learning tool. We use digital and online tools to handle all personnel issues.
How do you deal with problem employees?
We carefully deal with them, and I mean carefully. We've had our share and you just have to follow procedures, document and keep meticulous records, and be prepared to show up and present the evidence.
Fastest way into my doghouse:
Not be truthful and hide problems.
Bottom Line
Annual revenue:
Hurricane $105 million sales; corporate Hurricane stores $20 million; Denny's $60 million in sales. 2016 goals: Denny's to $65 million in revenue. I'd like to achieve a free cash flow (cash flow after rent, management fees, and capex, before debt service) of $3 million. In Hurricane we will do $130 million in sales, $6 million in royalties, and $2.4 million in EBITDAR, including the four corporate stores.
Growth meter:
How do you measure your growth? It's changed for us. Now it's system sales and AUV, same-store sales, and EBITDAR for Hurricane. For Denny's it's making sure our people have what they need to succeed. We've renovated 15 out of our 40 stores in the last couple of years to give them state-of-the-art tools.
Vision meter: Where do you want to be in 5 years? 10 years?
With Hurricane, in the next 5 years we would like to have 135 stores open and have $250 million in system sales. With Denny's, I'd like to have all the mortgages paid off in 10 years. We own 28 or 29 of the stores, so this will be huge.
How is the economy in your regions affecting you, your employees, your customers?
Gas is a great help because prices are so low right now. But what if they go back up? We probably have 18 to 24 months without gas price increases. The result is that consumers have more money to spend with us.
Are you experiencing economic growth in your market?
It's healthy now. Things will hopefully remain good for the foreseeable future. Happy, fully employed customers spend money.
How do changes in the economy affect the way you do business?
We just have to be mindful that it can change overnight.
How do you forecast for your business?
With Denny's we look at 2 to 3 percent comp store sales growth; Hurricane should grow 1 to 2 percent.
What are the best sources for capital expansion?
It always seems like when you don't need money there's plenty of it, and when you need money you can't find it. We've taken on a little debt with Denny's through a five-store acquisition, but less than $1 million in debt and we're also doing some renovations. We self-fund for our Hurricane Grill & Wings growth.
Experience with private equity, local banks, national banks, other institutions? Why/why not?
We have been approached by PE for Hurricane Grill & Wings but not gone that route. We bought out our area developers and that increased debt to about $3 million.
What are you doing to take care of your employees?
Treat them well. Give them the training and tools they need to get the job done.
How are you handling rising employee costs (payroll, minimum wage, healthcare, etc.)?
Healthcare is no additional cost for us. We go to every restaurant and present our healthcare plan. Employees have a choice to sign up for our plan or Obamacare. Most people (50 percent of our hourly employees) sign up for Obamacare--but they can't work more than 30 hours per week. Another 25 percent sign up with our plan. With respect to minimum wage, we can absorb up to $10 per hour, but if it goes to $15 it's going to be ugly.
How do you reward/recognize top-performing employees?
Lots of awards. We send one GM to Hawaii on an all-expenses-paid trip for two each year. We send three other GMs to a resort of their choice in the continental U.S. We give out awards every quarter, a President's Club award based on performance, achieving milestones.
What kind of exit strategy do you have in place?
I have Denny's restaurant mortgages for the next 10 years so I'm here to stay. No reason to make any changes with a brand that's doing great. When Hurricane Grill & Wings gets to $10 million of EBITDAR we'd love to sell it! Either to a PE firm or do an IPO.
Published: April 4th, 2016
Share this Feature
Recommended Reading:
Comments:
comments powered by

Disqus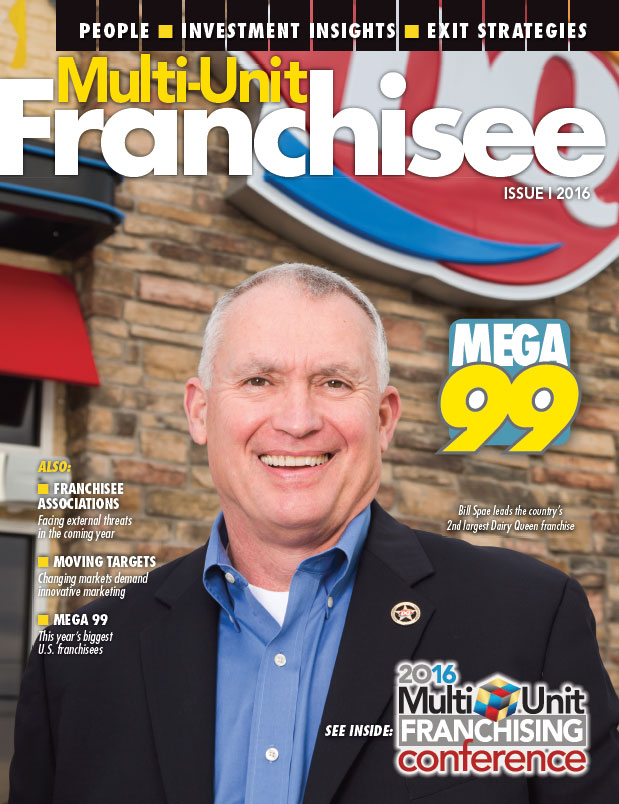 Multi-Unit Franchisee Magazine: Issue 1, 2016
If you're interested in a bold do-nut business opportunity one with strong multi-unit appeal a Shipley Do-Nuts franchise offering is one of the very...
Cash Required:
$225,000
With a 46-year track record, 1.3M+ Avg. Gross Sales* and flexible footprints, Potbelly is a perfect addition to your portfolio. *Top 25% of...
Cash Required:
$250,000