Running A Business: Overcoming Life Challenges to Succeed in Franchising
Natalie Ehrlich knows what it's like to overcome difficult times in her life. One of the most challenging periods she ever faced was when she was a single mother studying to earn her Ph.D. while raising her son at the same time. She says it was a tough time that taught her the importance of hard work and dedication and ultimately helped shape the person she is today.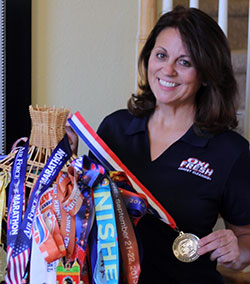 As we continue to interview and profile franchisees who think outside the brick and mortar box, we checked in with Ehrlich, an Oxi Fresh franchisee who recently ran 42 marathons in just 12 months. Here's more about her.
Name: Natalie Jo Ehrlich
Title: President and Owner
Company: Oxi Fresh of Phoenix, East Valley, and Northern Arizona
No. of units by brand: 7
Age: 57
Family: One son
Years in franchising: 8 years in October, 2014
Years in current position: 8 years in October, 2014
Formative influences/events:
There are a lot, but I'll boil it down to three. Working on my Ph.D. while raising my son ingrained in me the importance of hard work. That was not an easy time in my life, but by enduring I've become who I am today. Secondly, a family member once dragged me into running a marathon with them. It was a great introduction to the sport and while I didn't immediately start running them right then and there, it planted a seed of interest that has really taken root. Thirdly, is Bobbie Peters, a wonderful person who influenced me greatly. She was my next door neighbor and taught me many wonderful life lessons, like honoring God and expecting Him to answer your prayers. She taught me diligence, how to make my house a home, and the importance of giving to others. She told me to dream big and live life expectantly.
Key accomplishments:
First is raising my amazing son. Then there's earning my Ph.D. as a single mother, being promoted to associate professor at the University of Oklahoma, Faculty Member of the Year for two consecutive years, teaching abroad, and working with children and the Ministry of Education in Ethiopia. Business-wise, I'm proud to have been the number one Oxi Fresh franchise in 2011. Recently, I ran 42 marathons in 12 months. I've run at least one marathon in 50 states and four different continents. I completed the JFK 50 Miler in November 2013.
Smartest mistake:
Starting a business is one of the best and most challenging things I ever decided to do. There's so much more work involved than you would think. There's always something to fix, build up, grow, or change. You know, it's funny to think that running a business can be harder than running hundreds of miles. Yet despite the challenges and hurdles (which thankfully aren't in marathons), I would happily repeat my smartest "mistake."
Work week:
I work from Monday through Saturday and take Sunday off.
How do you spend a typical day?
I find routines, even simple ones, really help me stay healthy and focused. For me it all starts with coffee, goes to exercise, and then ends with me on the computer and phone.
What's your passion in business?
The first is providing fantastic customer service and results. Second is offering reliable employment to excellent workers. Third is being a debt free company. These are pretty simple passions, but they're what motivates me and helps make my company successful.
How do you balance life and work?
I'm very much a worker bee and I can always find some part of my business to improve. To keep this from taking over my life, I have to intentionally schedule time to get away - to run marathons, take a break, etc.
Business philosophy:
There are two big ones. The first is: "You only get what you expect, so always expect the best and don't settle for less." I always want and demand the best from both my employees and myself. Second: "Believe in your success and know you will achieve excellence if you don't quit." All of us are capable of doing astonishing things, both in the business world and our personal lives. For that to happen you genuinely have to believe you're capable of it and never give up.
Management method or style:
I set specific goals and lay out clear expectations. These are then backed up by written policies and procedures and regular checks. I then lead from the front in these fields - you have to show that you work hard if you want your people to do so too.
Greatest challenge:
Motivating employees to make the changes needed to achieve excellence. It's never easy to get someone to break a bad habit, but it's certainly worth it.
How close are you to operations?
I interact with my business every single day.
What are the two most important things you rely on from your franchisor?
Vision and systems. The team at Oxi Fresh's home office is always on the lookout for ways to drive the company forward and give us a competitive edge. They're able to keep their finger on the industry pulse. They also create systems and tools that help me run my business more effectively - things like our scheduling center, customer relationship management system, and our online training program.
Have you changed your marketing strategy in response to the economy? How?
Yes, I'm focusing more on online advertising and alternative media marketing rather than traditional mailers.
How is social media affecting your business?
It always keeps you on your toes. Customers can ask questions at any time, voice concerns, throw out a compliment, and you've got to be responsive.
How do you deal with problem employees?
We try to address problems before they happen through training and regular reviews. If an employee refuses to follow our systems, we let them go.
2014 goals:
$1 million in revenue
Growth meter: How do you measure your growth?
Monthly jobs booked and gross sales
Vision meter: Where do you want to be in 5 years? 10 years?
5 Years - $2 million in revenue; 10 Years - $5 million in revenue
How is the current economy affecting you, your employees, your customers?
It's odd. I've found that many employees work harder in bad economic times. They're eager to do well and stay employed. Customers are unfortunately looking to spend less. It can be a challenge.
How do you forecast for your business?
Through yearly and monthly comparisons and marketing ROI reports.
Is capital getting easier to access? Why/why not?
I haven't requested capital - I reinvest profits back into the company (i.e. increase marketing) so it can continue to grow. I've always been and want to stay a debt free company.
Where do you find capital for expansion?
Strictly from profit.
What are you doing to take care of your employees?
I pay them a healthy base with incentives.
How do you reward/recognize top-performing employees?
I give out quarterly tech awards and an end-of-year bonus.
What kind of exit strategy do you have in place?
Eventually, I would like to be able to sell the company or maybe sell shares of it to employees who have helped grow the business.
Published: July 16th, 2014
Share this Feature
Recommended Reading:
Comments:
comments powered by

Disqus
Marco's Pizza is the nation's fastest-growing pizza brand* with 1,100+ stores and counting. It is America's No. 5 pizza brand based on annual...
Cash Required:
$286,852
Big Frog's proven-and-tested business model allows you to take charge of your financial future with a business concept that offers unlimited revenue...
Cash Required:
$50,000