Sales To Go
Outsourcing has become an accepted method for companies to solve staffing needs. It's a strategy that allows firms to benefit from specific expertise--without the accompanying expense. Mostly, it's been applied to functions like HR, accounting, and payroll. Today, franchisors can outsource their franchise development.

"We're almost like a temp agency. We come in as their sales force, their VP of development," says Marc Kiekenapp, managing partner of KRA Franchising, Scottsdale, Ariz. "Executive and sales-level positions are in demand."

"With the economy the way it's been, there's a high demand and a lot of people buying franchises now; hence the push for more people to handle the lead flow." And an accompanying scarcity of talent to do that. Broker networks, he says, have probably sucked 500 sales people out of franchise companies.

KRA (also operating as Franchise Outsource) works with franchisors to develop a complete franchise sales program. "We represent the company, qualifying the candidates through the sales process," says Kiekenapp. Services include lead generation, website design, and doing all the tasks a company would do to bring candidates through the process to discovery day and signing on.

"We're working with what I call emerging companies. They can outsource this for much less money than they can create an internal sales force," he says. Unlike a broker, where consultants can represent 40 brands or more, when a company contracts with KRA, that person and their team are dedicated exclusively to a single brand.

So who are these sales wizards, and what's in it for them? Kiekenapp says they're mostly 50-somethings with 15 to 20 years in franchising who can work out of their home using technology KRA has created. "Our team is all over the country. Technology has made this possible," he says. Some were consultants at broker networks; some are former franchise sales execs.

One of the benefits for these "temps" is that they can do what they love and are good at--without the wear and tear of being an aging road warrior. They will travel on occasion, for training, conventions, and to meet with the franchisor and with candidates when necessary. But they can do most of their work from home using a proprietary contact management system, telephones, and the Internet.

"Since 9/11, a lot of franchise executives don't like to travel. So relocation to take that new job isn't as attractive as it used to be. People are wanting to find an occupation that keeps them closer to home," says Kiekenapp.

For those who don't need to work full-time, it affords an opportunity to semi-retire, or to supplement their retirement income--and to keep their hand in, contributing their years of hard-won experience to help franchises grow. "We've built a way for 50-somethings to work independently under the umbrella we've created," he says.

Kiekenapp has no illusions about the niche KRA fills in the industry. A company with a well-developed sales department, he says, "would never use somebody like us." And business is booming.
Published: February 6th, 2007
Share this Feature
Recommended Reading:
Comments:
comments powered by

Disqus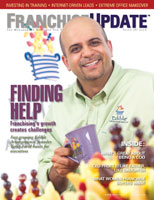 Franchise Update Magazine: Issue 3, 2006
April 25 - April 28, 2023, Caesars Forum, LV. The Multi-Unit Franchising Conference is the premier annual event for the country's leading...
Gravity Software is a cloud-based, multi-entity accounting solution that simplifies inter-company transactions and financial reporting. Built-in...