Selling in Tough Times: For These Franchisors, This Is The Perfect Time To Grow
You'd think selling franchises in one of the worst economies since the Great Depression would daunt even the hardiest franchisor.

But many franchisors, both well-established and new to the scene, keep on plugging when the economy goes south. Some even consider this a great time to grow.

"We're running diametrically opposite the economy," says Jerry Laesser, Martinizing Dry Cleaning's vice president of marketing and franchise development. Considered an upscale dry cleaning service, the brand "always was recession-resistant," says Laesser. "We've had decreases in California, Florida, and the Northeast, but we're making money."

Aaron's Sales & Lease, with its "small town America" expansion strategy, is another well-established franchisor reporting record franchise sales in 2008 despite the credit crunch. The 54-year-old company has more than 1,500 locations nationwide and expects to keep on selling 150 to 200 franchises annually, says Greg Tanner, Aaron's national director of franchising.

The fact that everyone who enters an Aaron's store is "approved for credit" helps keep customers coming and franchisees happy. For this reason, Tanner, who considers the rent-to-own industry to be recession-proof, is expecting an even "better year in 2009."

Despite the economy, store sales for Tampa-based i9 Sports increased 37 percent over 2007, and 2008 revenues are expected to exceed $15 million, up from $10.2 million in 2007, reports founder and CEO Frank Fiume. He attributes the growth to "parents who would rather cut back on spending for themselves rather than sacrifice activities for their children."

He also notes that as communities trim budgets, there's "a continuing upward trend of local parks and recreation departments, schools, and churches wanting to partner with private entrepreneurs such as i9 Sports to operate their sports programs." The franchise units organize sports leagues and camps, with 125 franchises serving more than 180,000 children in 750 communities across the U.S.

There's nothing like good deli food when the economic climate is cold. The proof must be in the pastrami because Baker Bros is another franchise experiencing solid growth. Currently operating 16 "neighborhood-style" delis in 16 locations, primarily in the Southwest and South Carolina, the franchise expects to open another 5 to 7 units in 2008, "depending on the availability of prime real estate," says CEO Ken Reimer.

And with flip flops experiencing a near cult-like following among everyone from teens to high-level corporate executives, Darin Kraetsch hasn't seen his Flip Flop Shops franchise suffer during the downturn. The franchise opened in 2008 and currently has five locations in California and Arizona, with 18 additional franchises under development. Kraestch, who along with company President Brian Currin has been a food industry franchisor since the 1990s, projects reaching 236 stores by 2013.

"On two deals we've experienced difficulties in getting SBA funding, but we're hoping as the feds get more liquidity into the market it will trickle down," Kraestch says. But all in all, he says they were "very lucky to have attracted some very qualified franchisees" who have been able to find the $165,000 required to open a Flip Flop Shop.

All of these franchisors consider having a passion for their products, along with deep concern for their franchisees, as keys to growth in a down economy. "This isn't just a sales organization. We own and operate stores and understand what it's like to be operators," says Kraestch.

As for the economy, says Laesser, franchisors have to spread the word to prospective franchisees that "there is still funding available. Lots of people don't realize that."
In fact, these franchisors had so much great advice to offer about selling in tight times they could have filled a self-help book. That the business model has to be solid and prospective franchisees have to have to be equally so--both financially and attitudinally-- is a given, they say. Says Reimer, "You can't prosper with a mediocre product."

Another obvious prerequisite to selling franchises in a down economy--any time, really--is the ability to explain your business model simply and succinctly. As Fiume points out, if you can't explain why you exist as a business you might as well close shop. The franchise model and baseline products had better "be attractive to a franchisee and their customers," he says.

Go where the money is
Believe it or not, there's still plenty of money out there and some people, especially those who cashed out of the stock market, have money to invest. Tanner is finding "lots of folks with a lot of cash on their hands who don't want to be in the stock or bond markets. They're looking at Aaron's as a way of diversifying their portfolio." And these are the types of people, he adds, who buy at least six units at a time. But he warns prospective franchisees that purchasing an Aaron's store isn't like buying stock. "They have to have people in place to manage the store and must take core responsibility."

Kraetsch adds another caveat for franchisors. No matter how prosperous a prospective franchisee may seem, he urges franchisors to "vet their finances. Make sure you qualify them financially." This includes knowing their credit score, their assets, how they'll get financing, who's the earner in the family--all the things banks will want to know.

Share your passion
At Baker Bros, Reimer and company President Tom Dahl bring loads of experience to the table, having guided Tony Roma's from insolvency to success before founding the deli chain in 1999. Reimer says it's essential for the franchisor to have a passion for their business, and that both franchisor and franchisees "absolutely love what we do."

Kraetsch can't agree more. "Whatever the business, you need to exude that passion and constantly be a good brand ambassador," he says. Franchisors "have to be looking for franchisees that are passionate about whatever business you're inviting them to. If they're just interested in a passive investment, then the chances of success go down exponentially."

Passion is essential, but so is communicating it effectively. Laesser says franchisors must be able to communicate their business plan and the excitement of multi-store development "to Mr. and Mrs. John Q. Public."

"Some of the greatest business achievements have taken place during down economics," adds Fiume, saying it's crucial to pass this message along to prospective franchisees who may be turned off by the perpetual "doom and gloom" they're seeing on TV. He points out that business giants like General Electric and Microsoft have been born during poor economies.

"What makes a franchise work is attracting positive people who see this as an opportunity," he says. In bad economic times, he says, it's important to remind buyers how your business can benefit in this economy. "Focus on the percentage of people who do have jobs rather than those who do not."

Validation is a two-way street
A franchise's current base of franchisees is often its best selling tool if treated well, all of these franchisors agree. In a world where word-of-mouth praise--or criticism--can spread over the Internet with lightning speed, they say it's very important to earn your franchisees' validation.

"When you're recruiting people, they'll look at how your other franchisees are doing," says Tanner. If franchisees are unhappy, candidates won't buy in. Also, he says, "You have to give franchisees an idea of what they will make." At Aaron's, where all the numbers are shared, that's easier than at other brands.

Fiume considers franchisees "the most critical part of the sales process. You won't sell a single franchise without positive validation from your franchisee base. Franchisee morale is crucial, and to get that you need to focus on their unit economics. You have to help them be more profitable by helping them attract more customers and keep more in their bottom line."

Franchisors should actively work with franchisees to "make sure they're doing a good job of managing the unit economics of their system," says Kraetsch. He and others agree that helping franchisees manage their rent is a strong factor in validation. Even though rent usually factors in at the time of the sale, he says that smart franchise organizations "actively work with landlords to create compromises for short-term rent release or abatements to help struggling business tenants stay alive in this economy."

Getting your franchise listed in the SBA Registry is another plus for the prospective franchisee, says Kraetsch, demonstrating to a prospective buyer "that you are a reputable franchise."

Be "franchisee friendly," advises Reimer, whether that translates to design efficiency for restaurants or shops, low labor staff, or financing. "Franchisees don't want to buy complexity. In this time franchisees want high quality done with simplicity."

Plus, he says, the units need to be easy to finance. At Baker Bros, the turnkey cost is $500,000, which includes leasing space to seat 130-plus people. Reimer notes that funds for buildings may be tight, or even have disappeared, but lease financing has not.

Market like mad, but strategically
Fiume and others agree that smart companies market like mad during recessions. "Now is the time to step on the gas, not to let off. Otherwise, when the economy gets better you'll be lost," he says. And don't rely on Internet leads, alone, he adds. "Diversify into print, trade shows, and even online social networking sites," where you know prospects are ready to be involved. But, he cautions, the best results come from developing a strategy for your market dollars.

Aaron's has developed a public relations and marketing campaign designed to win over franchisees in secondary markets in lower-population states such as Colorado and Nebraska. After "softening up the territory" with newspaper ads and radio spots, he says, Aaron's representatives visit community business leaders to find leads. Thanks to this approach, he says they're doing "very well." He advises others to "target the markets you want to enter and design campaigns to go into those markets. You can't do a shotgun approach. It has to be a precision rifle. But once you commit, you'll find the candidate."

Another approach is to work with franchise brokers and referral companies to assist with the search for prospective franchisees, says Laesser. Martinizing "probably works with seven or eight groups at any time," he says, adding that these organizations "will assess a buyer's income and even their personality."

And share survival tips with your franchisees. Tanner says many operators need to learn more about PR and marketing strategies--another area where franchisors can help.

Don't do the same-old, same-old
"Do something different," says Tanner. "You don't have to follow the flow of usual recruiting to franchisees." Even if seemingly offbeat approaches cost more up front, like Aaron's push into small-town America, Tanner says "don't be afraid to spend it."

In this tough economy, Laesser is taking a surprising approach: focusing on wealthy, multi-unit buyers, only. "Single purchasers are off the table because of the economy," he says, and the potential they pose for losses. Prospective Martinizing franchisees in this market "are folks with multi-million entry worth, either former business owners, entrepreneurs, or senior sales and marketing professionals who have accumulated wealth," he says. These buyers will establish units in upscale locales like Broward County, Fla., or the Caribbean.

"The attraction for many of these guys is they can get an exclusive, multi-unit agreement," says Laesser. "Someone in Austin, Texas has half of the city rights and will develop 5 to 10 stores." Laesser asks this type of absentee franchisee to work the business for at least six months "so they're not held captive by management and employees. They don't need to know every intimate detail of the business, but they do have to impart their culture."

It might seem strange to discourage sales right now, but Laesser finds he has to put the brakes on go-go investors, suggesting instead that they share territories with other franchisees. "They're like a kid in the candy store. You need to slow them down while getting big enough bites to be successful."

He offers the example of a "top marketing guy" from the frozen food business who took over three counties in a major metropolitan area in the Southeast. He managed to open three stores in a year and a half. But, says Laesser, "Even as good as he is, he has struggled to develop the whole territory." Eventually, the franchisor convinced him to trade some territory so another franchisee could develop a piece of that pie. Together, says Laesser, they have created the critical mass of Martinizing outlets that assure the brand's success in the region.
Published: March 2nd, 2009
Share this Feature
Recommended Reading:
Comments:
comments powered by

Disqus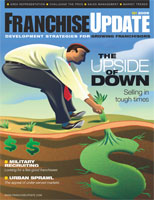 Franchise Update Magazine: Issue 1, 2009
Tiger Pistol, the world's leading collaborative advertising platform, connects the power of brands with the knowledge and credibility of their...
Gravity Software is a cloud-based, multi-entity accounting solution that simplifies inter-company transactions and financial reporting. Built-in...