Shopping for Improvement
Mystery shoppers find many brands doing better, but there's still a long way to go for many others
Franchisee recruitment is the cornerstone of any successful brand. It must be done right. It requires the right team, the right information, the right prospects, and the right follow-up. There must be a proven process in place that is followed and continually improved. But amazingly, year after year, franchise brands continue to fumble the fundamentals.
Whether it's providing incorrect or outdated information on a website or the lack of a quick (or any) telephone response, among other problems, many franchise development teams are still in dire need of improvement, according to this year's mystery shopping results.
Every franchise brand that registered to attend this year's Franchise Leadership & Development Conference (FLDC) by late July was mystery shopped by "qualified prospects" who phoned in and completed online applications. In total, 165 brands were evaluated and the results were, once again, a bit shaky.
Franchise Update Media's Therese Thilgen, along with "prospects" Art Coley, CEO at CGI, and Maureen DiStefano, franchise consultant, presented the survey results at the annual conference in Atlanta in late September. The other mystery shoppers and researchers were Jenny Langfeld, COO at CGI; Eric Stites, CEO of Franchise Business Review; Keith Gerson, president and chief client advocate at FranConnect; and Jeff Lefler, CEO of FranchiseGrade.com. Each brand was evaluated by telephone query, website response form, website best practices, social media, franchisee satisfaction, and FDD scoring.
This year we went directly to the researchers for their methodology and perspective on what they discovered in analyzing franchise recruitment procedures and systems, and how they presented themselves to prospects both online and on the phone. Here are their insights.
Telephone Mystery Shopping
By Art Coley & Jenny Langfeld
The mission was simple. Franchise Update commissioned us to place calls to the 165 franchise brands registered for the Franchise Leadership & Development Conference. We were to pose as unqualified leads looking for information. Art "Dudley Pennington" and Jenny "Amy Pettit" divided up the list and began calling. Here's a look at the process used and the results.
Three-step process:
Part I: Go to franchise main website and get a phone number.
Part II: Place a call requesting to learn more about the brand. Either talk live with representative or leave a message.
Part III: Follow-up calls to the brands that returned our call within 24 hours.
Then gather up data and results and present findings.
Part I
"I'd like to speak to someone with ________ franchise. I'm going to visit the website to get a phone number."
The action was to find the phone number for inquiries to call when looking for franchising information. If it took more than three clicks on each of the prospective websites to find a phone number, that franchisor was immediately eliminated from the mystery shop list. We ended up with 87 brands to call. This means that 48 percent of the brands were eliminated because they either did not have a phone number on their website or it took more than three clicks to find it.
Part II
"Now that I have a phone number for ________ franchise, I'm going to call and either talk to someone or leave a message for a franchise representative to call me back."
Of the 165 brands, 87 (52%) got a call. We wanted to learn more about the brand. We connected live with 35 of the 87 brands (40%) on the initial call. We left messages with the other 52 brands asking for a call back so we could learn more. Twenty-eight of the 52 brands called back within 24 hours. If a brand called back after 24 hours, their file on the mystery shop was closed. During the first call with the brands 18 asked us for our name and email address, 7 asked for our time frame to get started, 10 qualified us financially, and 14 asked for our lead source. There was a lot of room for improvement here but the numbers were not very different from previous years.
Part III
"Great! ________ franchise called me back within 1 business day. I'm going to call back and request to speak with the person who returned my call."
Part III of our process included a series of follow-up calls to the 28 brands that placed a return call to a voicemail or request. We were able to connect live with six of those brands before the end of our mystery shop timeline.
Findings
As a result of our mystery shopping, we learned that many of the appointment setters and franchise salespersons are professional and upbeat. Many appointment setters did mini-Step 1 calls to pre-qualify a candidate, were positive in handling unavailable territory, and some even offered to meet personally.
We also learned that many of the people we spoke with were telling us features of their brand versus learning about us (the candidates); told us that "Salesperson A" would call back and then "Salesperson B" actually did, which caused confusion; that a live person (receptionist) and director didn't communicate; that a live person sent us to the website, simply telling us, "It's the process"; and that there were a lot of generic voicemails, often with no name or brand.
Recommendations
The brands that performed well during the mystery shopping did several key things. They asked for basic information about us such as name, email, phone, address, financials (how much we were looking to invest in a business), timeline, lead source, past experience, opening time frame, location, and more. They also presented the brand in a short, concise manner and did not dominate the conversation; they listened and responded to our answers. Overall, they were excited and enthusiastic about their brand. Many of the top 10 brands were interested in making the process about discovery and finding the right partners.
A few key takeaways from the mystery shopping include:
Establish a process for "inquiry" vs. "qualified candidate."
Match up your sales process with the most predictable buying process.
Does the phone matter anymore?
It is quite important to show up strong from the start!
Website Response
By Maureen DiStefano
I was charged with evaluating franchise brand website responsiveness for the mystery shopping survey. My online moniker was "Anne Costello." I evaluated 163 brands and for each that had an inquiry or web-based application I then moved through the following process:
Completed application meeting the advertised minimum requirements and interest in available markets.
Provided email and telephone and address as contact information as well as any other required information to submit my interest.
Spoke to or replied to email responses by the individual brands.
Evaluated brands on access via a specific link, response, telephone follow-up, and next steps.
Findings
Technological advances have made finding information online very simple and the process of requesting information about becoming a franchisee very easy. Today a response to web inquiries can be instantaneous. But the real memorable impressions come after the initial contact. This is when sales professionals must use resources effectively and efficiently to follow up on leads. Here's what great brands are doing right:
Have the ability to conduct due diligence without providing too much personal and financial data beyond qualification requirements.
Rely on group webinars that were advertised on the website or sent via e- reminder at the email address submitted with the inquiry.
Use a web-based appointment calendar to block a time with the sales director to have an initial information call.
Emerging brands that use existing franchisees to endorse the brand is powerful.
Use social media.
Recommendations
All the brands I contacted were extremely professional and respectful of my inquiry, regardless of size or if I even met the minimum requirements. However, there are some processes that may need to be updated:
Gathering information through a lengthy application is a deterrent when a prospect can shop similar opportunities within a food or service concept.
Cell phones are the typical mode of voice contact; multiple mandatory listing of telephone numbers such as home/work/cell appear dated.
A robust website with recent press or personalized information kept me on the website longer and more willing to provide more complete information.
Summary
Competition is fierce and talented and credible salespeople understand the available markets and understand being a genuine resource to future franchisee will attract the top future franchise partners. It is a strategy of persistence and genuine interest in being a brand resource that sets brands apart online, on the phone, or in person.
Social Media Mystery Shopping
By Keith Gerson
The results from the 2016 website mystery shopping reinforce what many of us already know: while leading franchise brands may realize the need for a digital business strategy, we are not there yet as an industry. For example, we found that the majority of franchise brands have a unique website for franchise opportunities, but many brands still lack effective use of technology and are not capitalizing on social media to bolster engagement and unit growth.
In this year's website mystery shopping, 165 franchise brands participated. They were evaluated on business operations and marketing as they related to search engine optimization, website usability, and website content.
We shopped using various tools on the websites and scored the websites using 20 or more parameters that we organized in the following way.
The basics
Unique URL
Web analytics
Ranking on search
Dedicated entry point for franchise page
Basic SEO
Title tags
Meta, keyword tags
Strategy that drives content
Website usability
Franchise content accessibility
Process of learning
Effective use of technology
Overall site presence
Optimized for mobile
Key content
About us/history
Franchise information
Application
Findings
An aggregation of the findings offers some insight into areas of strength and areas that require continued focus. FranConnect's observations are as follows:
70% have a separate unique website for franchise opportunities. This is a major improvement over previous years. This is becoming best practice and allows brands to communicate more directly with a potential candidate without distraction from other needs a general corporate website would require.
40% have a click-to-call button on franchise websites. We'd like to see more of these and have them be well placed and stand out to generate a higher level of conversions.
33% do not have a unique starting point on their franchise opportunity website. This is problematic in that a potential candidate should be guided easily through the brand pitch without being confused as to where to begin. Again, this best practice has been found to drive higher conversion rates.
24% of brand websites are mobile-friendly. This is shocking in today's on-the-go, digitally driven world. People are doing more research via mobile than ever before. Your website needs to be easily read and navigated on multiple mobile platforms.
53% of websites have two or more links for franchise opportunity on their home page. This is good but should be true for every website. Your main call to action is to attract potential candidates to learn more, so having at least two areas on your site in places that make sense is critical.
20% of brands do not have a process of learning on their franchise opportunity website. This means the 80% that do have a process of learning are making it easy for potential candidates to engage and navigate. Since the competition for qualified candidates is fierce, this should be a major focus.
40% of brands lack effective use of technology. Technology can be a unique differentiator when used wisely. It is also one of the more difficult areas to implement. The key is to outline your strategy and story map before selecting where and when to use technology to enhance the visitor's experience.
40% of brands do not show an investment chart, and 50% do not have clear requirements mentioned. This compares with 59% in 2015. We are not sure why this trend has gone backward, but it is an area we plan to investigate. The process of learning should include the information a potential candidate needs. By testing different approaches we can learn if this is a detractor or attractor for candidates.
75% of brands don't have their franchise opportunity listed on their Facebook page. Integrating social channels is critical to reach today's audience. Your Facebook page should reflect the messaging of your website and be a key call to action.
78% of brands are not active on LinkedIn. This is the largest professional network in the world. It is also a content engine for every topic from marketing to engineering to being your own boss. Brands should contribute and leverage this tool as part of an integrated program.
Recommendations
As we have seen from this year's website mystery shopping, franchisors must empower their brands--and in the end, improve unit growth and success--with a better and more engaging website presence. This includes more learning opportunities and tools, as well as having mobile-friendly websites for our always-connected, always-changing business environment. Additionally, they need to incorporate a social marketing strategy to build local brand presence and consistency through social channels such as Facebook and LinkedIn.
Our recommendation is to conduct a self-audit of your site using the following as your quick-start guide.
1. Benchmark your current metrics
Number of visits/visitors/unique visitors (monthly average)
Bounce rate (monthly average)
Time on site (monthly average)
Top-performing keywords (in terms of rank, traffic, and lead generation)
Number of inbound linking domains
Total number of new leads/form submissions (per month)
Total amount of sales generated (per month)
Total number of total pages indexed
Total number of pages that receive traffic
2. Determine your goal
This step, while it may seem simple, can often take the longest. Your goal must be clear, concise, and targeted.
Why would you consider a redesign?
What is working/not working that you need to address?
What are the top 3 goals you expect from this website?
3. Audit your brand message
Is your brand message clear on the website? Why or why not?
What is missing?
What needs to be done to fix it? What needs to change?
4. Evaluate your audience
Do you have a clearly defined target audience?
Is the specific audience that you want to attract defined and personas built?
Does the tone of voice for the content on your website align with your target audience persona? If not, what needs to be fixed?
Does the content on the website align with the needs of your audience? If not, what needs to be fixed?
Summary
There is no silver bullet in the franchise development business, and building an engaging website is not a one-time task. It is an evolution that should continue to grow and change as a franchisor's brand and audience change. If franchisors can sit down and ask themselves these quick-start questions, the path to improving traffic and conversions will become clear.
Franchisee Satisfaction Study
By Eric Stites
New data from franchisee satisfaction research firm Franchise Business Review (FBR) shows a strong correlation between "engaged leadership" and higher franchisee performance. FBR looked at franchisee satisfaction data from 53 brands that attended the 2016 FLDC. When compared with industry benchmarks, the brands attending the FLDC significantly outperformed other brands.
A total of 9,353 franchisees participated in the study and represented more than 30,000 business units. They were asked more than 50 questions related to their business performance, satisfaction with their brand, and general business demographics. Satisfaction was measured across eight key areas: training and support, franchise system, leadership, financial opportunity, core values, franchisee community, self-evaluation (franchisee performance), and general overall satisfaction. Thirty-three of the survey questions were rated on a 100-point scale known as the Franchisee Satisfaction Index (FSI).
Findings
Data from the 53 FLDC brands was compared against FBR's benchmark data representing more than 350 franchise brands across all industry segments. Here are the findings:
Better performance overall. The Franchisee Satisfaction Index (FSI) score of 75.9 for the FLDC brands was 8% higher than the FBR Franchise Sector benchmark of 70.4.
25% higher income opportunity. Franchisees of the FLDC brands reported annual pre-tax incomes 25% higher than other franchisees. Their reported annual pre-tax income was $102,990, compared with $82,546 reported by other franchisees across all industries.
Eight areas of strength. The FLDC brands outperformed the FBR Franchise Sector benchmark in all eight key areas (above). Looking at trend data over the last three years, the franchises that attend the FLDC have shown a solid improvement in all categories year-over-year, improving on average by 5% to 10% from 2014.
Brand core values and franchisee enjoyment were the highest-performing areas. Based on responses to the 33 benchmark satisfaction questions, the FLDC brands' franchisees scored them highest in the following areas: brand core values and franchisee enjoyment, which included community engagement, general overall satisfaction, and self-evaluation. Questions asked relating to these areas, along with the overall FSI scores given were:

I enjoy being part of this organization. (87.3)
I enjoy operating this business. (86.5)
I respect my franchisor. (85.2)
My franchisor acts with a high level of honesty and integrity. (84.0)
My fellow franchisees are supportive of the brand. (82.5 FSI)
I would recommend my franchise to others. (86.1)

Challenges within training and support, financial opportunity, and leadership. Based on responses to the 33 benchmark satisfaction questions, the FLDC brands' franchisees scored them lowest in the following areas: financial opportunity, training and support, and leadership. These findings were not surprising since many franchisors, including those that are the top brands, struggle with the same three areas. It is important to note that the scores the FLDC brands received are still above FBR's benchmark. Questions asked relating to these areas, along with the overall FSI scores given were:

Current financial picture. (65.9)
The fees I pay my franchisor are fair. (68.1)
The total investment in my business, including both time and money, has been consistent with my expectations. (69.7)
Marketing and promotional programs. (68.6)
Effective use of technology. (64.7)
Senior management involves franchisees in important decisions. (65.2)

Top 10 FLDC brands. The 10 brands attending this year's FLDC with the highest overall franchisee satisfaction are: 1) Home Instead Senior Care; 2) Fastsigns; 3) Wild Birds Unlimited; 4) CruiseOne Dream Vacations; 5) Christian Brothers Automotive; 6) Zaxby's; 7) Pinot's Palette; 8) Pinch A Penny; 9) Two Men and a Truck; and 10) Captain D's.
Summary
The higher revenue, strong performance in eight key areas, and better performance overall that the 53 FLDC brands demonstrated compared against FBR's benchmark are a testament to their commitment to serving and engaging their franchisees, and to making their satisfaction and performance top priorities.
FDD Grading
By Jeff Lefler
FranchiseGrade.com is proud to have played a key role in the selection of the STAR Award recipients at the recent FLDC.
We graded 167 franchise systems that participated, and provided a look behind the scenes to show how these franchises graded and how they compared with the entire franchise industry. Our grading evaluated each franchise in a number of areas including investment structure, ongoing fees, franchisee rights, franchise relations, system growth, system turnover, and Item 19 disclosure.
Our methodology consists of extracting data from Franchise Disclosure Documents (FDDs) and comparing franchise systems based on similar characteristics such as sector and investment range. For every franchise system, we reviewed multiple years of Item 19 disclosure, grading the level of disclosure each system provides. As an example, some franchise systems may provide system-wide average gross revenue, which is not as useful as a breakdown of revenue by quartiles. However, some franchise systems may only disclose data from 25 percent of their franchised locations, potentially skewing the revenue numbers to a limited number of franchisees.
In general, a disclosure with more data is helpful for a prospective franchisee to create a pro forma income statement and cash flow projections. The financial disclosure can be presented in the form of expense data, historical sales, outlet-by-outlet data, and other presentations that provide useful insights for a franchise investor.
Findings
Of the 167 franchise systems we graded, 39% received an A+ or A grade, whereas for the entire franchise industry only 20% are A+ or A grades.
Only 1% of attendees were graded a D investment.
Item 19 disclosure was one of the biggest surprises to us as 86% of franchise systems that participated in the FLDC made a disclosure, compared with only 54% for all of franchising.
In terms of an Item 19 disclosure, not only were there above-average disclosure rates, but the amount of disclosure provided was more detailed and useful than industry averages. Of the FDLC attendees, 54% include expense data in their Item 19 disclosure compared with only 23% for the entire franchise industry.
From 2010 to 2015 the FLDC franchise systems grew from 62,381 outlets to 76,733 representing an increase of 14,352 outlets (23%).
Since 2010, FLDC franchise systems have received more than $21.2 billion invested by franchisees into new franchised locations.
Summary/recommendations
The results of our grading indicates that the 167 franchise systems that participated in the 2016 FLDC represent top-performing franchise systems when measured against the overall franchise industry.
These results indicate that the FLDC franchise system attendees are successful, strong franchise systems focused on the most effective and correct ways to grow their franchise systems. It also reveals that successful franchise systems share certain attributes that have led to their sustained success, such as more transparency in Item 19 disclosures.
Franchise leaders that focus on their metrics and how they compare with their franchise sector can provide this information to prospective franchisees. This will validate the strength of their franchise system and draw a favorable distinction compared with their competitors. The franchisors attending the FLDC continue to seek ways to develop and grow their franchise system the right way by attending these conferences and participating in workshops designed to improve franchisee sales and system performance.
---
Website Recommendations
Establish process for "inquiry" vs. "qualified candidate"
Match up your sales process with most predictable buying process
Does the phone matter?
Show up strong from the start!
---
Website Mystery Shopping Results
66% provide unique starting points on franchise site (25% last year)
68% provide a process for learning (54% last year)
60% have video on the franchise site (40% last year)
59% have an investment chart--not properly qualifying? (46% last year)
49% have financials on the qualification form (44% last year)
74% of franchise sites are mobile friendly (52% last year)
40% do not provide franchisee testimonials
---
Social Mystery Shopping Results
64% had consistent branding on local pages on Facebook (38% last year)
23% communicate the franchise opportunity somewhere on their Facebook profile (30% last year)
20% had some level of activity in the past week on LinkedIn (28% last year)
Published: February 2nd, 2017
Share this Feature
Recommended Reading:
Comments:
comments powered by

Disqus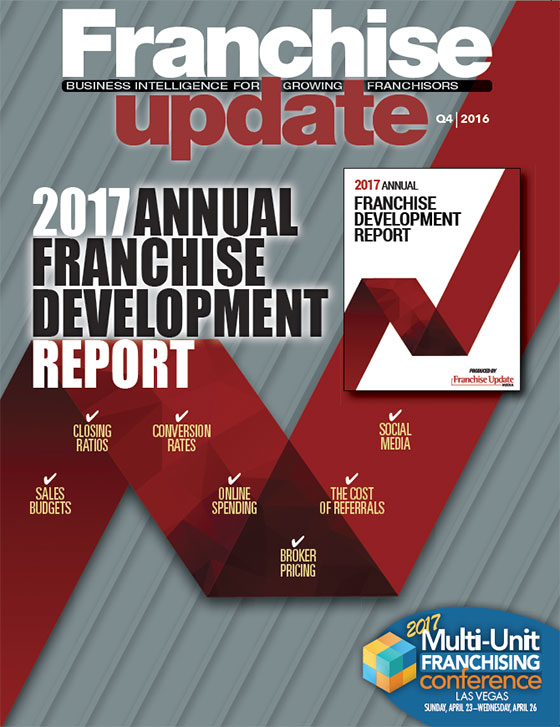 Franchise Update Magazine: Issue 4, 2016
Sociallybuzz, founded in 2009, is the #1 Social Media Marketing Agency to help franchisors and franchisees increase their revenues, drive sales, and...
Slick Marketers is reinventing franchise marketing with a hyper-customized and ultra-localized marketing approach with measurable results and growth...