STAR Power: Franchise Update Recognizes the Best in Franchise Recruiting
When it comes to generating leads and identifying prospects, it's important to act effectively and efficiently. It's a competitive market, with quality leads difficult to come by. Franchisors with aggressive recruiting strategies and practices are more likely to find the best candidates and turn them into successful franchisees. They're also more likely to be recognized as winners of Franchise Update Media Group's Annual STAR (Speaking To And Responding) Awards.

Over the past 11 years, Franchise Update has mystery shopped hundreds of franchise brands to identify and recognize those whose recruitment teams are speaking to prospects and responding quickly and effectively. The cream of the crop are highlighted each year for their recruiting efforts, by telephone and through their websites. This year's research added a fresh new twist by identifying and awarding brands effectively using search engine optimization (SEO) and social networking to identify new leads.

For the telephone awards, researchers examined how quickly franchise sales departments answered their phones with a live person, and how quickly they returned calls. Researchers also visited franchise websites to determine how easy (or hard) they were to navigate, what kind of information the sites conveyed, and most important, how quickly franchise representatives responded to online inquiries.

While franchisors displayed many different strategies and recruiting approaches, those selected as this year's winners now have one more thing to celebrate besides increased sales: a STAR Award. The winners were announced at the Franchise Update Leadership & Development Conference this September in Chicago.
2009 STAR Award Winners
Overall Winners
1st Place: Epcon Communities
2nd Place: BrightStar Healthcare
3rd Place: PostNet International
Telephone Winners
1st Place: Floor Coverings International
2nd Place: Panchero's Mexican Grill
3rd Place: Bijoux Terner
Website Winners
1st Place: Great Clips
2nd Place: PostNet International
3rd Place: Meineke (Driven Brands, Inc.)
SEO Winners*
1st Place: Spring-Green Lawn Care
2nd Place: BrightStar Healthcare
Social Media Winners*
1st Place: Panchero's Mexican Grill
2nd Place: CKE Restaurants

* new categories
Epcon Communities: #1 Overall
"Good customer service, whether it's our customers or franchise prospects." That's the key to an effective recruiting strategy, says Dan Noreen, business development manager for Epcon Communities, a homebuilding franchise based in Dublin, Ohio. "If we can deliver an experience that is out of the ordinary and inspires confidence in our company and brand, that's a big boost to our recruitment effort."

Epcon is the winner of this year's Overall STAR Award, with the highest total score in phone and website responsiveness among our mystery shoppers. Noreen says the company's winning strategy involves a number of "touch" points during the recruitment process, from the person who handles the initial incoming phone call to the one who collects the Internet leads.

"The goal with our leads is to get them engaged in a live conversation with the business development department as quickly as possible," he says. Once qualified, prospects can immediately enter the sales process.

Noreen says that although the Internet generates more leads for his company, the telephone remains the key tool. "Good interaction on the phone is where the relationship begins," he says. And the strategy at Epcon is simple, he says: answer the phone on the first ring. Call-forwarding technology increases the chances that reps are reachable outside the office. And when this doesn't happen, the company's phone system captures all incoming numbers, which allows sales reps to return calls even when prospects don't leave messages.

During the past year the company has improved its return call time from 24 hours to the same day, and now is working to improve that, he says. "Our goal is to respond within two hours, but our tracking shows that most leads are responded to in 30 minutes or less. It's fun to hear the amazement in someone's voice when they get a phone call five minutes after they hit the Send button on the inquiry form."

On the Internet side, he says, SEO is becoming more and more important and helps Epcon "cut through the clutter."

Tracking also is an important component of Epcon's winning formula. The company uses a database to follow candidates through the sales process and to generate reports to analyze and tweak the process. In the past year the company began graphing several processes, such as call response time and leads versus marketing campaigns. "We had numbers on those before, but putting them into a visual, graphic format helps us analyze what's happening," says Noreen. "It makes it easier to see what lead generation efforts or recruiting tactics we should do more of and what we should abandon."
Great Clips: #1 Website
"We are always experimenting, measuring, and enhancing our lead generation efforts. We never sit still," says Rob Goggins, vice president of franchise development at Great Clips. The Internet has become a more important part of that process each year, he says. This summer, Great Clips overhauled its website. The effort shows: Great Clips took home this year's STAR Award for website recruiting.

Goggins says website traffic is up "significantly" over last year and that it is a critical part of the company's recruitment strategy. "Our lead generation process is always evolving. I'd be reluctant to say we're that different from other franchisors in terms of the marketing tactics we've tried, but we're always doing our best to execute at a high level."

The Great Clips recruitment website offers prospects several impressive features. First, there's a 360-degree view of a new salon decked out in the brand's "Relax" design. "This allows prospective franchisees in new markets to 'visit' a salon and get comfortable with the layout and design elements," says Goggins.

Next is the site's password-protected Prospective Franchisee Learning Center, with easy access for qualified candidates. "Previously, they had to access this information by typing in a different URL, and that virtual brochure didn't have the same look and feel of our franchise recruiting site," he says.

Finally, he says, the user-friendly new site map makes it very easy for prospects--and franchise consultants--to easily check on territory availability. Goggins says a successful recruitment website should include territory availability, a brief outline of your ideal franchisee, an explanation of your due diligence/approval process, investment level, FAQs and, of course, an application. "Beyond that, in the password-protected section of our site, we provide candidates with a guided tour of all aspects of our business: staffing, support, technology, marketing, and real estate."
It's critical, he says, to keep prospects engaged by making several phone calls, sending emails with links to educational material, and allowing them access to some of the online videos and testimonials.

The final part of lead generation effectiveness, says Goggins, is tracking results. "Every month I review approximately 20 reports with my marketing coordinator, and we discuss possible changes with our marketing consultants. Additionally, I receive several automatically generated reports daily that tell me how many leads we received, the source of those leads, and how many we converted into qualified candidates."
Floor Coverings International: #1 Telephone
Tom Wood, president of Floor Coverings International (FCI), was modest when asked about his company's lead generation and recruitment success. "It's not complicated, we just make sure we efficiently take incoming calls and leads and get back to people right away," he say. While every franchisor says this, actually doing it earned FCI the STAR Award in the telephone category.

To generate lead flow, the company uses brokers and the Internet ("most major portals because that's where people go," he says) to create around 20 to 30 leads per week. Three sales and development professionals, located in satellite offices, personally handle each incoming call. There's no pre-screening process. "I don't see any value in measuring a prospect before you've even spoken to them," says Wood.

The goal, says Wood, is to reach every prospect within 24 hours. "I don't mean just return the call within 24 hours. I mean actually get the prospect on the phone and engaged within 24 hours," he says. Getting candidates engaged means multiple, ongoing conversations "listening to them, finding out about them, and then tailoring the sales approach accordingly. It's not one-size-fits-all here."

On seeing the results of Franchise Update's mystery shopping report at this year's conference, Wood said, "It's amazing. The numbers tell the story. You have to call interested prospects back, and so many brands simply aren't doing that." Floor Coverings International is one brand that is.
Panchero's Mexican Grill: #1 Social Media
"A year and a half ago I didn't even know what social media was," says Greg Poling, director of franchise sales at Panchero's Mexican Grill. "But I can honestly say we would not be where we are today without it."

Much of the brand's success in this area is the result of the full-time employee recently hired to head their social media efforts, he says. It must be working: Panchero's earned the first STAR Award for Social Media, a new category introduced this year.

The Iowa-based brand has about 60 units in 20 states. Poling says Panchero's continues to rely on a "grassroots effort" to get the word out and generate leads, and social media has played a significant role in that strategy. Facebook, Twitter, YouTube, and an active blog are all part of the equation.

On Facebook, Panchero's has created one page for customers and a separate recruitment page dedicated exclusively to prospects. The recruitment page describes financial qualifications and explains other pre-qualifiers and requirements such as previous restaurant operating experience, a plan to develop a market, and knowledge of the area the prospect would be operating. From the recruitment page a short application form is one click away.

Poling says social media works well for the brand because it has a limited budget, and that all the online activity creates a buzz--weekly contests and giveaways are announced by a video on Youtube, for example. "This kind of activity is a great validator for the energy and enthusiasm about our brand," he says. "We've had Twitter conversations that have compelled people to contact us about franchising."

Panchero's pre-qualifies each lead, no matter how it originates, and immediately sends out e-documents to get them engaged. Poling then personally makes contact with each lead, anywhere from 3 to 15 a week, he says. His goal is to return every call the same day. This dedication to callback efficiency helped Panchero's also earn Second Place in the "Telephone" category of this year's STAR Awards.

"It's not rocket science," he says. "It's just about getting back quickly, on the same day in our case, and beginning that relationship."
Spring-Green Lawn Care: #1 SEO
Search engine optimization--SEO--is big business these days. So much so that Mark Potocki, franchise development director at Spring-Green Lawn Care, says, "We believe SEO is imperative for our program to be successful and will continue to be one of our best-quality lead sources." The company is walking the talk, taking first place in SEO, the second new category in this year's STAR Awards.

For Spring-Green, an effective SEO strategy begins with the use of proper keywords, meta tags, and title tags. Potocki says it's important to build a glossary of terms to help strengthen your position online. "Use text-based headers and limit the amount of Flash on your site--it looks cool, but you get no SEO credit. Add podcasts and other external links to boost your rankings," he says.

Successful SEO is a long-term effort, says Potocki. "We have been at it for a few years. SEO does not pay off overnight and is an ongoing process." And, he says, search engine logic--and the game of online rankings--changes every day. "Video seems to be moving up in ranking, so it would not surprise me if you begin to see us add more video to our site. Blogs are another," he says. "Who knows? I may be blogging on our site soon."

The lead generation process is always being refined at Spring-Green. "We updated our process into a virtual brochure last year and have built in qualification questionnaires and opportunities for us to measure actions in all six stages of our investigation process," he says.

In the Spring-Green system, a qualifier makes initial contact--by email with an introduction to the virtual brochure, and by phone with multiple attempts each day for three to five business days. Once a candidate is qualified, either on the phone or through a questionnaire in the virtual brochure, the qualifier makes an appointment with the franchise development manager. "Then I drive the investigation for the next 30 to 45 days," says Potocki. This happens through a series of phone calls, use of an electronic brochure, validation, contract review, and ultimately a "join the team day" for final approval.

A quick, professional response factors highly in the company's approach. "There is not a better first impression than answering an inquiry in a professional manner," he says. "The emotions from the candidate will never be higher. Shaping the expectation on that first call is important."

Potocki says that first call allows him to harness the prospect's enthusiasm, establish buy-in to the process, and chart the course for the next 30 days. He also believes a candidate may reveal things on the first call that ultimately will help close the sale. "They have no reason not to want to share their story, their goals, dreams, any fears, or potential influencers on their decision to investigate a franchise opportunity. You can learn quite a lot on the first call without saying much."

Although Potocki says Spring-Green is flattered to be recognized with a STAR Award, he says, "Measurement at Spring-Green is based on deals, not awards, and this year we could use a few more deals."
Published: November 16th, 2009
Share this Feature
Recommended Reading:
Comments:
comments powered by

Disqus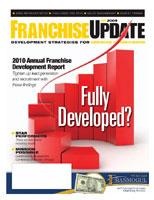 Franchise Update Magazine: Issue 4, 2009
MSA provides domestic and international franchise advisory services to franchisors and companies seeking to establish franchise and licensing systems.
Tiger Pistol, the world's leading collaborative advertising platform, connects the power of brands with the knowledge and credibility of their...