State Regs Under the Microscope: Weighing the Cost/Benefits Of Overlapping Regulation
I begin this column by stating where I am going with this piece. I am going to put franchise sales legislation and regulation under the microscope, and ask the penetrating question of whether it is, or is not, necessary. (Similar questions should be asked about franchise relationship legislation, but I will leave that for a future column.)
First, a quick history lesson. Franchise legislation is celebrating its 40th anniversary this year. Back in 1970, neither the federal government nor any state had laws that governed franchise sales generally. The California Franchise Investment Law, enacted that year, was the prototype for franchise sales regulation. (Twenty-four states also have statutes governing the sale of business opportunities, which by definition frequently are broad enough to cover franchises, but that, too, is a subject for discussion on another day.) Today, there are 15 state laws affecting franchise sales generally. Only one state, New York, has enacted a franchise sales protection statute since 1975.
What do these state laws accomplish? Before the adoption of the Federal Trade Commission's Disclosure Rule (the FTC Rule) in 1978, their role was significant. At that time, franchisors were not required to give any information to prospective franchisees. Thus, franchisees were making significant investments without having sufficient knowledge of the situations they were buying into.
In those states that had adopted franchise sales statutes, the prospective and purchasing franchisees now had more information than before. Residents of the other 35 or so states, however, might still be in the dark when making their investments, unless the franchisor voluntarily made pertinent information available. But with the enactment of the FTC Rule the franchisees and prospects in these other 35 jurisdictions now received information comparable to that received by prospects in the 15 regulated states.
Question: Did the state franchise sales statutes consequently become obsolete?
The answer is clearly no.
The state franchise sales laws accomplish two things that the FTC Rule does not. First, most of the state franchise sales laws have review elements; that is, the franchisor's document is vetted by a state regulator, commented upon, and typically modified, before the franchisor can use it in the marketplace.
Question: Does this review process add value to the franchise sales process?
The answer: Yes. But an equally important question is: How much value?
I have argued for years that the concept of review is not bad, but the fact that, to go national, a franchisor must walk the review gauntlet 10 or so times, is disturbing. (Only 10 states now review disclosure documents. In the other states, the franchisor must register, but their disclosure documents are not reviewed.) How much benefit is added by having multiple reviews? Little, I would argue. One review might lead to a more meaningful disclosure document. Multiple ones add cost--and that cost can be significant--but in my observation over the years, more than one review adds little, if any, incremental protection.
Could the same result be achieved through a different regulatory scheme? Yes, but there is a lack of enthusiasm among our governments--and the franchise community--to effectuate a better solution. Several years ago, the state regulators adopted "Coordinated Review," where one state took the lead in reviewing disclosure documents, with the other states in which registration applications were submitted joining in the process generally to make sure that disclosure issues peculiar to their jurisdiction were complied with. This process was abandoned several years ago. It has not been given an official death sentence, but it is now on the back burner, possibly forever. Why did it fail? That, too, will be the subject of another column.
The other alternative would have been a federal review process, but no one has chosen to go that route, either. Currently, the FTC does not have the resources to implement such a process, and no one has taken on the challenge to promote federal preemption of state laws in the franchise sales arena. To my knowledge, the last time this subject was given some (and note, I don't use the word "serious") consideration was about 1990, when then-FTC Commissioner Terry Calvani, looking for a cause to fight for, expressed interest in this challenge. That interest died, however, when he left the FTC shortly thereafter.
A second area where the state franchise sales law has provided teeth is in enforcement. Under all of the state laws, the state governments are given the right to enforce franchise sales violations. But how effectively has this enforcement right been used? The state departments and agencies charged with this responsibility have for years been working with limited financial and personnel resources, the situation has gotten even worse during the current or recent (is it over yet?) recession, and I have seen no incentives or conduct aimed at increasing funding for this cause.
The state laws also grant private rights of actions to aggrieved franchisees. Although the FTC attempted to implement a private cause of action, its efforts were unsuccessful (Mon-Shore Management, Inc. v. Family Media, Inc., 584 F. Supp. 186; S.D.N.Y. 1984).
Thus, today we find ourselves in a situation in which the task of franchise sales law enforcement has de facto been left in the hands of the individual franchisee. However, the setting for a franchise sales dispute typically finds the franchisee's business having failed and the franchisee facing the cost of litigation, which can be staggering. Does the franchisee have any hope of recovery?
The price of regulation
Notwithstanding the plight of the franchisee, there is another side to this regulatory scheme that cannot go unnoticed. The whole franchise sales process adds significant cost to the franchise marketplace. Registration in multiple states is expensive, and, as noted above, multiple registrations and reviews are of questionable value. And while franchisees protected by the laws of the registration states undoubtedly have better odds in litigation against their franchisors, these laws also encourage strike suits, where the franchisee claims have little substantive merit, but which the franchisor will often settle for nuisance value.
While franchisor and franchisee legal advocates may have different views of the world, the one opinion they likely share is that litigation and arbitration are expensive and are often relatively ineffective ways to resolve disputes. One smaller franchisor commented to me recently that many franchisors, especially when they are in their start-up phase, are not Federal Reserve banks. They, too, have limited resources and are not thrilled about defending lawsuits that they feel lack substance, especially when they perceive that the source of franchisee failure is not a flawed system or incorrect disclosure, but a lack of effort by a franchisee, a failure to follow the system, and in some cases, the incompetence of the franchisee.
Both sides have meritorious arguments. One personal observation is that franchise sales legislation does have a negative impact on franchising and the structuring of systems that distribute goods and services. When faced with the question of whether to use franchising as a means of growth, many businesses hesitate, and in some cases, go out of their way to structure systems that avoid this regulation--possibly resulting in business decisions on distribution that do not necessarily reflect the best use of their resources. In addition, these laws put franchisors at a competitive disadvantage when their business models are measured against businesses that select company-controlled distribution as their business model. Distribution-integrated companies can more readily adapt to the marketplace, with their challenge being whether they have the financial and personnel resources to take on this business plan.
Franchising, I would argue, is good. It is good for franchisors because it provides a distribution method to those companies that want to enter the Major League of business quickly, but don't have the means themselves to take on the marketplace. And it is good for franchisees in that it gives individuals with limited financial resources the skill sets to own their own businesses and to become involved in interesting, developing areas of business from which they might otherwise have been foreclosed. And regulation, I would argue, is to some degree necessary. The experiences of the 1960s suggest that the marketplace, by itself, won't or can't eliminate perceived deficiencies.
But, have we in our current regulatory system effectively addressed the question of whether current disclosure requirements give meaningful disclosure to franchisees, and done so in a way that does not place an albatross around a franchisor's neck? This debate is not new, but no one really seems to care. When there is so much at stake and so much is wrong with our current system, I find it unfortunate that our business society has adopted the "sleeping dog" philosophy.
Rupert Barkoff is a partner in Kilpatrick Stockton LLP's Atlanta office, where he chairs the firm's Franchise Practice Group. He is a former Chair of the American Bar Association's Forum on Franchising and Co-Editor-in-Chief of Fundamentals of Franchising. He can be reached at rbarkoff@kilpatrickstockton.com.
Published: December 2nd, 2010
Share this Feature
Recommended Reading:
Comments:
comments powered by

Disqus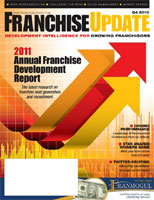 Franchise Update Magazine: Issue 4, 2010
UMI has over 23 years of experience supporting fast-growing multi-unit brands. From strategic planning to design, execution to analysis, UMI...
Prisma has reinvented the marketing supply chain with an end-to-end solution that makes it easy to design, customize, order, download, print, kit,...