Taking Flight: Greg Mooneyham's Not Afraid Of Risk In The Air Or On The Ground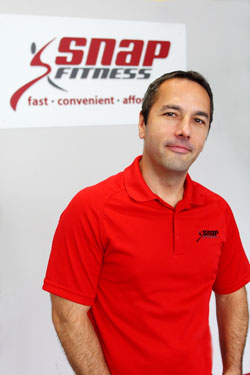 Taking risks is a part of life for Greg Mooneyham. He is, after all, a former Air Force fighter pilot. But his decision to venture into the world of franchising in the fitness industry during an economic downturn was a calculated move to practice what he preached.
Mooneyham, CEO of Atlanta-based JRG Fitness Operations, recently closed a deal with a private equity firm that opened the financial door for him to acquire 35 Snap Fitness facilities. The move made JRG Fitness the largest independent North American franchisee of Snap Fitness, the compact, state-of-the-art 24/7 fitness center concept based in Chanhassen, Minn.
After serving his country as a fighter pilot for more than a decade, the U.S. Air Force Academy graduate worked as an account executive with corporate giant Johnson Controls, where he learned the real estate and store management ropes from an entrepreneurial owner of a retail chain of decorative fabric stores. Mooneyham caught the entrepreneurial bug and ventured out solo as a consultant for The Entrepreneur's Source, a franchise and business ownership coaching organization. When Mooneyham, a fitness buff, saw the need for a gym near his home in southeast Atlanta, he decided to heed the advice he gave his clients. He opened his first Snap Fitness unit in March 2007, half a mile from his house.
"I was looking for something that would provide, essentially, passive residual income to my consulting business and Snap Fitness was a perfect fit," he says. "It got to the point where the tail was wagging the dog and the consulting business became residual income, instead of the Snap Fitness business."
Not a bad problem to have. His first Snap Fitness location remains the top gym in the system. He opened a second unit in 2008 and a third in January 2012. In between, in 2010, he earned the brand's Franchisee of the Year award.
As financing and credit slowed and industry growth fell flat, opportunities to snatch up more Snap Fitness facilities grew. Mooneyham turned to The North Avenue Group, an Atlanta-based lower middle market private equity firm, for capital. This past July, North Avenue acquired his company, JRG Fitness, providing him with the funding to purchase of 35 Snap Fitness facilities spanning nine states east of the Mississippi. The acquisition dovetailed perfectly with North Avenue's business plan to build onto the multi-unit management segment of the company's franchise target focus.
"The industry has evolved, it has become much more professional," says Mooneyham. "There is no longer the sweaty, grimy gym the local body builder owns. Now it is an industry that has a lot of the same business concepts as any other retail industry."
The partnership with North Avenue has put Mooneyham's growth plans on the fast track: he hopes to grow his portfolio to 200 gyms, including new construction, in the next five years.
The timing couldn't be better. The evolution of the fitness industry comes at a time when more than a third of our nation is obese, says Mooneyham. Most people who are fit, he says, are already gym rats. The challenge is to get the folks who need to work out to use the gym, he says. His marketing plan is to focus on personal training and results.
"The gym is no longer just a place to go. It is a place to go to lose weight, get your cholesterol down, get off your diabetes medication, and do all the things you need to get results," he says. "As the economy picks up, we believe the growth in the industry will also pick up." In the meantime, he hopes to snap up more Snap Fitness locations.
Name: Greg Mooneyham
Title: CEO
Company: JRG Fitness Operations, LLC
No. of units: 37 Snap Fitness
Age: 47
Years in franchising: 9
Years in current position: 2 months
Published: January 9th, 2013
Share this Feature
Recommended Reading:
Comments:
comments powered by

Disqus
Shakeaway is a unique global company with stores popping up all over the world! Get involved in this fun, fast growing and profitable franchise now...
Invest in a Dairy Queen® franchise opportunity and immerse yourself in familiarity. We invite you to get started today. Success has never been so...
Cash Required:
$400,000