Teacher-turned-franchise exec to succeed her father as Kitchen Tune-Up president
If someone had told Heidi Morrissey 20 years ago that she'd wind up as heir apparent to the family business, Kitchen Tune-Up, she would have probably rolled her eyes in that way that only a teenager can. And if her four siblings had dared to suggest that she, of them all, was most like their master-salesman father, she'd have repeated the eye roll and added an indignant snort.

First of all, she recalls, "my father was driven, very ambitious." She didn't see herself as a sales person; she preferred the moniker of "teacher." In fact, that's what she did before becoming a stay-at-home mom and very successful in the direct-sales keepsake album industry. It was 2003 before the mother of three daughters became an executive in the male-dominated home improvement business and, specifically, the largest kitchen and bath remodeling company in franchising.

Kitchen Tune-Up originated when David Haglund identified a niche market for cabinet reconditioning in 1986. The successful owner of a cabinet distributorship, he noticed the wear-and-tear on a customer's six-year-old cabinet and offered to touch up the worn surfaces using a combination of stains and oils. The results were outstanding and he perfected his process before selling the first Kitchen Tune-Up franchise in 1988. The company's services have expanded to include custom cabinetry and countertops, complete interior wood restoration, tub and shower lining systems, closet reorganization systems, and cabinet accessories.

Haglund, who, when he retires, plans to turn over the presidency to Morrissey, says that his daughter's personality is similar to his own. "I'm a little bit of a mold breaker. I'm a pretty good manager and a good salesman," he says. "Heidi is the same way--teachers make great business people--and she has gained the respect of our franchisees and corporate staff. That's the first thing you have to do. You have to show that you know how to do things, not just that you're filling a position."

His 39-year-old daughter has learned that first-hand. "Just because you're a Haglund doesn't mean you get automatic respect--you probably get less. People wonder if you're here only because of your birthright," Morrissey says. "At first, being the only woman on the upper management team was a huge barrier for me. It probably brought out the 'tougher' side of me quite quickly. I had to prove I could learn things and do them well."

The next generation
All five of Dave and Cynthia Haglund's children had worked summers growing up, doing everything from office work to sweeping floors. Tony, now 41, spent nine years with Kitchen Tune-Up before leaving for the ministry. Brian, 36, a former franchisee, is now a musician and songwriter in Minneapolis. Mark, 32, has been with the family business for a decade and is a vice president for customer service. Heather, at 28 the youngest of the siblings, is a longtime employee in the corporate office in Aberdeen, S.D.; she currently works part-time while she cares for her two young children.

With the succession plan well under way, Haglund says he can now look to the third generation and his eight grandchildren's possible roles in the business (the oldest is 17). "They are much more interested in the family business than we were at their age," Morrissey says. "Maybe it's because we have so many more women working here now," her father adds.

But with Haglund an active 61 not ready to step down, why is the succession plan so important? "Many franchisees have been downsized in other jobs," he says. "So they hate to buy into a company, and, all of a sudden, the person in whom they'd invested is gone. Our business is successful and I'm getting older, so people have begun to ask, especially since Tony, my oldest son, left for the ministry. My wife and I have been doing a lot of estate and family planning as well, so we can have all this in place."

Succession planning is an important consideration for any family-owned business, since the vast majority of U.S. businesses are family-owned or family-controlled. Despite those numbers, only 30 percent of family-run companies today succeed into the second generation, according to the U.S. Small Business Administration. The reason for that is often the lack of an orderly plan for succession.

"Our franchisees are doing the same type of planning for their sons and daughters, who might be coming into their businesses," Haglund says. "It was important that they know Kitchen Tune-Up was going to be around to help their future generations." Haglund believes his offspring have been essential to the growth and success of Kitchen Tune-Up, which now has 165 franchisees who operate 310 territories in 39 states. However, they weren't trained from birth to be heirs to his business throne.

"As our children were growing up, we never talked about having them follow me into the family business," he says. "I knew one child was interested in music, and another in teaching. I assumed they'd follow their own interests and goals."

To his delight, conversations with his oldest daughter several years ago led to her commitment to the future of the company.

"When I was young, I worked as a waitress and did other things in addition to delivering cabinets and sweeping floors for my father's business," she recalls. "Kitchen Tune-Up was starting up when I began college, so when I was home, I'd help in the office. But I really didn't know much about what was going on."

After college, she taught until her children arrived. Then she stayed home and began working in scrapbooking. She found that she was good at management (she managed 50 consultants). However, she didn't equate that with the family business. "I'd come home and Dad and I would talk about the business. It was amazing how his ideas had grown and caught on so widely," she says.

What triggered the actual move was, not surprisingly, a family issue. "We were six hours away from my parents, and the kids were at an age when they wanted to be around grandma and grandpa and their cousins. My brother (Tony) had moved back home and was doing some great things with his church there," she says. "We talked about the fact that my husband couldn't take a pay cut to work in South Dakota, where the pay is very low."

These conversations came at a time when Haglund felt he needed more help in the business. "I told him I wasn't sure what strengths I had that would be helpful in the business, but he knew about my training as a teacher and that I was a pretty good writer. He didn't say, 'You'll come into the business to do this or that.' He just said, 'Let's bring you in and see what happens,'" Morrissey says.

As a fail-safe, her husband took a one-year leave of absence from his job, and she dove, head first, into Kitchen Tune-Up.

She began to read manuals and reports, immersing herself in the company's past and present to see what was successful and why. She answered phones and talked to franchisees. "I soon took over some training sessions, rewrote the manual, and started getting involved in meetings," she recalls.

She attended her first big national convention in 2004. "It was my first time in front of all the franchisees," she says. Soon after that, people started asking succession-type questions.

Today, Morrissey is vice president of marketing and sales for the company that has never had an unprofitable year. She quickly learned about the different ways in which men and women communicate, she says. She liked to discuss decisions, but she found that men like to make them quickly, without much back-and-forth. In an attempt to breach the gap, she instituted 30-minute weekly staff meetings, which have been well received by employees.

"I feel that I am often the emotional connection in the organization," Morrissey says. "Having run a home-based business, I can empathize with many of our franchise owners. I think people appreciate that I try to get everyone on board with decisions before they are made. When I have to be tough, I can do it, but I think my strength is that I truly care about our owners and I tend to mother them and their businesses."

She also sees her relationship with her father not as a liability, but as a strength. "Who knows a business founder better than his children? I think we can articulate and carry on his vision better than anyone else," Morrissey says.

Her father admits he's also learned from his daughter. "I've learned a lot from her about working one-on-one with people. We have 15 employees here now, and she works with them on a daily basis more than I do. Between Heidi and another major person, I am freed up to do some other planning and long-term things for the business, enjoy life, go golfing," Haglund says.

Morrissey sees her father differently since she began to work with him. "I would never have gotten to know him so well if I had not begun working for him," she says. "Everything he does, he does it full force. He works 12-hour days and does it full force. Then if on the weekend, we take the snowmobiles out, he does that full force, too. Now, I see the passion that he has at work and at home."

Although he admits he's always been something of a workaholic, Haglund describes himself as a "loyal" parent. "I coached hockey and was involved in other ways with my kids' lives. I've made sure they are taken care of. I have worked hard. I've never taken a two-week vacation in my life. I've taken more vacations over the years, but always just a week at a time," he says.

His wife stayed home with the children but, now that they're all grown, she has opened her own quilt store.

Both Haglund and Morrissey consider their family "close-knit." "We're not a fighting family," he grins.

Father and daughter also agree that, as a boss, he's a bit tough. "I guess I always want things done better and faster, and I want to know where things are with our projects. I don't want to take them over; I just want some oversight. By the same token, I've always given my employees good benefits, and I've kept a lot of them. We don't have a lot of turnover around here," Haglund says.

Debbie Selinsky is a North Carolina-based freelance writer.
Published: October 31st, 2006
Share this Feature
Recommended Reading:
Comments:
comments powered by

Disqus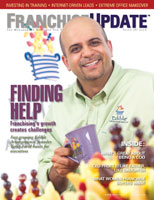 Franchise Update Magazine: Issue 3, 2006
Support your multi-location brands and empower users. OneTouchPoint integrates localized marketing services and comprehensive brand management...
Oct. 18-20, Atlanta, GA. An exclusive event for franchisor CEOs, Presidents, COOs, CDOs and Franchise Development Executives.