Team Player: Cross-Functional Strategy Drives Fazoli's new CMO
In mid-2015, Sentinel Capital Partners acquired Fazoli's from Sun Capital. Sentinel, which had scooped up Checkers and Rally's, Newk's Eatery, and TGI Fridays the year before, targeted an aggressive growth strategy for the nearly 30-year-old brand. And this past February, Fazoli's announced the hiring of a new CMO and vice president of operations.
The CMO was Donna Josephson, who was tapped for her two decades of marketing experience at brands that included McAlister's Deli, Wendy's, Applebee's, and Chick-fil-A. At Fazoli's Josephson is spearheading marketing strategies aimed at supercharging the brand's growth across its 220 units. But it's a team approach from top to bottom, says Josephson.
"Marketing strategies are developed to support the key initiatives in conjunction with our agency partners and then shared with cross-functional leaders to ensure alignment," she says. "There is ongoing communication of the plan throughout the year, and we have a cross-functional execution that brings the plan to life." Plans also are shared with the franchise advisory board and then with the entire system.
Josephson has a track record of marketing success. As vice president of marketing at McAlister's, she led the executive team in redefining the sandwich chain's brand positioning and recruited and built a team to support it. At Chick-fil-A she pioneered local marketing programs, and in the marketing office at Wendy's she was awarded the R. David Thomas Outstanding Management Award.
She understands how marketing affects the performance of the brand and is well aware of its relationship to a brand's operations and balance sheet. That's why she believes it's important to be "bottom-line focused while building programs that appeal to consumers."
Describe your role as CMO.
I lead overall brand strategy development, brand management, national and local initiatives, as well as research and development, and menu innovation. My team is responsible for driving profitable sales growth for our 220 franchise and company locations.
What's the most challenging part of being a CMO today?
One of the biggest challenges is ensuring that the team is up to date on technological advancements and how consumers' needs and wants are evolving within this rapidly changing environment. Technology has enabled marketers to have more information in regard to consumer behavior than we have ever had. Interpreting that data to create products and meaningful experiences that meet our guests' needs and increase demand for Fazoli's is key. We are adding new technology that will enable the organization at all levels to better serve our customers. This new technology will provide better data for decision-making, better communication and training for associates, and help us provide a better overall guest experience.
What are the 3 most important keys to being an effective CMO leader today?
Assuming the basic foundations of solid brand positioning that resonates with consumers and a high-functioning marketing and R&D team are in place, first it is crucial to understand the guests' journey as they interact with your brand. Data provides insights into the ever-changing needs and wants of our guests. At Fazoli's, developing great-tasting products and meaningful programs to fill those needs across all touch points of their journey with the brand helps us deliver a consistent and rewarding dining experience that drives both trial and repeat business. This leads to the second key, which is being able to work well and partner across all levels of the organization. It is not enough to create great products and demand for them. From advertising to the delivery of the product, the CMO needs to work cross-functionally with other departments in the organization to ensure the guest experience is brought to life in a meaningful way. This requires developing trusting partnerships and creating an environment that respectfully challenges the status quo to encourage growth and change. Finally, it is important to understand and have sensitivity to the bottom line. Marketing has a major impact on the performance of the brand. Balancing being bottom-line focused while building programs that appeal to consumers is necessary to be successful.
How is your marketing/branding strategy developed, and how does it flow through the system?
The planning process begins with revisiting the results and performance of current initiatives. At Fazoli's, I am fortunate to work with a great peer team of strong leaders. Led by our chief executive officer, Carl Howard, we meet regularly to discuss the progress of our key initiatives, results to date, and problem solve hurdles that may arise. The teams are constantly course-correcting to keep results on track, and our marketing team does the same through weekly meetings. Key brand strategies and initiatives do not change radically year-to-year as there is a long-term vision for growth with approved initiatives to achieve that growth.
How do you prepare a marketing plan and execute the strategies?
This focus on our overarching goals and brand strategies allows each team to concentrate on building solid execution plans. Marketing strategies are developed to support the key initiatives in conjunction with our agency partners and then shared with cross-functional leaders to ensure alignment. Plans are then shared with our franchise advisory board and finally with the system. There is ongoing communication of the plan throughout the year and we have a cross-functional execution that brings the plan to life.
How do you measure marketing results and effectiveness?
We have daily reporting of year-over-year sales, traffic, and check performance. We also benchmark our performance to the industry. Reporting includes sales performance of promotional items and guest measures of satisfaction. This gives us insight as to whether promotional products added to the guests' overall satisfaction and revisit intent in addition to overall menu and service satisfaction. With the introduction of social media, we have various measures in place to track brand sentiment, engagement, and the overall growth of our fan base. Brand tracking research is employed to monitor the health of the brand.
Discuss your core consumer marketing strategies and objectives.
The objective is to drive traffic, sales, and overall brand growth. Our strategy is to offer great tasting Italian fare at affordable prices while making our entrées fresh to order and providing table service, and of course, fresh, hot, unlimited breadsticks for our dine-in guests. It has proven to be a winning formula.
Describe your marketing team and the role each plays.
The team is organized into four areas. 1) Our brand team oversees the development and execution of the brand strategies and testing, promotional calendar, and all of the programs. 2) R&D is accountable for new product development, product upgrades, and continuous improvements. 3) Our social and PR team oversees all social media and community management, PR, and cause marketing. 4) Our field marketing team is responsible for all local marketing initiatives for our company and franchise restaurants. This team develops and executes local media and promotional programs in conjunction with the national marketing and promotional plan.
How do you work with other internal departments, and how does technology help?
Creating solid partnerships with internal departments is essential to moving Fazoli's forward to achieve our business goals. As mentioned earlier, leaders from the cross-functional team meet regularly, and while we use technology to communicate milestones on project plans and to house key elements, these regular meetings are where the key decisions and action plans take place.
How do you manage costs and budgets?
Very closely! Fazoli's is a small brand and does not have a large marketing and R&D budget. We must be extremely efficient and effective using the existing budget. While we have an agency of record, we also have in-house creative services and social community management. This helps us manage costs and provide added value to our franchise community.
Do you see vendors as business partners? Why/why not?
Absolutely! We rely on our vendor partners to understand our key initiatives and bring new ideas to the table. They are essential in helping us provide a great experience to our guests and delivering value.
How have marketing strategies and tools changed over the past decade?
The impact technology has had on consumers and how they interact with brands is amazing. Today social and digital media tools are essential for communicating with your consumers. Social media happens to be one of the most cost-effective tools in reaching customers where they live, work, and play. Our guests have let us know that they want to engage with us through social media, and we are jumping in on those conversations. Social media is included as a key tactic in all our marketing promotions. Consumer usage of online and mobile ordering also has spiked. We are in the process of introducing a completely new online ordering platform as we upgrade our catering program. Consumers have the option to place a phone order through Fazoli's call center or they can order online, which gives them the ability to control how they interact with our brand. Since we began the rollout, we have experienced growth in the early stages of the program.
Published: December 7th, 2016
Share this Feature
Recommended Reading:
Comments:
comments powered by

Disqus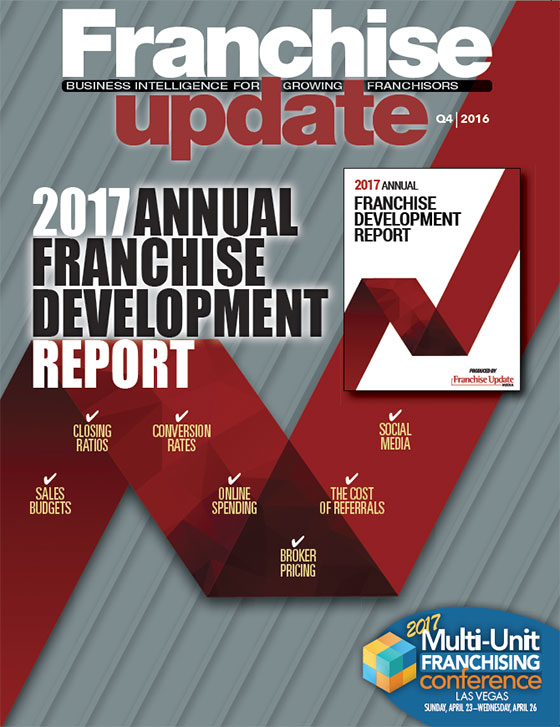 Franchise Update Magazine: Issue 4, 2016
Conferences
InterContinental, Atlanta
OCT 18-20TH, 2023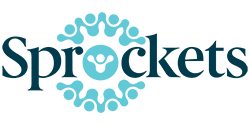 Sprockets is an AI-powered platform that helps franchisees maintain healthy staffing levels and improve employee retention. Our sophisticated...
Leasecake is location management made easy – from lease contracts and licensing agreements to ASC 842 compliance. Never miss a deadline, stay ahead...