The 7 Best-Kept Secrets of Area Representation
"Sage ol' pros" offer advice born of experience

In the 2008 U.S. Open Golf Tournament, Tiger Woods won it all in a sudden death playoff on the 91st hole.

This was the 14th major golf tournament Tiger had won in his career. Being in playoff situations numerous times before was a significant factor in his ability to maintain his composure time and time again when it looked as if he would not be able to win. Yes, experience does matter.

Expansion through the area representative (AR) business model can be a game-changing strategy. Learning from franchise pros and franchise companies that have experience in deploying and managing this business model enables emerging franchisors to capitalize on the "been there, done that" experience to reduce risk and cost in deploying an AR growth strategy.

In meeting and speaking with experienced franchise professionals over the years, seven surefire tactics emerge from these "sage ol' pros."

1) Building confidence. In professional sports, winning teams develop an attitude that they can prevail under any circumstances. Even though teams have talented players in key positions, confidence is one of the intangibles that enables players to perform above their natural abilities.

A winning attitude in a franchise system is best expressed through rapid growth. A continuous flow of highly qualified franchisees creates energy that builds confidence throughout a franchise system. This confidence is manifested in franchisees believing they can trample the competition, overcome day-to-day challenges, and develop the faith to try new things. Confidence creates a competitive advantage in the market place.

2) Growth. A properly structured and executed AR growth strategy achieves rapid growth, enabling a franchise company to accomplish four critical things:
Funding --Initial area representative fees provide franchisors with the ability to execute an aggressive area representative and franchisee recruiting strategy by providing funds to make the brand visible to potential franchise candidates.
Management --Initial area representative fees provide the financial flexibility to recruit and assemble a high-quality management team. Getting the right people on the bus is one of the most important elements for the long-term success of a franchise system. Too often franchise companies have to recruit second- and third-tier personnel because that is all they can afford.
Support --Initial area representative fees provide franchisors with the ability to properly support area reps, who in turn support their franchisees. Quality franchise support at all levels drives revenue and royalty growth, putting the franchisor in a profitable operational mode so they are not dependent on initial franchisee fees to survive. Profitability becomes the cornerstone to financial stability, enabling franchisors to continually evolve their franchise concept to stay ahead of the competition.
Differentiation --When performing due diligence, qualified franchise candidates normally investigate several different franchise companies within the same category. A rapidly growing system produces an energy and excitement that often are the key intangibles that make the difference in which concept candidates join.

3) Proximity of field support. The level and proximity of field support provided by qualified, well-capitalized area representatives is far superior to a centrally based, moderately experienced support team that visits franchisees once every blue moon. Locally based support by area reps with a 3- to 4-visit per year requirement reaps enormous financial benefits for franchisors and provides the needed support, hand-holding, and cheerleading that franchisees need to succeed.

4) Minimize home office expense. The need for home office executive, support, and administrative personnel and related overhead is significantly reduced when a franchisor is supporting 50 to 100 area representatives, versus 1,500 to 2,500 franchisees.

5) Higher per-unit revenue. Generally, locally supported franchisees have higher per-unit revenue than centrally supported franchisees. This leads to profitable franchisees, while providing the fuel for even faster franchisee and unit-level growth.

6) Brand dominance. The time needed to reach critical mass is substantially reduced with an area representative growth strategy. Emerging franchise concepts in new market segments have one opportunity to become brand-dominant. Time is of the essence. Alternative franchise growth strategies often do not enable emerging franchisors to capitalize on this once-in-a-lifetime branding opportunity before the "branding window" closes forever.

7) Exit value. The value of a franchise system is a multiple of the top and bottom lines. A well-executed area representative growth strategy will offset fees paid to area reps to recruit, open, train, and support franchisees by creating higher revenue and more profitability.

Smart franchisors seeking to monetize their efforts through an outright sale of the company, a strategic acquisition, or a merger or public offering understand the importance of the top and bottom lines in executing a successful exit. A well-structured and well-executed area representative growth strategy will make an exit more profitable than other growth strategies.

Marvin L. Storm is Managing Director of Blackstone Hathaway, which specializes in using area representatives as a franchise growth strategy. He can be reached at 925-376-2900 x201 or mstorm@blackstonehathaway.com.
Published: December 15th, 2008
Share this Feature
Recommended Reading:
Comments:
comments powered by

Disqus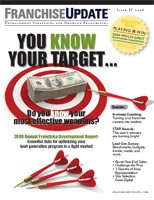 Franchise Update Magazine: Issue 4, 2008
Tiger Pistol, the world's leading collaborative advertising platform, connects the power of brands with the knowledge and credibility of their...
Franchise Update Media (FUM) is the trusted resource for the franchise industry. For 30+ years, FUM has been the leader in providing valuable...