Top of the Ops: "Big rocks" Drive System Growth at Donatos
It's an excellent time to be part of franchise operations. With franchise growth and multi-unit franchising in particular continuing to soar, the industry is working tirelessly to keep up with demand. This trend has created more opportunities within franchising and it's difficult not to jump on board with the "full steam ahead" mentality. As you do that, having a company culture that embraces core values will help crystallize what's most important throughout the organization. With this focused vision, your team can focus on what matters most and what can set your franchise apart in a competitive market: your "big rocks."
What are your big rocks?
To help keep an entire company aligned on values and goals, start to use a predetermined system to share, track, and highlight activities that equate to a positive company culture. A commonly used and effective management tool for this that I recommend is called "big rocks." The idea is that you have a barrel, large rocks, little rocks, and sand, which all represent different elements of your business strategy. If you pour the sand into the barrel first and then put the little rocks in, you will quickly see that there will never be enough room for the big rocks, which is a trap I see smart companies fall victim to all too often. The big rocks are the things you must accomplish as an organization, and therefore they must always be put first and prioritized above everything else. Not coincidentally, they are almost always the most difficult initiatives, which is why people tend to default to working on the "sand" first.
At Donatos, our big rocks of simplifying operations and maximizing franchise profitability align perfectly with what must be prioritized system-wide for any franchise restaurant business. "System-wide" is key here. To succeed in franchising, the entire company must buy into and rally behind franchise growth goals.
A well-oiled machine
Running a restaurant requires collaboration between a myriad of moving parts, such as scheduling, recruiting, training, customer service, conflict resolution, maintenance, accounting... the list goes on. To perform, these parts must all work together like a well-oiled machine--all on top of the core responsibility of preparing and serving quality food paired with a positive customer experience.
With so many moving parts dependent on each other, finding opportunities to simplify and streamline aspects of team members' daily tasks will result in more efficient and satisfied associates. This crucial simplification can be accomplished many different ways, such as working with suppliers to take steps that would normally be required in-store, or incorporating updated equipment in the kitchen. The continued development of food service equipment presents a wide range of options to streamline your kitchen.
And don't forget to consider the often-overlooked methods of making associate training more effective and efficient. With the Bureau of Labor Statistics reporting that the average turnover rate in the hospitality industry in 2016 was a whopping 72.9 percent, optimizing training is crucial to attracting and retaining top talent. Whether that involves updating training exercises and timelines, adding a layer of technology, or delegating to a trusted associate, any way to make the lives of your teams simpler will exponentially simplify your own life.
It should go without saying that the more successful a company's franchisees are, the more successful they will be as a franchisor. That's why ensuring franchisee profitability simply must be included in every franchisor's big rocks.
First, identify what your company does better than anyone else--as well as what others may be doing better than you. To improve, you need to know where your opportunities are. If it's market entry and saturation, experiment with ways to make current stores more successful and then adopt the most fruitful methods across several markets. If you're struggling to attract and retain franchisees, consider ways you can better set them up to succeed and then equip them with any and all tools that will help make it happen.
An easy fix that makes a big difference is making sure that franchisees can easily and quickly access all current best practices from across your system. Beyond that, make sure that they have ready access to subject matter experts from across all your staff, including IT professionals, local store marketing experts, accounting and financial professionals, supply chain experts, and recruiting and training experts. Why subject your franchisees to working out problems that have already been solved by others in your system?
To get ahead and stay ahead in franchising, it's most important to establish clear goals and objectives that are supported system-wide. Armed with your big rocks, you'll be able to quickly identify where your time should be best spent and ensure that franchising continues to grow.
Amos Durbin, vice president of franchise operations at Donatos Pizza, has nearly 20 years of experience in franchise operations.
Published: July 30th, 2018
Share this Feature
Recommended Reading:
Comments:
comments powered by

Disqus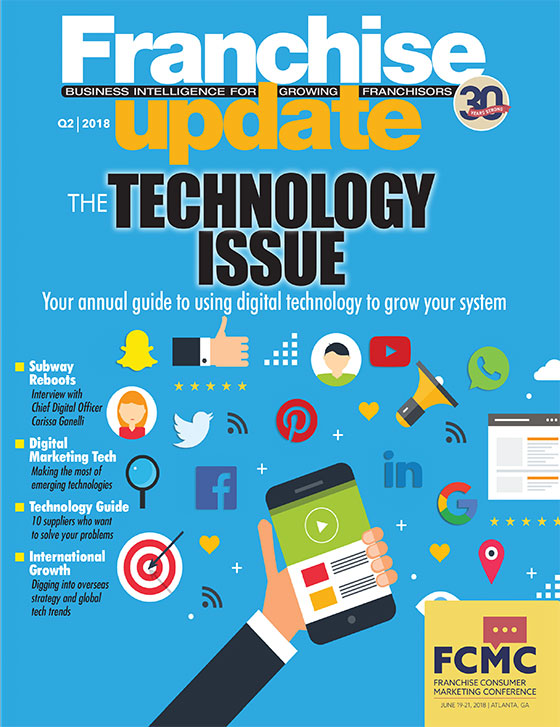 Franchise Update Magazine: Issue 2, 2018
Conferences
InterContinental, Atlanta
OCT 18-20TH, 2022
Sociallybuzz, founded in 2009, is the #1 Social Media Marketing Agency to help franchisors and franchisees increase their revenues, drive sales, and...
Oct. 18-20, Atlanta, GA. An exclusive event for franchisor CEOs, Presidents, COOs, CDOs and Franchise Development Executives.