Traditional Is Back! Measurability is Not the Holy Grail
Traditional media is suffering from a perception problem. Advertisers and agency media buyers struggle to attach appropriate metrics to print, radio, out of home (e.g., billboards), and television. Conversely, digital media can be filtered, weighed, and measured to death.
The ability to track every action and tightly target distribution has made digital marketing the darling of the ad world for several years now. We can achieve top search ranking. We can see a lift in social engagement. We can count every click-through.
But does knowing the quantity of a thing make it more valuable? No.
"If we want to target audiences at the right time and place, and deliver ads that trigger a positive response, we must use digital as part of the media mix and prioritize traditional channels," said Charles Bruce, former CEO of a multi-unit pizza chain. "You'll trigger a response if you choose the right mix for the desired target audience. And if you don't use traditional media, you very well may miss large swaths of your audience."
Here's what we know about traditional media: It works.
It can be used to deliver compelling content that generates an emotional response from your intended audience. Placements can be highly targeted based on geography, demographics, daypart, and contextual/editorial and other considerations. Plus, it often has a lower cost per impression than many digital channels.
For far too long we have been relying on perception and instinct that tells us digital is a more cost-effective channel and provides the best ROI, ignoring the evidence. When we measure traditional media based on sales volume, we have proof of its value.
Advertisers are beginning to see the writing on the wall.
One study conducted in the U.K. found that only 26 percent of respondents reported high confidence in their ability to quantify digital media ROI. The rest, presumably, recognize the challenges of equating clicks, likes, and shares to sales.
"The truth is consumers use media intuitively and work it into their daily lives," says Media Buying Services founder and CEO Kathy Munson. "They listen to the radio, satellite radio, and podcasts for news and entertainment when they commute to work. They sign up to receive email and social media for updates and deals from their favorite brands. They read magazines and blogs that are relevant to their work and personal interests. At the end of the day, you cannot discount traditional media because it's part of a day in our everyday lives."
If we take a step back and look at the primary functions of advertising--brand building and customer acquisition--we can reveal a balanced approach to media planning. Here are three simple steps to help you with this process.
Start with the business goals in mind, not the media goals. What is the bottom line you want to achieve? Is it increased customer traffic, third-party delivery, online ordering? Or is the goal as specific as improving traffic for your lunch business? It's also crucial to make sure you have full C-suite agreement on these goals. All the research we've conducted on the dining occasion decision indicates that it's a spontaneous event. If you hope to drive lunch customers, traditional radio is a great way to reach these potential consumers in the morning. To increase breakfast sales, late-night television delivers in big numbers.
Base the allocation of your budget to align with your business objectives. Balance does not mean a 50-50 split between traditional and digital. There is no formula to dictate how much to spend in the respective channels. This is where media buying expertise comes into play. Your goals dictate your media buying strategy. For example, a seasonal campaign for holiday gift shopping might rely heavily on digital shopper ads to push customers to your online retail site. A back-to-school campaign, however, would be better served through traditional media, like television, to quickly build brand awareness and drive families to your store.
Test and optimize all media channels. Test offers and incentives on the same channel, or test performance of customer loyalty rewards. For optimization, it's all about being agile in response to how your customers' behaviors change, and how they respond to your campaigns.
Conclusion
Make sure your campaigns are set up to meet and, whenever possible, exceed industry standards. And when a channel is not working, get out of it. Don't use a channel just because your competition is there. Use it because that channel is performing.
Media buying strategy is fluid. Keep in mind that what works this week may change next week.
Dan Santy is Senior Partner of Phoenix, Ariz.-based RIESTER, a full-service digital marketing, advertising and public relations firm known for building brands and creating positive social norms. He can be reached at dsanty@riester.com or www.riester.com.
Published: March 2nd, 2019
Share this Feature
Recommended Reading:
Comments:
comments powered by

Disqus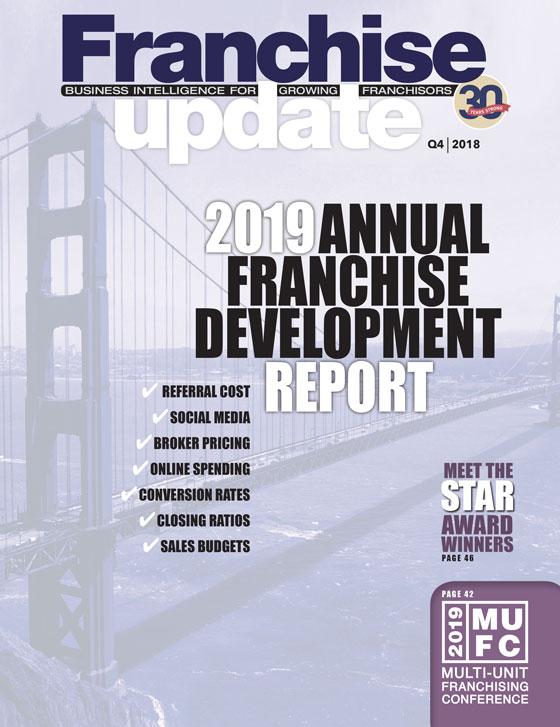 Franchise Update Magazine: Issue 4, 2018
Gravity Software is a cloud-based, multi-entity accounting solution that simplifies inter-company transactions and financial reporting. Built-in...
Sociallybuzz, founded in 2009, is the #1 Social Media Marketing Agency to help franchisors and franchisees increase their revenues, drive sales, and...