True Perspective: Adversity Brought Focus and Balance to Charles Loflin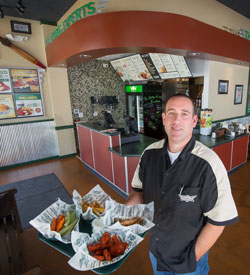 Cancer was a wakeup call for Charles Loflin. He was a successful businessman in 2009 going from one accomplishment to the next. Then his wife discovered she had cancer and it quickly brought life into perspective.
"That was a real sobering wake-up call for me," says the 45-year-old multi-unit franchisee today, who quickly realized there was more to life than operating a successful business.
Together the Loflins faced the cancer, beat it, and his wife is now a cancer-free survivor. But that wasn't the only outcome of this life-changing event. Loflin had just opened two very successful Einstein Bros. stores and had five more to go in his agreement. He sold those stores back to the company, refocused exclusively on Wingstop, and began spending more time and energy enjoying his wife and two children.
"I'm a very driven person. I want to be the best franchisee, I want to be the most successful at what I do, I want the highest scores in the system," he says, "but not at the expense of passing up other good things in my life like my family." He says he has been blessed by "simplifying his life," and in fact, has been growing his Wingstop empire at a healthy clip since the last time we visited with him (MUF 2009, Q2).
His most recent activity has been his expansion into the Phoenix market. Five of his 35 stores are in Phoenix, and he plans to open between six and eight more there by the end of 2014. Loflin was the first franchisee to take Wingstop outside the Dallas market and has remained a dominant player in the system's Texas market. He's still based in San Antonio, with all his other units in South and Central Texas.
"The Phoenix deal just made sense for me," he says. "I'm always in contact with the corporate office and I'm always looking at opportunities. I'm pretty happy with what I've got, but if the right opportunity comes along I will definitely consider it, and that's what happened in Phoenix."
It's not just about making money for Loflin, who describes himself as a "boring person." He says, "I do like to compete and I love battling to be the highest-grossing store in the chain, but I also want to provide a great product and great service. I like to say at the end of the day that I don't put dollars in the bank, I put transactions in the bank."
Loflin's 35 stores provide jobs for more than 680 employees and serve thousands of customers each week. He's in his stores regularly, in his uniform, observing and encouraging his crews. "It's not a power trip. I like being there and being a part of a restaurant operating," he says. "Again, it's not about the money, but about creating opportunities and providing great food and service."
Today he's enjoying a well-balanced life, spending more time with his wife and attending his kids' sporting events. It's a good place to be.
As for his focus on his business, he's still doing well. One of his stores topped $2 million in sales last year and another is the top-grossing store in the Wingstop system. Says Loflin, "My goal is to finish each day at each store by being better than we were yesterday."
Name: Charles M. Loflin
Title: President
Company: San Antonio Wings
No. of units: 35 Wingstops
Age: 45
Family: Wife and 2 children
Years in franchising: 16
Years in current position: 16
Published: February 5th, 2014
Share this Feature
Recommended Reading:
Comments:
comments powered by

Disqus
Heyday is a fast-growing skincare company on a mission to provide expert skincare that empowers everyone to be their best self. Heyday is reframing...
Cash Required:
$350,000
PetWellClinic is a walk-in veterinary clinic offering basic health and wellness services to dogs and cats. PetWellClinic is the first vet clinic...
Cash Required:
$250,000