Validation: Getting It Right: Making the Most of this Highly Influential Step
Franchisee validation can make or break your franchise sales. Pow! Just like that and a once-supercharged prospect can deflate to nothing in 24 hours, bailing out of your process instantly. Validation is the most influential stage in the selling process. What franchise owners say means far more than what corporate sales execs tell them. Franchise operators are "doing it," and it's their experiences that count foremost to cautious buyers.
Many of your candidates don't know what to do
For most franchise recruiters, successful owner validation opens the gate to Discovery Day visits at headquarters. To mitigate confusion and awkwardness for your prospects, it's essential to prepare them for their conversations with franchisees. To get real value from their investigation, a prospect must speak with at least five franchise owners. As a sales exec, it always surprised me that people investing their savings and family futures would try to shortcut their call assignments. Contrary to what a naïve sales person may think, this is certainly not a sales blessing. It could come back to bite you... from that disgruntled franchisee claiming you "rushed them through due diligence," which led to their uninformed buying decision.
Your role is to coach and set expectations
Lay the necessary groundwork and guide candidates before they make franchisee calls. Provide tips on how to make their interviews most meaningful and what questions they may want to ask. Buyers appreciate a systematic approach for validating franchisee satisfaction. Give direction so they'll gain insights about owner information that's important to know in operating your franchise.
What level of success does your prospect want?
Here's a way to introduce the validation process that will help candidates better evaluate their interest levels and suitability as owners in your system:
"Like any organization, we have three groups of owners: the star performers at the top; the mainstreamers who do well; and those who are struggling. The critical questions for you is, 'Which group will you identify with? Which appear to have personalities, skill sets, and business characteristics similar to your own? Who strikes you as the type of owner you see yourself being?' If you happen to speak with someone facing difficult challenges, try to find out what the problems might be. If the owner says, 'I just don't have time to get out and market in my community,' or 'My employees keep quitting on me,' this tells you something doesn't it! What can you learn about the successful operators? A key decision for you is your belief that you can be part of this group."
Provide questions that matter most
Often your prospects won't know what relevant questions they should ask to get the most out of their conversations with franchisees. It's your role to provide suggestions that will make their validations most meaningful in doing their homework. Here's a sample questionnaire to offer prospects that will help them better evaluate the satisfaction and success levels of franchise owners they speak with:
Why did you choose this franchise in searching for a business?
What was your previous background?
How was your initial training?
How is ongoing support and marketing?
How do you stand up against your competitors?
What do you like about the business?
What don't you like about the business?
How are you doing? Are you meeting your expectations?
How helpful was corporate in assisting you with site/territory selection?
What are the keys to success in this business?
How has your overall experience been as a franchise owner? Would you do it over again?
What one piece of advice can you give me in considering this franchise?
Get going now if you haven't spent time shaping an effective validation course for your candidates. It makes the difference between recruiting or losing the right franchise owners!
This article is an excerpt from Grow to Greatness: How to Build a World-Class Franchise System Faster by Steve Olson. For ordering information, go to www.franchiseupdate.com/gtg.
Published: April 11th, 2011
Share this Feature
Recommended Reading:
Comments:
comments powered by

Disqus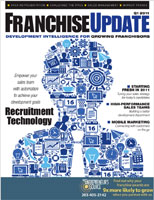 Franchise Update Magazine: Issue 1, 2011
Hub by Thryv is an end-to-end client experience platform custom-built for franchises. Its ready-to-use business apps help franchisees view their...
Support your multi-location brands and empower users. OneTouchPoint integrates localized marketing services and comprehensive brand management...