Variable Speed Transmission: Quick Response Followed by Slow, Steady Diligence
Papa Murphy's Take 'N' Bake Pizza must be doing something right. In fact, the country's fifth-largest pizza chain is doing a lot of things right.
The Vancouver, Wash.-based pizza chain, with 1,350 units in 38 states, Canada, and Dubai, recently ranked first in two consumer surveys. Technomic's 2013 Consumer Restaurant Brand Metrics Report named Papa Murphy's the top chain overall among full-service and limited-service restaurants. Papa Murphy's also was ranked the #1 pizza chain in the 2013 Consumer Picks survey from Nation's Restaurant News and WD Partners. That follows previous awards, including Zagat's top-rated pizza chain in 2010, 2011, and 2012. The brand is doing something right with its franchisees as well, earning Franchise Business Review's Franchisee Satisfaction Award several years running.
"Blame" this success partly on a franchise development process that starts with a speedy response, and then downshifts to a more measured pace for the due diligence phase. And today, the 32-year-old brand--which provides no seating and does no cooking in its stores--seems primed to expand further beyond its base in the Pacific Northwest.
The big three
Scott Mellon, vice president of franchise sales at Papa Murphy's, says there are three big things he looks at in the company's franchise sales process: 1) a quick response, 2) a face-to-face disclosure meeting, and 3) the due diligence phase.
1) Quick response.
"When we're getting information in, we want to make sure we're reaching out to folks as quickly as possible," says Mellon. People complete an application for a wide variety of reasons, he says.
"Wherever they are in their life, it's a compelling enough reason for them to apply," he says. "It's important to have that conversation when they're in that frame of mind. We want to engage with them at that point--and that could change quickly. Or maybe they've filled out applications for three or four other concepts, and we want to be the first person to touch them."
An application triggers an automated email response, which is quickly followed by a phone call. If an application arrives after-hours or on a weekend, the call is made the next business day.
"Within 24 hours, we have an internal sales person on the phone with them," says Mellon. "They usually get a call back the same day. A lot of times the response is immediate." Sometimes that call arrives before the applicant has had a chance to check their email.
Evaluating the initial application--which is short and straightforward, making it easier for prospects to apply--takes just a few minutes. If the numbers look good, one of the two internal sales staff make the call. That first conversation includes determining what sparked their interest, defining the brand, setting expectations, financial capabilities, and laying out the next steps in the process. The team captures the prospect's information in Salesforce and uses it to track and manage the process from start to finish.
Including himself, Mellon's department has 10 people: one responsible for lead generation and lead development, 2 sales people in house, and 6 more in the field. The internal sales people are responsible for the front and back end of the process, and the field team meets with the candidate in the next step.
2) Meeting face to face.
If the prospect meets the brand's initial qualifications, the in-house sales team sets up a face-to-face disclosure meeting for the candidate with one of the six field representatives the company has in the 38 states it operates in. "We want the process, as much as possible, to be face to face," says Mellon.
To speed the process and make it more personal, one of the field reps will travel to their market and meet with the candidate for an hour or two. "During the course of any given week, our field sales team will be out in those markets having those one-on-one meetings," says Mellon. The disclosure meeting goes through the FDD, lays out the rest of the evaluation process, the timing, and explores expectations on both sides.
If the disclosure meeting shows promise, the candidate leaves with a business plan template, a list of franchisees, and a set of disclosure documents. At that point, says Mellon, "We encourage them to put a business plan together and to talk to franchisees."
3) Due diligence.
This is the longest part of the process, and allows both parties to fully evaluate one other throughout. At Papa Murphy's, due diligence includes not only encouraging candidates to speak with franchisees, but also to research third-party sources such as Franchise Business Review, Yelp, and Consumer Reports.
"I think it's good for them to look at not just the business side--what franchisees are saying, and at costs--but also what consumers are saying about the brand. Looking at some of those third-party sources is an important step in their evaluation," says Mellon. "We make sure we do a thorough due diligence process on our side, and we give them the tools to do the same thing."
At Papa Murphy's, the entire process, from initial contact to signing, takes about 4 months. That is on the higher side of closing periods: 14.3 percent of respondents reported their process took 25 weeks or more, according to Franchise Update Media Group's 2013 Annual Franchise Development Report. (See page 66 for AFDR data on average closing times.)
Process, process, process
Throughout the sales process, it's critical to remember that franchise sales are different from other sales, says Mellon. Franchisees don't make an immediate purchase decision, and the business model and regulations in franchising are different from what most people are used to.
One of the most important factors in a successful franchise sales program, he says, is that the process is clearly defined, from the initial application to becoming a franchisee--and within that process, exactly what steps candidates will move through in the ensuing weeks and months.
"If you think about a franchise sales person or someone who's been in franchising a long time, it's second nature to them," he says. "You have to put yourself in the shoes of the new person looking at it."
During that first phone call from the in-house team, it's critical to lay out the entire process. "Most prospects have no idea what to expect or what to do. The more clarity you can give them, the more it takes the unknown out of the process for them," says Mellon. "For the first-time franchisee, it's always great to over-clarify, so they know the big picture and next steps."
Lenders in place
Papa Murphy's sets its financial criteria for candidates based on what its preferred lenders are seeking. With the question of what lenders need to know to fund deals already answered, he says, "If someone meets our financial criteria, they're qualified. That's another thing we provide in the process."
Papa Murphy's has someone dedicated to this all-important facet of franchise sales. "We'll put them in touch with the person in charge of franchise finance," says Mellon. That typically involves a 45- to 60-minute conversation to evaluate the candidate's financial position and goals, and to determine what type of funding to apply for. Preferred lenders include national banks, brokers, SBA lenders, and 401(k) rollover firms.
"It's a pretty broad list of folks we work with," says Mellon. "Companies that aren't doing this might be able to go out and get commitments for new stores, but without the funding piece, that commitment doesn't translate into stores."
Matching lender requirements with franchisees is a huge advantage in completing the process with a signed agreement that translates into new units. "Are we putting the right people forward, not only for our brand, but also for our lender relationships?" he asks.
Some of the brand's preferred lenders are doing a lot of deals with the brand, he says, since the numbers are in their sweet spot. "If you're picking good candidates and your failure rate is low, those lenders will say yes."
Stick to the process
In some organizations, says Mellon, there's a lot of pressure to sell, especially for new and emerging brands eager to add units. "For us, it really is about making sure that we really feel comfortable with the candidate, and for them that it's a good fit," he says. "It's a little clichéd in that everybody says it, but we really do it. We make sure we're being very selective."
Sticking to the process and its requirements sometimes means pushing back on the sales team to focus on quality, not quantity, as borne out in the company's motto to its sales team: "Our franchising mission is to consistently generate a predictable pipeline of high-quality commitments that enables the execution of Papa Murphy's national growth strategy." In other words, says Mellon, the role of the franchising team at Papa Murphy's is to deliver commitments that turn into real new store openings down the road--and that fit in with the overall goals of the entire company.
"Franchising is not just on an island out there," he says. "The franchising side is the fuel for the growth of the brand and needs to fit in with the bigger-picture goals of the company. It's not just how many new stores you want to open, but where your best development and marketing support is around the country."
"As we go through the process, we have all the departments go over it," he says. That includes operations, development, legal, and finance, among others. "It's built into our process for all to participate." No silos here.
One of the "big misses" for franchisors, especially smaller ones, says Mellon, is that they're often so desperate for new franchisees that they make exceptions to their process. That's why it's so important to set yearly growth goals in advance, and stick to them.
In a given year, says Mellon, the company identifies anywhere from 12 to 14 target markets that will support the company's growth plan. "That's an important thing to decide and define: where do you want to grow, and who with. Before we roll out the marketing, we take a step back," he says.
"If we're opening a new market, what does it take to get to a critical mass in as short a period as possible?" One way is to award franchises in markets where the company has the most robust infrastructure.
The company also looks at "right-sizing deals" with each candidate. Should it be one unit in 12 to 18 months? Twenty units in 6 to 7 years? The "fit" here depends on the goals and financial capabilities of each candidate or group, mapped against the company's growth goals.
One final twist
"We have an interesting step in our process that most franchisors don't use," says Mellon. After the agreement is signed, there's a 30-day window that includes five days in one of the brand's training stores. "We get to see them in action, in a store with an owner, and get feedback from the franchisee and the people in the store," says Mellon.
What's unique here, he says, is that during those 30 days, either party can opt out. If the franchisee goes through the in-store training and realizes it was not what they were expecting, they can opt out of the agreement; and if the franchisor gets feedback from the training store that the new franchisee doesn't seem suited for Papa Murphy's, the franchisor also can opt out.
"I don't know of any other franchisors doing that. We put that extra step in there to ensure it's the right fit," says Mellon. He says this speaks to the brand's closure/failure rate of less than 2 percent.
"It's pretty rare that happens, but we have that in place for that reason," he says. "It goes back to we're not just trying to get a commitment." After 30 days, he says, "If everyone is still in agreement, we go forward with looking at sites."
Published: May 22nd, 2013
Share this Feature
Recommended Reading:
Comments:
comments powered by

Disqus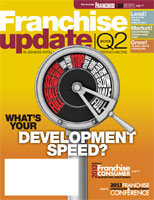 Franchise Update Magazine: Issue 2, 2013
From lead generation to increasing sales, Hot Dish Advertising is the pro at getting your message in front of those who matter most--consumers...
Atmosphere TV is the world's leading cable alternative, providing free streaming TV for businesses.