Where Have All the Lawyers Gone?
The Demise of the Attorney-Client Relationship
As I write this piece, it is a nostalgic moment for me: 37 years of practicing law, and all with the same firm. In today's environment, inertia in law firm employment is a rare thing. If I knew then what I know today, would I have gone into private practice?
When I left academia for the world of business in 1973, the environment was very different: law firms were not gigantic; specialization had not yet taken hold to the extent it has today (although it was clearly on the horizon); the opportunity to work at a large firm provided the chance for mentorship; house counsel positions were relatively few, didn't pay well; and in-house counsel, even general counsel, did not receive the respect given to lawyers in the large firms. And by "large," we are talking about peanuts compared with today's megafirms. I was the 50th lawyer in my shop.
Today we have more than 450 attorneys, yet there are about 100 firms in the United States that are larger. After I had been with my firm for a year, I knew every lawyer and other employee. Today, I must confess that I don't even know a substantial number of attorneys on my floor, much less many of the support staff whose work stations are not far from mine. As for the number of women and minorities in private practice, you could seat them all at a bridge table and probably have two empty chairs. It is clearly a different environment now, and I am sure that my experience is no different than that of many of my contemporaries.
The most disturbing trend over these years, however, has been the metamorphosis in the relationship between lawyer and client. When I began practice, the time sheet was somewhat of a novelty. The billable hour concept had made its nationwide debut only a few years before. In those days fees were based in large measure on value delivered, not how many hours had been clocked in. But most importantly, lawyers were often considered trusted advisors to their clients.
That special relationship--that bond--has not been eliminated, but today is significantly less prevalent. Law, I would argue, has become less and less a profession and more like a business.
So often in today's business environment, clients look upon their lawyer as just another supplier. Business is procured through a Request for Proposal--the same process by which paperclips are procured. Certainly this has become true when looking at large companies. Even in small start-up companies, the decision on which lawyer to hire is often a pure question of cost. The intangibles in this kind of relationship have largely gone by the wayside.
I sense that both clients and lawyers are responsible for the lessening of trust in the relationship. Clients are facing pressures to keep costs down, often making short-sighted decisions about legal strategies. Lawyers are hired only reactively. Many companies do not look at their legal situation from the 30,000-foot view. The need for a robust quarterly financial statement trumps long-term legal health.
It's a different world
The blame for today's state of affairs lies, in part, on changes in the business environment, and in perhaps larger part on the legal community. The law has become more complicated. We can simply look at our own area of interest--franchising--for an example. In 1969, selling franchises was unregulated. Within the next five years, we had state regulation on the sales side, and the franchise relationship was now affected by the relationship laws. Then, in 1979, when the FTC Disclosure Rule came into effect, franchisors and their legal counsel had to deal with two levels of government regulation. More legislation means more compliance issues, and that typically means higher legal costs--good for the myopic lawyers; not good for clients.
As the need for legal services increased, the lawyers' attitude toward clients changed. They were becoming less and less clients, and more and more customers. Marketing became more important to law firms--a subject always taught at the university across the street at the B-school. Lawyers had to broaden their skill set by increasing their knowledge of other business concepts, such as sales, production, and finance. To some degree, this was good. It created more efficiency and, hopefully, a better product for the franchisor or franchisee client. But the human factor diminished.
As clients grew, there would be turnover in staff, and the element of loyalty seemed to evaporate. Thus, outside counsel would be working with Fred on Monday, but Fred would then move on "to pursue other opportunities," and on Tuesday the client would be Sally. Same company, but a totally different human relationship. The same thing happened on the other side of the equation. A younger lawyer would work an account for a couple of years and then move on, meaning that the client of 20 or 30 years might now be forced to deal with the new kid on the block. Trust that had built up over decades might dissipate overnight. And just to add one more layer to the problem, as they succeeded companies were sold off, often resulting in a change of management as well as ownership. The old relationships became history.
I am reminded of a scene from the musical "Chicago," where the lead characters lament in the song, "Class," about how the world has changed. They ask: "Whatever happened to old values and fine morals and good breeding?" And they further lament: "Whatever happened to class?" How true this has frequently become with respect to attorney-client relationships today.
We can't turn back the clock. We live in a different world today: as information availability has increased, the need for legal services has increased; specialization is almost a must; and competition for good lawyers also has increased. Law firms are challenged by all these changes. Lawyers in private practice must rise to the occasion and be more efficient in meeting their clients' needs.
However, I caution clients, there is more to a legal relationship than price. The lawyer has historically been the sympathetic ear to lean on, and a source of objectivity as well as comfort, often more like a psychiatrist than a vendor. In our cost-conscious society, is that still the case? Sometimes, but less so than in the past.
Thus, to answer my initial question, Would I do it all over again? The answer is probably yes. I am, as noted, a person of inertia, but I don't think such a career for a person starting out today would be as rewarding as the ones those of us who are older than Jack Benny have encountered. It came as no surprise to me two years ago, when my son, on a partnership track with a very large Washington firm, announced his departure from the legal community to work for one of his clients in what is primarily a business position. Kids are often much smarter than their parents.
As for my nostalgic whims, there is be nothing I would desire more than to have the opportunity to take the subway to Brooklyn and see the Dodgers play. But we all know that will not happen. The world changes. But not always for the better.
Rupert Barkoff is a partner in Kilpatrick Stockton LLP's Atlanta office, where he chairs the firm's Franchise Practice Group. He is a former Chair of the American Bar Association's Forum on Franchising and Co-Editor-in-Chief of Fundamentals of Franchising. He can be reached at rbarkoff@kilpatrickstockton.com.
Published: August 9th, 2010
Share this Feature
Recommended Reading:
Comments:
comments powered by

Disqus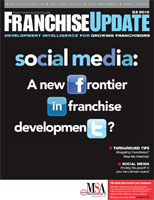 Franchise Update Magazine: Issue 3, 2010
UMI has over 23 years of experience supporting fast-growing multi-unit brands. From strategic planning to design, execution to analysis, UMI...
BoeFly drives growth by delivering financially qualified candidates increasing lead-to-franchisee conversion, and helping franchisees secure...