Baja Fresh Franchise Opportunity
When we started looking for a business opportunity, Baja Fresh was at the top of our list because we firmly believe in healthy eating and healthy lifestyles. Owning Baja Fresh restaurants has been one of the smartest moves we have made. We appreciate all of the support we receive from the corporate office, are proud to be part of the strong Baja Fresh brand, and do our part to provide fresh, healthy Mexican food to our community.
I was first introduced to Baja Fresh as a customer and I LOVED the food. I grew up in the restaurant business and I wanted to be involved with a restaurant operation that I could feel proud to stand behind. Baja Fresh is definitely that. All of our cooks, our cashiers, our managers, the corporate team, and the franchise owners like me know we're serving the real thing, and we're all proud of it. My favorite part of being a Baja Fresh owner is interacting with our guests, whether they are long-time fans, or first timers. We have great customers who appreciate the great food and great service we're able to provide.

Financial Information:
| | |
| --- | --- |
| Cash Investment: | $250,000 |
| Net Worth: | $500,000 |
| Total Investment: | $229,200 - $994,290 |
| Royalty Fee: | 5% |
| Advertising Fee: | 3% |
Available Markets:

Canada:
United States: AL, AK, AZ, AR, CA, CO, CT, DE, DC, FL, GA, HI, ID, IL, IN, IA, KS, KY, LA, ME, MD, MA, MI, MN, MS, MO, MT, NE, NV, NH, NJ, NM, NY, NC, ND, OH, OK, OR, PA, RI, SC, SD, TN, TX, UT, VT, VA, WA, WV, WI, WY
Mexican Food Franchise
There's never been a better time to start a Mexican food franchise! The fast-casual restaurant industry has been steadily growing as more consumers seek out meals with the convenience of fast food but with the benefits of fresher and healthier ingredients. Furthermore, Mexican food has become increasingly popular in the U.S., as customers discover and fall in love with the fresh tastes and unique combinations that Mexican food has to offer.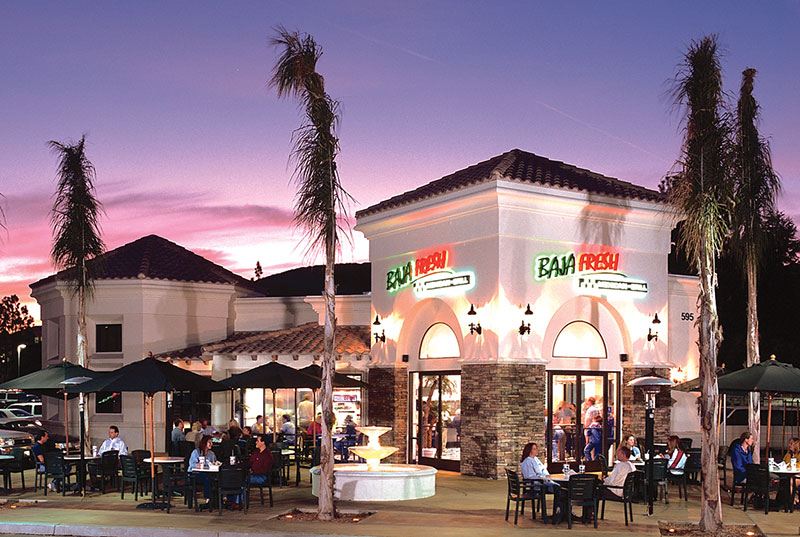 These are just two of the many reasons why now is a better time than ever to invest in a Mexican food franchise of your own! As far as franchisors go, Baja Fresh stands out from the competition for a number of reasons.
Quality and Freshness Are Our Top Priorities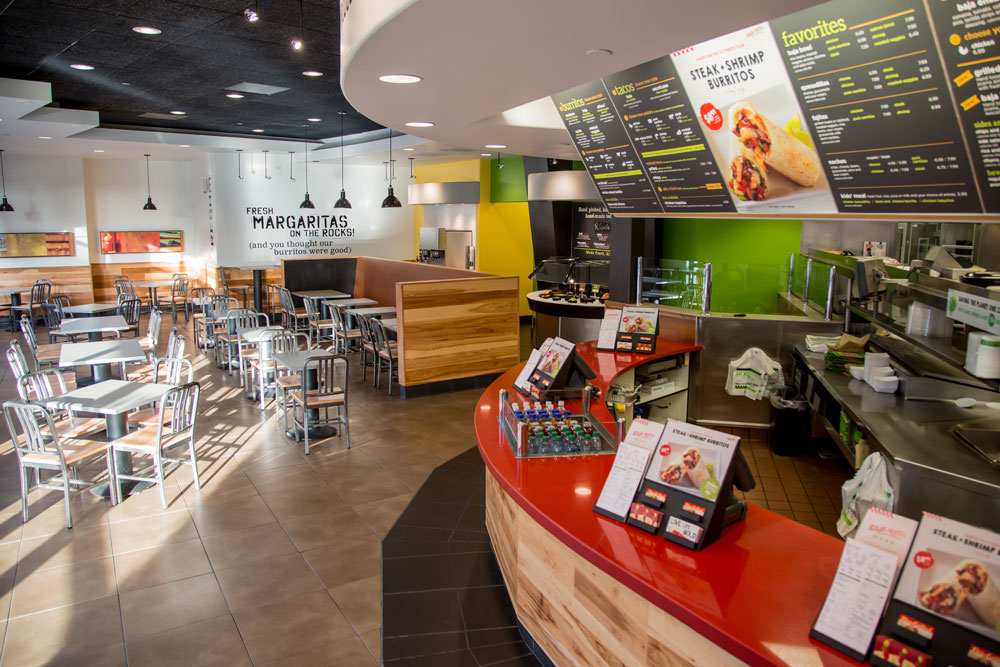 Not all Mexican food franchises are created equal! Oftentimes, restaurants rely on pre-packaged, dehydrated, or frozen ingredients to turn a profit. If there's one thing we know about today's consumer, however, it's that they are willing to pay a little bit more for convenient food made with healthy and fresh ingredients.
This is why Baja Fresh stands out: our restaurants always have operated on the principle that our food should be as fresh as possible. Since 1990, we've dedicated ourselves to providing farm-fresh meals, rather than tin-canned. Our kitchens don't even have freezers, microwaves or can openers!
With a tradition of fresh, wholesome ingredients and preparation techniques, our products resonate with today's health-conscious consumers. Best of all, our experience as a franchisor means that you'll be able to start your Mexican food franchise with the guidance and support of an industry leader.
The Training and Support You Need
Starting a Mexican food franchise is a great way to break into a thriving industry. However, many of our potential franchisees wonder if they have the experience needed to run a Baja Fresh restaurant. And while any prior experience running a business, particularly in the QSR industry, will be very beneficial, therein lies the beauty of investing in a Baja Fresh franchise:
We've developed comprehensive training and support programs to help our franchisees run their business with confidence in every stage of their franchising journey!
Between hands-on training in an existing Baja Fresh restaurant, on-site training at your own new franchise location, and ongoing marketing assistance, you'll be amazed at just how simple it is to transition your career to running a Mexican food franchise.
Two Different Purchase Options
When you open a Baja Fresh burrito franchise, you have several different options to choose from. Here's a quick breakdown of the two different purchase options, and the costs that are typically associated with them.
Single Restaurant
The single restaurant option allows you to purchase and build up your own Baja Fresh franchise. These restaurants are full-sized, meaning they offer comfortable seating for many guests. You'll start your restaurant from scratch, but we'll be there to support you throughout the process by helping you identify a great location, market your new business to your target audience, and more. The cost to open a single restaurant is approximately between $348,310 - $994,290. This estimate includes just about everything you'll need to get your new restaurant started including a lease agreement, inventory, employee salaries, and more.
Express Restaurant
Opening a Baja Fresh Express burrito franchise is a great way to start your own business in the Mexican food industry. Since our express locations are smaller than our traditional full-sized locations, they cost significantly less to get started. The cost to open a Baja Fresh Express location is approximately between $229,200 and $630,200 and as with our other location options, this covers just about everything you'll need to get your restaurant up and running.
Invest in a Mexican Food Franchise
As you can already see, Baja Fresh is an exciting franchise brand. If you're reading this, you've clearly already taken the first steps toward your dream of opening your own business. Therefore, we'd encourage you to check out the many pages of valuable information we've compiled on our site to learn more about what it takes to be a Baja Fresh franchisee and how we help our franchisees make their dreams of successful business ownership come true.
Request Information
Looking for more information about Baja Fresh? Take a moment to fill out our quick information request form.