Authentic food, passion for people.
Planet Sub at a Glance
We have been making oven-baked subs on made from scratch bread for over 30 years. If you're looking for an established brand with exciting growth opportunity and key differentiators from the competition, Planet Sub is a natural choice. What makes us different?
First and foremost, the bread. Mixed in-store, rolled by hand, and baked fresh on-site DAILY. Making bread from scratch is something that NONE of our major competitors will do. This process creates an end product that is far BETTER than any other in our segment.
Progressive menu offerings including handmade gluten free bread prepared on-site offering unparalleled freshness and taste.
Hand-sliced meats, cheeses, & veggies.
Sauces made from scratch, guacamole made from ripe avocados, and our savory chicken, tempeh, and cheesesteak seasonings are all prepared in-house.
Craft beer on tap. Nothing goes better with a hot sub than a cold beer!
A wide range of vegetarian AND vegan menu options (our famous bread is vegan, un-bromated, and delicious). Our diverse and creative menu, including subs, soups, salads, and wraps, is sure to excite any palate.
Proprietary mobile payment and loyalty app with localized marketing capabilities paired with a robust digital marketing strategy to allow for market penetration with minimal investment.
Progressive marketing platform, including a focus on community involvement and a desire to make a positive impact in the communities we partner with.
We view our Franchisees as Partners, not dollar signs... When you buy a Planet Sub Franchise you are not simply buying a product, you are buying a Partnership group dedicated to making you successful.
Why Open a Planet Sub?
1. Food with purpose
We want people to be fulfilled. Food should not just sustain, it should satisfy. Our build-outs shouldn't just be inviting, they should be inspiring and should use sustainable materials. Our franchisees shouldn't just survive, they should thrive. We want to find people who are passionate about creating opportunity, committed to maintaining brand and personal integrity, and who have a desire to change the way the world looks at sandwiches, one sub at a time.
2. Systemized
We have 30 years under our belts, that is A LOT of subs! We have systems in place to assist franchisees through every step of the franchising process. Our partnerships with national real-estate brokers, equipment vendors, architectural firms, contractors, and our national food distributor are designed to make a partnership with Planet Sub attainable for seasoned restaurateurs and newcomers alike. These partnerships not only make opening a Planet Sub painless, they increase profits.
3. Elevated customer experience
Atmosphere is an essential part of any successful concept. We take time to create the best tasting sandwich, and generally, customers take a bit more time to enjoy their meal. For this reason, a Planet Sub restaurant is designed with guest comfort in mind; visually appealing architectural design, comfortable seating, and community tables are included to create an inviting and memorable guest experience. We also serve craft beer on tap, bring guest orders directly to their table, and strive to turn every employee into a full time customer service expert. Dining at "PSUB" offers a much different customer experience, from order to crumb!

Ideal Candidates:
We are actively seeking multi-unit developers with a passion to build a network of successful restaurants. We have a very strategic approach to penetrating new markets, and typically will not entertain single-unit development in new markets. We want to set our franchisees up for long-term success, and have incentives in place to encourage territory development. Ideal candidates will have a history of success in creating and developing business, a passion for creating opportunity, and a natural desire to serve others.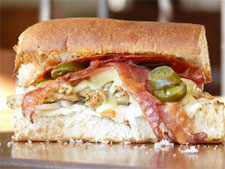 Target Markets Include:
Colorado Springs, Salt Lake City, Phoenix, Houston, Tulsa, Las Vegas, San Antonio, Atlanta, Nashville, and Miami.
We are currently pursuing growth opportunities in the following states:
Arizona, Arkansas, Colorado, Connecticut, Delaware, Iowa, Kansas, Louisiana, Kentucky, Mississippi, Missouri, Montana, Nebraska, Nevada, New Jersey, New Mexico, Ohio, Oklahoma, Pennsylvania, South Carolina, Tennessee, Texas, Utah and Wyoming.