Smoke's Poutinerie Franchise Opportunity
Financial Information:
| | |
| --- | --- |
| Franchise Fee: | $30,000 |
| Total Investment: | $300,000 - $500,000 |
| Royalty Fee: | 6% |
| Advertising Fee: | 2% |
Available Markets:

Canada:
United States: AL, AK, AZ, AR, CA, CO, CT, DE, DC, FL, GA, HI, ID, IL, IN, IA, KS, KY, LA, ME, MD, MA, MI, MN, MS, MO, MT, NE, NV, NH, NJ, NM, NY, NC, ND, OH, OK, OR, PA, RI, SC, SD, TN, TX, UT, VT, VA, WA, WV, WI, WY
Brand History
What inspires a man to launch a rocket into space? What compels him to flex his biceps to Hulk Hogan proportions? And what greatness causes a man like SMOKE to create the most gastronomical dish of all time? Legend has it, the same reason for all of MANKIND'S GREATEST FEATS - to win the affection of a girl. Yes, a girl. Smoke spent days and nights turning the precious Canadian Poutine into a TOTALLY BITCHIN' CONCOCTION that would win over the tastebuds of a Molly Ringwald look-a-like so he could moonwalk straight into her heart. He cut potatoes with the determination of Wolverine's retractable claws, he smothered them with gravy and cheese curds, but he didn't stop there, oh no! In a LOVE-STRUCK CRAZE he added double-smoked bacon, caramelized onions, sauteed mushrooms and pulled pork. He presented the box to his sweetheart and it was LOVE AT FIRST PLASTIC FORKFUL. The taste had THE POWER OF 100 MIXED TAPES and they wed immediately. Smoke realized that he couldn't keep this secret to himself, that he could use it to help ALL OF MANKIND. Thanks to the power of his Poutine, he was ready to answer the call of grumbling stomachs far and wide. After all, the love of POUTINE NEVER DIES.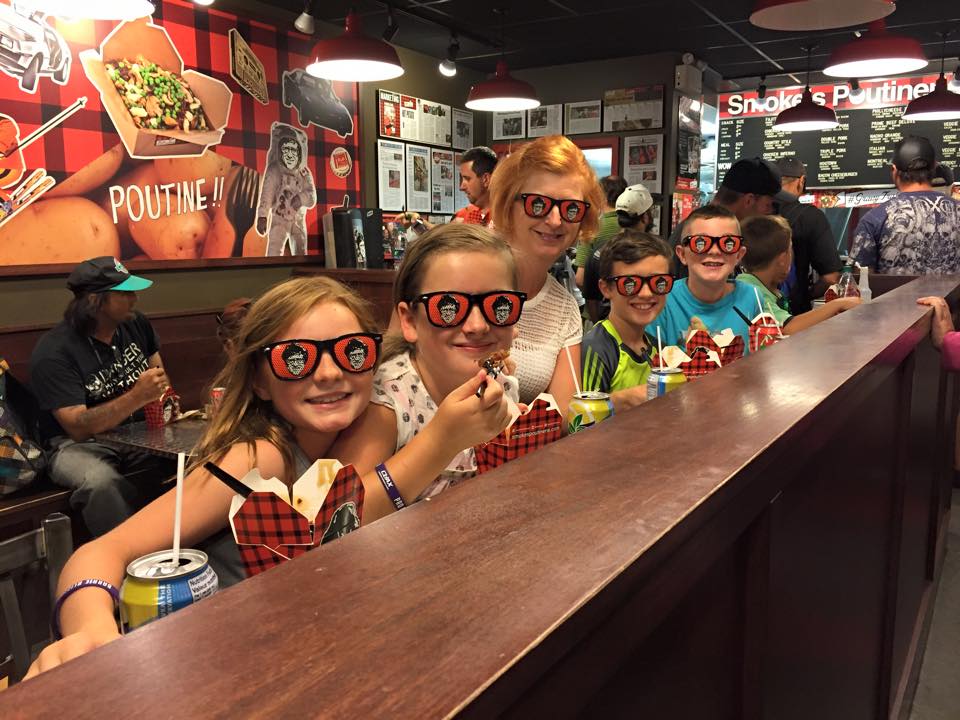 Smoke's Poutinerie is the "World's Largest & Original Poutinerie", inventing and leading the quick serve Poutine industry, offering over 30 types of gourmet Poutine on the menu.
Smoke's Poutinerie is excited to extend this opportunity to Poutine Lovers around the World. We are simply looking for like-minded individuals who are fun, energetic, social, hard-working, service oriented people who share the same vision and fit the atmosphere of the restaurant we will be building together. Smoke's Poutinerie welcomes people that are new to Franchising as well as potential Franchisees with a background in the food service industry. Get on the Gravy Train and help Smoke's Poutinerie share Canada's national iconic dish with the rest of the World.
Concepts
Four Wall
Smoke's Brands traditional restaurant sites are described as four wall restaurants. These restaurants are fully contained within their own four walls and are typically street locations, with direct access to the street through their own doors. Typically set in downtown, entertainment/bar areas and plazas or in retail areas near colleges or universities. Ideal Footprint 1000 sq' to 1200 sq' for a single Brand.
Non-Traditional
Smoke's Brands non traditional offerings began in 2014 and include sites in Educational, Amusement, Transportation, Sports and Entertainment venues. These sites are highly visible, marketed directly to our core demographic and are tremendous Brand builders! Typically these sites have reduced operational seasons and are operated by third party service providers and therefore are not available to individual franchisees.
Mobile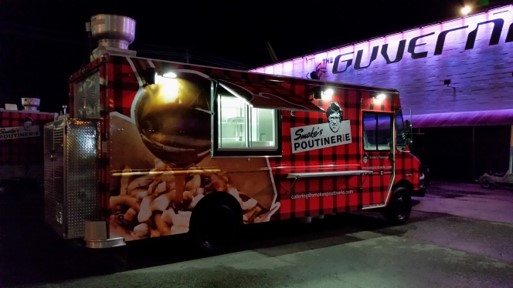 Smoke's Brands offer rights to mobile units to select franchisees, these units include trucks, trailers, carts and portable kitchens. You must have a four wall restaurant to be eligible to operate a mobile unit. All prep is done in your restaurant and the final production and assembly on your mobile unit. Smoke's Brands Mobile Units are an integral part of our Brand Marketing as well as an additional source of revenue. Rather than parking on a street to sell like typical food trucks, Smoke's Brands Mobile Units are mainly used at events (corporate, promotional, weddings) and festivals. Mobile territories are larger than and typically cover multiple four wall territories, therefor not every franchisee will have mobile access. An additional Franchise fee of $15,000.00 applies.
This web page does not constitute a franchise offering or an offer to sell a franchise. A franchise offering can be made by us only in a state if we are first registered, excluded, exempted or otherwise qualified to offer franchises in that state, and only if we provide you with an appropriate franchise disclosure document.
Request Information
Looking for more information about Smoke's Poutinerie? Take a moment to fill out our quick information request form.