Wayback Burgers Franchise Opportunity
Hi my name is Phil Dzienciol and I am a franchisee in Evansville, Indiana. We recently had the opportunity to open our 2nd Wayback on November 12th. Everyone at Jake's Franchising was great to work with and helped me so much along the way. It is a pleasure working with every department. When we did our first store in 2012, we were F56, now we are F150. Back then I felt my opinion had value...today I feel the same. They are "moving the needle forward" ..they are staying in touch from top to bottom. I believe the infrastructure they have put in place is sound and will continue to move the system forward in brand recognition. Wayback has given us sound footing to work with...I, as the franchisee must get out there and engage the local community in which we work and serve. By doing this; we are improving the value of the Wayback brand; along with increasing the value of P&D Burgers Inc.
When searching for franchise opportunities we were seeking that X-factor, and with Wayback Burgers using some of the best ingredients to create such high-quality food, it was a no-brainer. We have received such incredible support from the corporate leadership team and can't wait to introduce this new burger concept to our community.
Financial Information:
| | |
| --- | --- |
| Cash Investment: | $100,000 |
| Net Worth: | $300,000 |
| Franchise Fee: | $35,000 |
| Total Investment: | $300,000 - $400,000 |
Available Markets:

Canada: AB, BC, MB, NB, NT, NS, ON, PQ, SK, YT
United States: AL, AK, AZ, AR, CA, CO, CT, DE, DC, FL, GA, HI, ID, IL, IN, IA, KS, KY, LA, ME, MD, MA, MI, MN, MS, MO, MT, NE, NV, NH, NJ, NM, NY, NC, ND, OH, OK, OR, PA, RI, SC, SD, TN, TX, UT, VT, VA, WA, WV, WI, WY
International Opportunities Available

Shaped By Tradition
From our first humble shop in Newark, DE, opened in 1991 as Jake's Hamburgers and still a state favorite, we've now begun franchising worldwide. Currently operating in 28 states, Wayback Burgers' potential has been demonstrated by our loyal following. We are rapidly expanding our brand, recently reaching over 427 contracted locations with 142 currently operating nationally. With new locations available worldwide - here's the opportunity to set your course for success.
$300K - $400K*
*Typical footprint between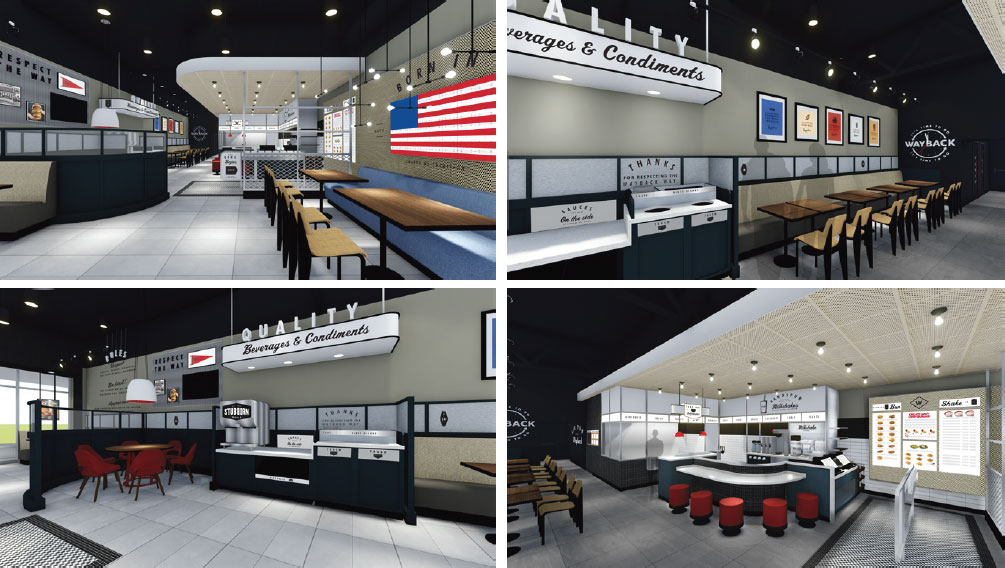 1,600 - 2,000 sq. ft.
The above figure includes:
Franchise Fee
Equipment
Furniture
All construction
POS systems
Signage
Opening food inventory
Wayback's Worldwide Expansion
Currently, over 136 stores operating in 28 states, all of which are franchisee owned. Wayback Burgers also continues its international master expansion into 34 countries, with locations currently SOLD in the Middle East, North Africa, Argentina, Canada, Brunei, Pakistan, Morocco, Saskatchewan, Canada, Kuwait and Western Malaysia (Kuala Lumpur).

Revenue Generators

Delivery
Beer & wine
Breakfast
Online ordering

Nontraditional Opportunities

Military Bases
Food Courts
Mobile Food Carts
Stadiums
This web page does not constitute a franchise offering or an offer to sell a franchise. A franchise offering can be made by us only in a state if we are first registered, excluded, exempted or otherwise qualified to offer franchises in that state, and only if we provide you with an appropriate franchise disclosure document.
Request Information
Looking for more information about Wayback Burgers? Take a moment to fill out our quick information request form.