Amazing Lash Studio Franchise Opportunity
As a female business owner it was important for me to be a part of a brand that empowers women. Amazing Lash Studio empowers my guests with confidence and my team with a lucrative and exciting career in beauty.
We fell in love with the unique business model: the decor depicts the lap of luxury, with private lash suites coupled with superior eyelash extensions/adhesives and still able to deliver affordable pricing. The recurring monthly revenue stream as well as the menu of upgrades and aftercare retail products make Amazing Lash Studio, a very profitable recipe for success!
Financial Information:
| | |
| --- | --- |
| Net Worth: | $500,000 |
| Franchise Fee: | $39,000 |
| Total Investment: | $224,659 - $482,528 |
| Royalty Fee: | 6% |
| Advertising Fee: | 1% |
Available Markets:

Canada:
United States: AL, AK, AZ, AR, CA, CO, CT, DE, DC, FL, GA, HI, ID, IL, IN, IA, KS, KY, LA, ME, MD, MA, MI, MN, MS, MO, MT, NE, NV, NH, NJ, NM, NY, NC, ND, OH, OK, OR, PA, RI, SC, SD, TN, TX, UT, VT, VA, WA, WV, WI, WY
What Is Amazing Lash Studio Franchise?
The Amazing Difference:
One of the Fastest Growing Trends in the Beauty Industry
What is the foundation of Amazing Lash Studio's success? We help women look and feel amazing! It's the immediate transformation our lash extensions make once they are applied. For centuries, women have coveted long, full eyelashes. Before semi-permanent eyelash extensions, the only options were mascara (which must be applied and removed) and strip lashes (which are glued to the skin and are intended to last approximately one day). Semi-permanent eyelash extensions have now become a mainstream part of beauty regimens for women around the world. Amazing Lash Studio is defining this beauty category and is the definitive market leader.
Eyelash extensions are semi-permanent and made from synthetic fibers designed to replicate the curve and size of natural lashes. Each lash is applied one by one to guests' own natural lashes. We offer our guests four patented lash styles exclusive to Amazing Lash Studio and a proprietary Amazing Volume lash that creates a denser, fuller look. With proper care and regular maintenance visits, lash extensions can last a long time, with refills usually wanted about every two to four weeks, depending on the guests' natural lash growth cycle and personal preferences. Our one to one application of extensions applied to each natural lash gives the eyes a dramatically enhanced appearance in a single visit! Our process is patented as well, allowing for a more precise application in a shorter period of time, and is gentle enough that most guests fall asleep while having their lash extensions applied in the comfort of a private treatment room.
Why women come to Amazing Lash Studio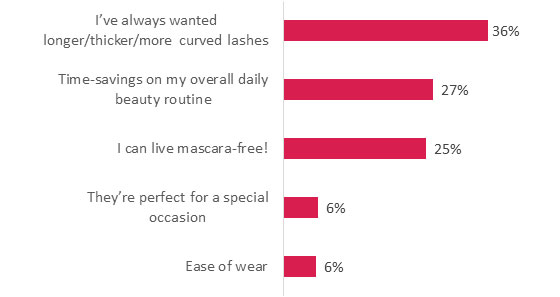 The Industry Leader
One of the Fastest Growing Franchises of this Decade: Amazing Lash Studio
The market has also noted the amazing velocity of Amazing Lash Studio's growth. The Company has been recognized four times by Entrepreneur Magazine in the Entrepreneur 500. Most recently the Company was awarded the #5 Top New Franchise and in January 2018, Entrepreneur announced that Amazing Lash Studio is #1 in its beauty category.
Amazing Lash Studio Services are in High Demand
Over 60% of Amazing Lash's guests are first time users of lash extensions. This demonstrates the growth potential of the service.
40% of new guests come from existing studio guest referrals.
In a survey of over 4,300 studio guests, 57.4% said that they "can't image life without lashes" and "really enjoy having them."
Guests enjoy our elegantly-appointed studios with private treatment rooms.
What began as six Amazing Lash studios in Houston, Texas has grown to be quite an amazing business opportunity with a proven concept built on a successful, recurring revenue membership model.
Amazing Lash Studio is the industry leader in franchising, appealing to seasoned multi-unit franchise owners and novice franchise owners alike due to its consumer appeal, flexibility in ownership options, and franchise support from every step of the grand opening to each new level of business growth. Whether you want to be a hands-on owner or own several studios with managers handling the day-to-day, we have effective training, business intelligence, and support systems that create an environment for success.
Why join the fastest growing Lash franchise Amazing Lash Studio?
Proven Business Model
Based on the same recurring revenue model which has made some of the most successful franchises over the past decade iconic, Amazing Lash Studio franchisees are well-poised for financial success. Our focus on First to Market has brought incredible success for owners as proven by our 12+ month and 24+ month average revenue and consistent year over year increase in critical KPI metrics. Combine that with our focus on operations and training and there is no doubt why we are number one in our category.
Successful Formula
Amazing Lash Studio has combined the most successful aspects of franchising into one package. We work with the right people on the right systems with substantial support in operations and training to create a perfect blueprint for a successful business. Knowledge is power and that is why we have full training from day one with a repository of information and continued training to keep all levels of the business at the top of their game. It is easy to see why we are the 5th ranked Top New Franchise for 2018.
Live Your Dreams!
We have invested heavily in our development process to be with you every step of the way from license awarded to opening your doors as soon as possible while making sure that everything is done right. This means less time getting your studio open and more time enjoying the benefits of business ownership! Most of our studios are operated by managers. Our operational systems and targeted key performance indicators enable you to live your dream without working in the studio every day, giving you balance and flexibility in your life while helping women to look and feel beautiful every day!
We are looking for qualified, committed business owners interested in a franchise opportunity with a market leader.
If you're a motivated entrepreneur who has a passion for helping others look and feel amazing, provides great customer service, and has solid management skills, then you have what it takes to become an Amazing Lash Studio franchisee. Take the first step towards Amazing now. Simply fill out the form, and we will be in touch with you soon!
This web page does not constitute a franchise offering or an offer to sell a franchise. A franchise offering can be made by us only in a state if we are first registered, excluded, exempted or otherwise qualified to offer franchises in that state, and only if we provide you with an appropriate franchise disclosure document.
Request Information
Looking for more information about Amazing Lash Studio? Take a moment to fill out our quick information request form.