Amazing Lash Studio Franchise Opportunity
Based on our personal and professional expectations, the Amazing Lash Studio brand checks all the boxes. Our number one priority is to participate in something that is going to positively impact the community, and with a mission statement to create lasting beauty and confidence so guests will look and feel amazing, the brand can offer an affirming, life-changing service to guests on a daily basis. Plus, from an operational point of view, the expertise that the Amazing Lash Studio brand provides is new to me. As a private, first-time business owner, you are constantly learning by making mistakes, but the Amazing Lash Studio brand provides effective training, business intelligence and support systems.
I walked in and fell in love with the beautiful crystal chandelier, glass doors and overall aesthetic of the studio. I've always enjoyed beauty and looking good, so I decided to look more into the beauty industry when my husband, Kevin, and I started talking about owning our own business. The beauty industry is thriving right now––you just can't go wrong.
Financial Information:
| | |
| --- | --- |
| Net Worth: | $600,000 |
| Franchise Fee: | $39,600 |
| Total Investment: | $238,372 - $518,074 |
| Royalty Fee: | 6% of Gross Receipts |
| Advertising Fee: | 2% of Gross Receipts |
Available Markets:

Canada:
United States: AL, AK, AZ, AR, CA, CO, CT, DE, DC, FL, GA, HI, ID, IL, IN, IA, KS, KY, LA, ME, MD, MA, MI, MN, MS, MO, MT, NE, NV, NH, NJ, NM, NY, NC, ND, OH, OK, OR, PA, RI, SC, SD, TN, TX, UT, VT, VA, WA, WV, WI, WY
What Is Amazing Lash Studio Franchise?
The Amazing Lash Studio Brand Difference:
One of the Fastest Growing Trends in the Beauty Industry
What makes the Amazing Lash Studio brand so successful is our commitment to helping women look and feel their best. Our semi-permanent lashes are redefining the way women think about eye makeup -- women no longer have to worry about messy (and expensive) mascara or sloppy glue-on strip lashes. Our natural-looking, carefree and easy lash styles are shaking up the beauty category while giving women a confidence boost at the same time.
It's why women trust the Amazing Lash Studio brand, and return again and again. We're the leader in the semi-permanent lash space. With our elevated experience that includes private rooms and lashes that are applied one-by-one, we bring affordable, customized eye-enhancements to women across the country.
The Amazing Lash Studio brand is unparalleled in the space.
Since our founding in 2010, the Amazing Lash Studio brand has emerged as the "category killer" in the lash extension space. With 260-plus locations in markets across the country, we offer our business owners an exciting franchise opportunity bolstered by a membership model that brings guests in time and time again. We also offer a proprietary product line of lash extension care products, allowing our franchisees to diversify their revenue streams.
This business model has proven to be beneficial as the COVID-19 pandemic hit the U.S. Not only did our membership model provide franchisees with consistent revenue during otherwise challenging times, but the rise of face masks has created increased demand for eyelash extension services since there's more focus on the eyes -- or "beauty above the mask" -- than ever before. Our private rooms are also continuing to provide studios with an advantage in the time of COVID-19 by automatically ensuring social distancing.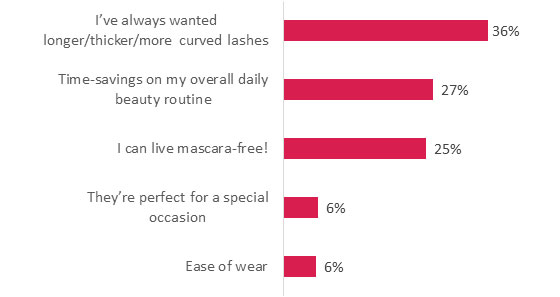 The Category Killer
One of the Fastest Growing Franchises of this Decade: Amazing Lash Studio
We have been recognized four times by Entrepreneur Magazine on its coveted Entrepreneur 500 list, jumping over 200 spots on the 2021 list to claim No. 99. Franchise Times also ranked us No. 14 on the 2021 Fast & Serious list, which identifies the fastest growing brands in the franchise industry.
Amazing Lash Studio Brand Services Remain in High Demand
We've grown exponentially since our founding in 2010 and now have more than 260 locations open across the country.
According to Market Research Future, the global growth of the false eyelash market is set to grow 7.4% by 2024 and be worth more than 1.8 billion USD by the end of 2024.
Looking at worldwide data, North America was projected to have the maximum market share of 36.78%, with the production of handmade eyelashes expected to experience the fastest growth rate between now and 2023. In addition, the United States accounted for the major market share during the forecast period of 2017-2023.
The forecaster attributes growth to the adoption of masks as a COVID-19 transmission mitigation effort. While women have cut back on makeup, they've invested extra care in the eyes, which "have become the cornerstone of beauty."
Other indicators that women have started to pay closer attention to their eyes during the last year:
Over 60% of Amazing Lash Studio brand's guests are first time users of lash extensions. This demonstrates the growth potential of the service.
40% of new guests come from existing studio guest referrals.
In a survey of over 4,300 studio guests, 57.4% said that they "can't image life without lashes" and "really enjoy having them."
Guests enjoy our elegantly-appointed studios with private treatment rooms.
Why Expand the Fastest-Growing Lash Franchise?
Brand Momentum
The Amazing Lash Studio brand has tons of room to grow across the country, but also a small enough footprint that a single city may accommodate multiple locations. We were already the biggest player in the eyelash extension game, and continue to grow. We continue to listen to our franchisees and stylists, which led us to innovate and move into the eyebrow business with our line of brow products and services, adding another revenue stream option for franchisees.
Proven Business Model
The membership model allows franchisees recurring revenue streams, which means that our franchisees are well-poised for financial success. Our focus on being First to Market has brought incredible success for our owners as well. Combine that with our focus on operations, recruitment and retention support tools, training and there is no doubt why we are number one in the category.
Successful Formula
We have combined the most successful aspects of franchising into one package. We work with the right people on the right systems with substantial support in operations and training to create a perfect blueprint for a successful business. Knowledge is power, and that is why they have full training from day one with a repository of information and continued training to keep all levels of the business at the top of their game.
Live Your Dreams!
We've heavily invested in our development process to be with you every step of the way, from awarding your license to opening your doors as soon as possible while helping to make sure that everything is done right. This means less time getting your studio open and more time enjoying the benefits of business ownership! Amazing Lash Studio locations are operated by managers, too, meaning that operational systems and targeted key performance indicators enable our franchisees to live their dreams without working in the studio every day, giving them balance and flexibility in their lives while helping women to look and feel beautiful every day!
This web page does not constitute a franchise offering or an offer to sell a franchise. A franchise offering can be made by us only in a state if we are first registered, excluded, exempted or otherwise qualified to offer franchises in that state, and only if we provide you with an appropriate franchise disclosure document.
Request Information
Looking for more information about Amazing Lash Studio? Take a moment to fill out our quick information request form.