10 Sales Lessons That Can Be the Difference Between Success and Failure
Fish tales about the "big one that got away" are legendary. Franchise salespeople have their own stories of big ones that got away, too. But the good ones also tell tales of the near-misses they pulled from the fire-- and of how, at the eleventh hour, whether through fancy footwork or a simple stroke of luck, they landed the deal after all.

Top sales pros are unafraid to admit their mistakes, because they've learned from them and gotten better. In this tale, Franchise Update has landed four "big ones" willing to share what they've learned from the ones that got away and from the many more they've landed--all wrapped up in 10 easy lessons.

1) Learn to listen (and be patient)
Jim Squire, director of franchise development for HoneyBaked Ham in Atlanta, and a long-time veteran of both sides of franchising, says he believes that salespeople are "hardwired from the get-go--in two different camps."

One is the traditional salesperson, "the person who works off the product's features and benefits. He takes the product and goes out and uses his personality, charisma, and the features of the product to almost wear down the person he's trying to sell. He talks 80 to 90 percent of the time and listens 10 to 20 percent of the time. That holds true in 90 percent of the sales environment," he says.

In franchising, he says, "The type of sales that works best is consultative sales, which is my style. In my position, I'm listening 80 to 90 percent of the time and talking 10 to 20 percent of the time."

Squire, a Vietnam veteran who got into franchising with Arby's in 1983, learned his sales technique prior to that as an advertising agency representative. "Essentially, we'd go in and meet with prospective clients, find out their needs, and talk about how we can solve those needs in a consultative way," he says. "We didn't have a tangible product--it was simply about selling our services and experiences to help them accomplish what they wanted for their particular product or service."

This technique works perfectly for a franchisor or area developer, he says. "Franchise companies don't really sell franchises. They award them after making sure the relationship with the potential franchisee is the right one. To say that we sell franchises sets up the wrong relationship, because that old saying, 'The customer is always right,' doesn't hold true here. Franchisees are our strategic business partners, but they can be wrong. We want them to be successful, and that makes us successful, too."

Squire has made his own choices about what's right for him. Determined to stay in his home state of Georgia, he let numerous promotions pass him by because they meant relocating. He was with Arby's, having reached the rank of group vice president and managing director of Arby's International, until 1991, when the company was sold and relocated to Florida.

He started his own consulting business, working with people he'd met along the way through the International Franchise Association (IFA). In 1993, he became senior vice president of franchise development for the Great American Cookie Company. But when that company was sold to an investment firm and then to Mrs. Field's Cookies in 1998, the dyed-in-the-wool southerner turned down a post at the company's headquarters that would have meant moving Salt Lake City.

Squire became a consultant and then the area developer for Georgia and North Florida for the Philly Connection, opening a couple of restaurants himself. "What I found is what I suspected: some people can make the switch from the franchisor side to franchisee, and some can't," he says. "I can't." He ended up selling in 2005 and joining HoneyBaked Ham. Mistake? Not really. His experience as a franchisee taught him a lot and adds to his credibility with potential franchisees, he says.

The most important lesson he's learned throughout his career? "Patience--which is really tough for salespeople," he says. "You don't want to fall asleep at the switch, but you need to be patient. For example, some of the best franchisees I've brought into systems took the longest to get started. You have to be patient enough to bring them along and answer their questions. It will pay off."

He also cautions franchisors and area developers to be straight when dealing with potential franchisees. "Full disclosure is important on the front end. The best surprise is no surprise," he says. The "values-driven" executive team at HoneyBaked Ham was one of the factors that impressed him enough to sign on. Another was the ham.

"The best thing for me about being at HoneyBaked Ham is that it's sort of back-to-the-future," he says. "In the ham business, people talk about HoneyBaked Ham with the same sort of reverence with which they talked about Arby's in the roast beef business in the '80s. At HoneyBaked, I have a terrific product I believe in, but most important, the company really does believe in doing the right things. They are not here to be the biggest, but always to be the best."

2) Follow your passion
Franchisees get into the business for a lot of reasons, including money and a certain lifestyle. But the question that Squire, who learned from role models such as Arthur Karp and Larry "Doc" Cohen, always asks candidates is this: Will you enjoy it?

"It's about 'Where's your passion? Where is the sweet spot?'" he says. "In franchising in this century, there are so many industries from which to choose. In the '80s, there were about 25 or 30 industries; now there are 80 or 90. I tell them to look at the IFA website, at all the opportunities there are, and choose something they can feel passionate about at the end of the day. I promise them that if they choose something they love, the problems won't do them in. If you're in for the money, but you're not enamored of the business, you're not going to be happy."

3) Get involved!
The franchisees HoneyBaked Ham is interested in are not necessarily people who want to slice ham, says Squire. "Customers are going to buy our ham. We want people who want to be engaged in the community, whether it's the Chamber of Commerce or the Rotary Club or university alumni activities. We like people who have been in business running companies 24/7, but have left that behind because they want time with their families and don't want to give up being a leader in the community."

It's also important to join professional organizations, he says. "The best way for people coming up to get involved in the franchise community is through the IFA and its committees. And I don't mean just going to meetings, but getting engaged in activities and committees as well as participating in activities of the local franchise community," says Squire, who is chairman of the Southeast Franchise Forum.

"I've learned so much from my peers. When I started at the IFA in the '80s, it was all about peer networking, which more than pays for the membership fees. This meant I was able to call a peer with another company and say, 'I'm having this problem. How do you handle that?' Today, the IFA is getting more involved in legislation, which is something we all need to know more about," he says.

4) Learn from your mistakes
Rich Wood, director of franchise development for Wingstop, was instrumental in getting food giants Chili's and Golden Corral off the ground. He learned a lot about franchising in the '80s, working on both the franchisor and franchisee side.

Wood also worked in franchise development for Canadian franchisor Boston Pizza, a full-service, casual dining concept that's a lot like Chili's. While Boston Pizza is a dominant brand in Canada, he says, it was tough opening units in the U.S. "We got deals done and had a good time doing it. However, the momentum was hard to maintain. I got worn out. People were resistant because they felt it was too expensive, required too much land, and no one had heard of it."

That experience gave him valuable knowledge he applies today. In retrospect, "I'd advise them to open some company stores in different markets to help establish the brand. They got away with not doing that in Canada, because people already knew about them. In the States, prospective franchisees were saying, 'Why don't you build it yourself?' It's scary when you're risking your life on something no one has ever heard of."

After that, he worked briefly with Popeye's Chicken & Biscuits, and was more than happy to sign on with Wingstop in Dallas. "The Wingstop scenario is so different [from Boston Pizza]. There's a low investment in real estate because a unit requires only a 1,500-square foot space, so it's a lot easier to do," he says. "Since the first of this year, there's been a lot of excitement and forward momentum, which was not the case when Popeye's was going public. With all the accounting problems they had in 1998 and 1999, it was not a fun place to work."

5) Polish your relationship building
The key to being a successful salesperson, Wood says, lies in forming relationships. "I try as quickly and as well as I can to develop relationships with the people I'm dealing with. That way, I understand their questions and can anticipate what their habits and business practices might be, and what kind of people they are," he says.

"Franchising is a system, and we're asking people to buy into our system. This is not for the creative entrepreneur. I recently had a prospect that seemed determined to add to what we do. All of his questions revolved around changing things--he wanted to add tables and chairs, to turn up the sound on the TVs. I told him that Wingstop is a 70 percent takeout business. We have TVs in the corners of the walls, but the sound is never on because we don't encourage people to sit around and drink like at Hooter's. Our system works for us, and it's a good, rewarding business."

His best advice on making sales? "It's not so much where you get your leads or what those leads are, but what you do with them," he says. "When you're dealing with a number of prospects, it's important to get in there and determine which are the most likely and the most consistent fit for the concept you're working with," he says. "Then you can start making a marriage between the company and the person or group."

Wood says his stint as a franchisee lends him credibility with prospects--and opened his eyes. When he worked for one system years ago, the franchisor compiled a list of lenders interested in lending to franchisees. "I used that list extensively in recruiting as a positive selling point for the business," he recalls.

But when he became a franchisee and pulled out the list, not one of the lenders would talk to him. "One guy finally said, 'We're not interested in lending to a startup.' And I said, 'Hey, there are 500 of these restaurants.' 'But you are a startup,' he told me."

Wood finally got a loan from the Small Business Administration. It took him a year, but he learned an invaluable lesson: "Don't take everything at face value--know what you're talking about."

And he isn't afraid to admit mistakes. "Sure, I've picked people who wanted to re-invent the wheel too much. And I've been with companies that didn't support their franchisees enough, especially in Mexico. Because of food costs, they needed more service. There, franchisees rely on cash they or their families have saved--they can't borrow money like we can. When their money is gone, it's gone, and they lose everything," he says. "I've learned from all these experiences."

6) Know what the next step is
Later in his career, back on the franchisor side, Wood used a reputable finance company and would even take a loan officer with him to speak with multi-unit prospects. "We wanted to put their minds at ease," he says. "There are two things a franchisee thinks of first: real estate and loan. If you make it easy for them to get over these first two hurdles, you've gone a long way toward getting them down the road to closing."

An "old dog" can learn new tricks, says Wood, who learned something vital to being successful in sales a few years ago from someone at Boston Pizza. "He taught me that it's really important--for both sides--to keep franchisees aware of the next steps. They should always know what's next, so there's no hidden curve coming down the road. Focus on what must happen chronologically, so that your prospect is clear that 'This is what I have to do next.' It's a fundamental part of moving the sales process along."

7) Market every way you can
Michael Dagen, founder and CEO of HouseWall Garage System in Miami, established his innovative company in 2004 and started franchising this past April. He already has eight units and is adding two to three more each month. His goal is to have 150 units at the end of 2009.

Dagen calls his company, which did $2.6 million in sales last year, "the Kleenex of garage systems" and wants to be just as popular. The market is there: in the U.S., 93 percent of homes have garages, and more than half of their owners say they plan to clean up and organize their garage space in the near future.

"Our company is a sales and marketing organization. What we have to sell is garage systems. If we were selling toilet paper, we'd be the same company," says the energetic Dagen, whose wife, Kim, came up with the concept that he implemented and made into a business.

He is a staunch believer in both grassroots efforts and traditional marketing. "We try to mix the two methods together," he says. For example, HouseWall partners with numerous professional sports teams.

"The Panthers are one of our teams, and, of course, it costs money to sponsor them. So what we do is this: when a customer gets a garage system, we throw a block party, open the garage up, air condition it. Panera Bread provides free food, Coke provides free beverages, and the Panthers come--for free--with masks and pennants. They get something and we get something. And prospective customers get inside the garage to see how it looks."

Sometimes people underestimate the importance of getting involved in the community and donating to charitable causes, he says. "When you do this, three things happen: One, you get publicity; two, you get the sale; and three, you're helping other people."

8) Never badmouth the competition
Dagen, who says he considers himself the ultimate salesman, has been in sales and marketing all his life. "I've done telemarketing, worked at Circuit City, sold shoes during the day when I was 15, and at night I worked at Burger King," he says. "I joined my father at his manufacturing company in 1990, where he was doing $300,000 to $400,000 in sales. By 1999, I brought things up to $27 million in sales."

He isn't sure that salespeople are "born not made" (although those who have met Rachel, his 7-year-old daughter and "co-CEO" may wonder about that). "I think they have to grow," says Dagen, who has a son, 10-year-old Aaron.

And in the process of growing, it's essential to avoid doing one thing, he adds. "I pride myself on telling the truth and I never, ever disparage the competition. It's not my style, and it always comes back to bite you. Our training manual and all our materials say that a person can lose his franchise if he disparages the competition. If he can't sell our product, he shouldn't be there."

9) Always be ready to learn
Dagen says he has confidence in abundance, but that doesn't make him a know-it-all. "One thing I don't have is ego. If someone says, 'Michael, listen, you should do this to help your business,' I do it," he says.

"I've learned that not having too much ego to listen to others allows you to grow faster. For example, I have a friend who is beyond wealthy. Last quarter, he and I went through our books to try and improve our margins. With his help, I was able to take our gross margins in a month and a half from 57 percent to 73 percent. If I hadn't listened to him, I'd have 20 percent less on the table. That's why I believe that once people realize they're not perfect, they can become better at what they do."

10) Be disciplined
Last fall, 16-year franchise development veteran Robert Stidham decided to start a company to serve what he perceives as a real need in the industry: experienced franchise salespeople. Today, as president of Franchise Dynamics, a "full-cycle" franchise sales outsourcing firm in Naperville, Ill., he's working with startup and existing brands to help them improve their franchising program. "Our focus is on adding value and helping our clients grow in the best manner possible," he says. (Franchise Dynamics is strategically aligned with the iFranchise Group, which has a financial investment in the company.)

Stidham, who has been with MRI Worldwide, Dunhill Staffing Systems, Oberweis Ice Cream and Dairy Stores, and Chem-Dry, a Home Depot company, has watched the explosive growth of the industry with great interest. That growth calls for increasingly sophisticated sales professionals, he says. But along with a higher level of business and sales skills, he says one trait is absolutely essential.

"One of the critical components of creating success is discipline. Successful franchise salespeople treat every prospective franchisee as a potential franchisee and customer of the system on that first call and, if the prospective franchise is qualified, throughout the process," he says.

"They follow up and respond to people as they say they will. They are honest in their communications. They need to be empathetic to the prospective franchisee and willing to say 'no' if they are not comfortable that this person is going to be a good fit in the organization and meet their business, financial, and personal lifestyle goals through the franchise."

In Stidham's opinion, no one starts out life as a sales whiz. "Good salespeople are generally strong communicators, empathetic, good businesspeople, smart, well-disciplined, highly organized, self-starters, and hard workers. They strive to constantly develop their sales skills and to learn about their industry," he says.

"Great salespeople are simply good salespeople who possess and can express a tremendous passion for the franchise concepts they represent and the people in their organizations," he says. "Franchising is a relationship sale, not a transactional one. The value added in the franchise sale is the ability of the franchise salesperson to create a relationship between the prospective franchisee and the franchise organization that can grow beyond the franchise purchase transaction."

Franchise sales are challenging for a variety of reasons, says Stidham: "We ask prospective franchisees to quit their jobs, give up the security of a steady paycheck, invest both themselves and their own money, and to follow their dreams. It can be very emotionally draining on both the prospective franchisee and the franchise salesperson."

Good franchise salespeople and sales managers are difficult to find--a fact made more challenging, says Stidham, by the growth of the franchise broker business, which has drawn away some of the best (and, unfortunately some of the worst) franchise salespeople. The problem, he says, is that many of these brokers have no franchising experience and so do not understand the emotional and interpersonal dynamics of franchising--something that can cause them to poorly represent a franchisor.

Stidham, who spent his "first career" in telecommunications, technology, and business consulting, agrees with Squire that the key to happiness in franchising sales or being a franchisee is to do something you love.

"The best advice I could give anyone is to choose something to sell that you use and believe in. Your passion will come through, and it will certainly add to your credibility in the sale," he says. "I was a regular Chem-Dry customer before I joined the company, used MRI services in my corporate career, still shop at Home Depot regularly, and love Oberweis Ice Cream. In each of these companies, I had the opportunity to work with terrific people, all of whom had a great passion for the product or service, their franchisees, and the brand."
Published: February 27th, 2007
Share this Feature
Recommended Reading:
Comments:
comments powered by

Disqus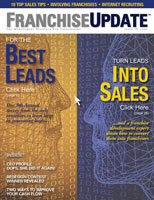 Franchise Update Magazine: Issue 4, 2006
The Titus Center for Franchising, one of Palm Beach Atlantic's Centers of Excellence, offers a concentration in franchising to business students.
Slick Marketers is reinventing franchise marketing with a hyper-customized and ultra-localized marketing approach with measurable results and growth...