2016 AFDR: How Are You Doing?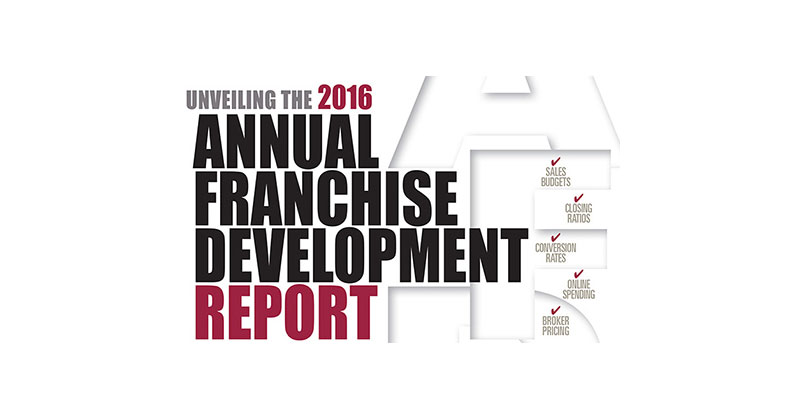 Benchmarking the good, the bad, and the best practices
Results from the 2016 Annual Franchise Development Report (AFDR) were unveiled in October at the 17th annual Franchise Leadership & Development Conference. The 2016 AFDR is based on responses from 134 franchisors representing 51,004 units (48,431 franchised and 2,573 company-owned).
Participants in the survey consisted of franchisors who pre-registered for the conference and completed an online questionnaire. Responses were aggregated and analyzed to produce a detailed look into the recruitment and development practices, budgets, and strategies of a wide cross-section of franchisors. The data, with accompanying commentary, provide the basis of the 2016 AFDR.
Highlights from the report were presented in a 90-minute general session. Gary Gardner, chair of Franchise Update Media, moderated a panel of four high-powered franchise development executives, who interpreted and discussed the data and research findings before responding to questions from attendees.
Panelists were Conference Chair Steve Dunn, senior vice president of global development at Denny's; Pete Lindsey, vice president of franchising at Sport Clips; Paul Pickett, vice president of franchise development at Wild Birds Unlimited; and Josh Wall, vice president of franchising and strategic development at Christian Brothers Automotive.
The mystery shoppers this year were Franchise Business Review, FranConnect, and Landmark Interactive. See page 44 for their thoughts and comments on this year's results and more on the mystery shopping research.
Growth plans for 2016 from the 134 respondents aim for a total of 6,442 additional franchise units, 40 percent (2,620) through existing franchisees, and 60 percent (3,822) from new franchisees. For comparison, last year's growth plans from 139 brands targeted a total of 6,063 additional units.
Below are additional highlights from the 2016 AFDR. Ordering information can be found below.
Recruitment budgets. Six in 10 respondents said their 2016 recruitment budget will be higher than in 2015, 8 percent said it would be lower, and 32 percent will keep it the same. Among respondents, the average media budget for franchise sales and recruitment (advertising and media expenses, not including brokers and employee compensation) in 2016 will be $162,821, with a median of $120,000.
Where the money goes. Planned allocation of respondents' 2016 recruitment budgets remained essentially the same as in previous years, with some variation in print and trade show spending. At 48 percent, spending on digital is up slightly from 2015 (44 percent), approaching its peak of 50 percent in 2010. Trade show spending, at 18 percent, has risen steadily since 2011, while annual print spending (10 percent) has slowly declined over that period. Public relations spending, at 14 percent, is up slightly from 2015, but is essentially the same as four years ago.
Where the digital money goes. This year saw the introduction of a new survey question, asking franchisors to break down their digital spend. The largest category by far, accounting for more than one in three dollars spent in this category (36 percent), was franchise opportunity sites. Pay-per-click (18 percent) and SEO (15 percent) together accounted for another third, with email marketing, social networking, remarketing, and other business media sites split about evenly to account for the remaining third of digital spending for recruitment.
Top sales producers. Digital wins again, accounting for more than four in 10 sales (42 percent). Remarkably, this number has remained exactly the same the past four years. Referrals remained second at 27 percent, dropping slightly from the past four years. Sales through brokers, at 15 percent, have essentially held steady since 2010. Sales attributed to print (3 percent) remained the same as the previous year, about the same as sales from trade shows (4 percent) and public relations (2 percent). One encouraging trend is that the "Other" category continues to decline, indicating that franchisors are doing a better job of tracking the sources of their sales. However, looking into the number of sales attributed to online/digital sources, Gardner said, "The last click gets the credit," and he urged attendees to consider the extent to which their other efforts contribute to the digital share of spending.
Top digital sales producers. Since digital spending accounted for four in 10 sales, we asked respondents to segment their digital spending as it relates to sales. The numbers for 2015 were nearly identical with those of the previous year. Following a steep decline in sales attributed to SEO last year (24 percent compared with 49 percent in 2013), the number for SEO remained the same this year. Sales from online ad portals in 2015 (33 percent)--which fell significantly in 2013 (to 23 percent from 43 percent in 2012) before bouncing back to 35 percent in 2014--were the largest sales producer, about the same as last year. Possible reasons include better performance by portal operators, better communication and collaboration with franchise sales departments, and changes in how prospects search for brands. Pay-per click, at 15 percent remained steady.
Measuring costs. Six in ten of respondents said they track cost per lead (60 percent) and cost per sale (58 percent). This means that 4 of every 10 respondents said they still do not. The average cost per lead in this year's report was $97, and the average cost per sale was $6,300 (down from last year). When it comes to those franchisors not tracking cost per lead, this year's 40 percent figure compares with 42 percent last year, 28 percent in 2013, and 35 percent in 2012. Although this year's 42 percent who do not track cost per sale--clearly the most important metric for a franchise development department--should be a serious concern at those brands, overall that figure is down from last year's 52 percent, about the same as in 2013, and a strong improvement from 65 percent in 2012. So while the trend is positive, it remains inexplicable that in 2015 four in 10 professional franchise development departments still don't track cost per lead and cost per sale. "If you're not tracking this, you have to start. You need these metrics," said Gardner.
Closing ratios. Mixed news here. For whatever reasons--perhaps the uncertain economy and low consumer confidence, or perhaps simply that 2014's respondents reported unusually high numbers (in the opinion of last year's expert panel)--closing ratios in 2015 fell for leads to sales, applications to sales, and discovery days to sales compared with 2014. For example, while the leads-to-sales ratio fell from 7 percent in 2014 to 3 percent in 2015, that 3 percent figure is still higher than in the four preceding years. And while the applications-to-sales ratio fell from 27 percent in 2014 to 18 percent in 2015, it is still higher than three out of the four preceding years. However, this year's discovery days-to-sales ratio of 61 percent, which fell from 67 percent in 2014, is lower than in any of the five preceding years. The message here? Franchisors must examine their discovery day process to see where candidates are dropping out. Are more unfit candidates getting through the earlier stages of the process? Are franchisors becoming more selective? How much is the economy or securing financing a factor?
Referrals. Referrals accounted for 15 percent of all leads for this year's respondents, but at 50 percent had the highest lead-to-close ratio of all lead generation sources. Almost half (45 percent) of franchisors provide incentives to franchisees who refer prospects that sign. The average referral fee is $3,505.
How multi-unit franchisees find new brands. In a separate survey of multi-unit franchisees, we found that two-thirds (67 percent) said they attend trade shows to find new opportunities, up 5 percent from 2014. However, this number might be high, as it came from surveying franchisees who attended our Multi-Unit Franchise Conference; however, it's also worth noting that by attending trade shows multi-unit operators can speak with their peers, as well as with brands exhibiting at the shows. Oddly in this same survey, referrals from associates dropped from 52 percent in 2014 to just 28 percent in 2015. Slightly more than a third (36 percent) cited personal experience with a brand, down from 42 percent in 2014.
Franchisors exceeding vs. below goals. There are several clear patterns here. Brands exceeding their sales goals had a lower cost per lead and cost per sale than brands that fell below their goals in 2015; they also had higher ratios of applications to sales, discovery days to sales, paid their senior executives more, and provided them with more benefits. In terms of categories, 59 percent of food brands exceeded their goals, with 17 percent below; retail non-food was a wash (11 percent exceeding and 10 percent below); and more service brands fell below their sales goals than exceeded them by a factor of two to three. Brands with higher system-wide gross revenue (over $40 million) did well, with 69 percent exceeding goals; while among brands with system-wide gross revenue below $8 million only 12 percent exceeded their goals, while 32 percent fell below. Brands with investment level of more than $250,000 per unit also did well.
Mobile/smartphones. Franchisors who have not optimized their online presence for mobile devices (smartphones and tablets) are at a disadvantage when it comes to lead generation. More than half of Internet leads (51 percent) now come from smartphones alone, according to research conducted by Landmark Interactive this summer. These results, combined with Google reporting in October that mobile searches surpassed desktop searches, are a wake-up call for franchisors. The shift to mobile should surprise no one: more searches are conducted from mobile devices each year for everyday purposes, and prospects will shop for brands using the same tools and methods they use to find shoes or restaurants. In addition, not only are desktop searches declining, so are searches from tablets. Franchisors who do not tailor their online presence to meet prospects where they are--on their phones--deserve what they don't get. "If you're not mobile-optimized, you're losing leads," said Gardner.
Brokers. Franchisors love brokers. Franchisors hate brokers. Regardless, franchisors use brokers. Almost half (46 percent) of this year's AFDR respondents said they use brokers, down slightly from last year's 49 percent, 48 percent in 2013, and 44 percent in 2012. Of those who do use brokers, 86 percent used a broker firm that specializes in franchising (up from last year's 78 percent) and 58 percent used an independent broker/consultant.
2016 AFDR NOW AVAILABLE!
The 2016 Annual Franchise Development Report (AFDR) delivers data collected from 134 franchisors representing 51,004 units, with responses organized by industry, unit investment, system-wide sales, and more. The annual report provides franchisors with the ideal tool for studying their development practices, benchmarking their sales and recruitment budgets against their own industry categories, and setting goals and budgets for the year ahead. The report also includes research into online recruitment practices, the growing use of mobile and social tools by prospects, and best practices by franchisors.
The AFDR, the only sales and lead generation benchmark report available in franchising, identifies industry sales trends and top lead generation sources for meeting sales goals. For example:
How does your sales budget compare with those of other brands in your segment?
Are your closing ratios in line with your industry and investment level?
What conversion rates should you expect from your website?
Is your online spending paying off? How do you know?
Are your brokers delivering--and is their price per deal too high?
Are you using referrals, and how much are you paying for them?
How are franchisors using social media to recruit candidates?
Some franchisors are exceeding their sales goals. What are they doing differently from those falling short?
The 2016 AFDR is packed with timely information and benchmarking data that can help your franchise system grow faster and close more deals--while saving thousands of dollars in cost per sale. Based on in-depth surveys from 134 franchise companies, this thoroughly researched report reveals the success drivers that are sure to boost the output and quality of your sales department.
Filled with the most comprehensive sales and lead generation data in franchising, the 2016 AFDR, at more than 250 pages, is a must-buy tool for franchisors, development consultants, and advertising, marketing, and technology suppliers--and is ideal for benchmarking and building budgets and media plans.
The complete 2016 AFDR, with analysis and benchmarks, is available for $199. New this year is a 1-hour video of the discussion and analysis of the results by four development pros, held at this year's Franchise Leadership & Development Conference in October. For ordering information, call Sharon Wilkinson at 800-289-4232 x202, email sales@franchiseupdatemedia.com, or visit franchiseupdate.vizigy.com.
AFDR: How They Use It
Following the conference, we asked three of the panelists on the AFDR panel how they use the AFDR (the fourth, Steve Dunn, was out of the country). Here's what they had to say.
Metrics and spending
"I use the report to analyze my individual metrics: my request-to-application ratio, applications-to-'join the flock' day (discovery day) ratio, and lead conversion from unique visitors to our website to those who fill out a request for more information," says Paul Pickett, vice president of franchise development at Wild Birds Unlimited, which took first place in Best Overall Performance in this year's STAR Awards. "I also look at how we're spending money as a percentage of our advertising budget compared to others."
Pickett also uses the report's extensive benchmarking data to determine if there are any opportunities he might be missing out on to improve his franchise development results. For example, he had moved away from using print for several years, but when he studied the data on how other brands were using print ads, he decided to give it another try and took out two print ads in Entrepreneur magazine for December and January. "If you're willing to have your mind opened, this report is a way to do it," he says.
"I look at areas we can improve, where we're doing well, and how we can do better," he says. "Just because you're #1 doesn't mean you're going to stay there."
Unique information source
"This is the only place we can get a benchmark--the numbers to give us an idea of how we're doing. It shows us where we are, where the industry is, and where it's going," says Pete Lindsey, vice president of franchising at Sport Clips, which took second-place STAR Award honors this year for Best Overall Performance.
The industry averages in the AFDR also give his team a number they can use in determining their own goals. In terms of cost per sale and cost per lead, he says, "Everybody's trying to look at the benchmarking and beat it."
He also uses the report to continually improve his sales process, based on the annual mystery shopping for telephone and website response, using the judging criteria as a guide to ensure that best practices are followed throughout his company's sales process.
Comparative budget tool
"The report is so helpful to us in making budget comparisons. We were in a vacuum building out a budget. We expected results, but didn't get them," says Josh Wall, vice president of franchising and strategic development at Christian Brothers Automotive, which won a STAR Award last year for Best Website Prospect Follow-Up. "The first time I got hold of the AFDR, I knew we were grossly behind in our lead generation budget. I saw we weren't getting the lead generation we wanted because we were under budget. This was as recent as 3 or 4 years ago." He says the benchmarking data is especially good for smaller franchisees who don't have the internal resources larger brands do,
The AFDR benchmarks also provided him with comparative data to show his CFO and CEO what other companies were spending in their recruitment budgets. "It allowed us to bolster our budget. We're closer to the median now," he says. "The report helps me evaluate how we're doing on budget and metrics compared with our peers."
New Website Approach Pays Off
One number that's extremely important to Josh Wall at Christian Brothers Automotive is unique website visitors to lead conversion. "I watch that one like a hawk. We spend a large portion of our budget on our website," he says.
This wasn't always the case. Two years ago the company launched a new recruitment website--and unique visitor traffic rose 394 percent year-over-year, he says. "Spending a little bit of money on SEO had a tremendous impact on leads," he says.
His first goal was to drive up the number of people coming to the recruitment website. "If I get enough people in front of that site, and if it's sticky and interesting enough, it will convert a reasonably high number of those unique visitors," he says.
The next goal was finding a way to make visitors stick around. Having learned about the relationship between the amount of time visitors spent on a website and further activity, especially conversion, he began working to boost the amount of information available online.
"I realized we didn't have enough content, so we beefed it up , including video," he says. Visitors were spending very little time on the company's website. "Our average time was less than a minute. That's when we decided to throw more out there. We needed more content to interest the right people," he says.
Before the change, he says, "Our website had very little content and our process was 'gated.' So if someone wanted more, they'd have to come to us." He calls this an old theory, the idea being to get prospects on the phone with a sales rep. The new approach, which is working much better, is to "un-gate" the information--"to put it out there and let the right people gravitate toward the opportunity," says Wall.
This approach is paying dividends. "Candidates in our qualifying process are much more educated. It feels more natural," he says. "They've educated themselves, which allows me, as a recruiter, to drill down and ask them questions to see how well they qualify for one of our franchises."
And conversion is up--significantly. "Our conversion rate now is a little bit higher than 6.5 percent. I'm pleased because our number is close to twice the benchmark in the AFDR," he says. "By having a recruitment website and continuing to spend SEO dollars, and a little bit of an SEM campaign, we expect it to continue to grow," he says.
Managing more leads demanded further change. The company had no lead qualifier and a very poor contact rate, says Wall. "We were not stewarding our lead flow very well. That's one of the changes we made. It allowed us to really jump up our contact rate," he says. "Without this report, we might have continued floundering." Walking the talk, the company won a STAR Award in 2014 for Best Website Prospect Follow-Up.
Convert!
Pete Lindsey has a big word on his office wall: Convert. "You have to measure conversions, but a lot of people get too complicated," he says. For him there are three conversions to watch: 1) lead to inquiry, 2) lead to discovery day, and 3) discovery day to contract.
His approach is to give his sales team numbers to meet, then help them hit those numbers. "When your team realizes they can move conversion metrics, you have a really powerful team," he says. "We goal set every year and move them up. It doesn't work if people don't know exactly what they're responsible for." And, he's found, when someone on his team is struggling to meet their numbers, team members will rally around that person and ask what they can do to help.
What Is Franchise Development?
"What I have learned over the years is that it's not rocket science--it's just attention to detail, and a mentality of honoring the fact that people are interested in investing in your brand," says Paul Pickett. "And when you're able to create a culture like that, it is very rewarding and easy to attend to your candidates in the way they want to be attended to."
Pickett takes his role seriously. "When I see people not attending to candidates, or not answering their questions, I think, 'Are you looking at candidates as an honor to serve them?'" he says. "You're there to help grow your brand. If you don't believe in that, you might consider another career path," he says.
"It's a commitment to doing the right thing for your potential candidates and for your brand."
Published: January 20th, 2016
Share this Feature
Recommended Reading:
Comments:
comments powered by

Disqus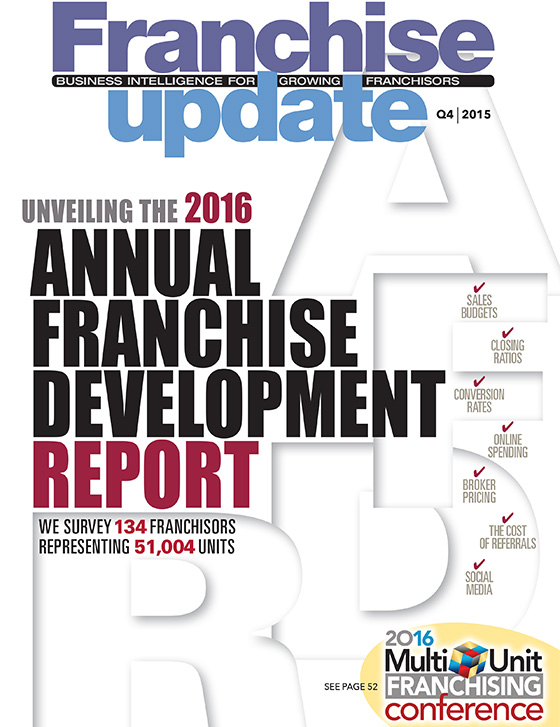 Franchise Update Magazine: Issue 4, 2015
April 25 - April 28, 2023, Caesars Forum, LV. The Multi-Unit Franchising Conference is the premier annual event for the country's leading...
ApplePie Capital provides a fresh new approach to franchise financing that is focused on your growth and success.