99 BIG Franchisees: Aslam Khan
Name: Aslam Khan
Title: President and CEO
Company: Falcon Holdings, LLC
No. of Units: 102 Church's Chickens
Years in current position: 6
Years in franchising: 18

You wouldn't know it from looking at his photo, or at his remarkable string of successes in taking failing chicken franchises and giving them wings, but Aslam Khan grew up poor. "I was born in poverty," said Khan in a 2001 interview, "and had a deep desire to move away from it. I wanted to do better."

He has. Born in Pakistan, Khan left home at 14, put himself through school, and landed a job with the American Club at the U.S. Embassy in his country. He worked there for seven and a half years, becoming club manager and learning to run the food and beverage operation. You might say he made his first two acquisitions there, picking up both the English language and a taste for the American Dream.

In 1986, with little money, Khan followed that dream to Los Angeles, figuring it would be cheaper to live in a warm climate (no blankets or overcoats required). After being rejected for a managerial position by Church's corporate, he took a job as a dishwasher in a Church's store. It became clear to management that Khan could do better for both himself and the franchise, and his trajectory has been upward ever since. Khan soon found himself managing the restaurant and climbing the Church's corporate ladder. He left to spend a couple of years with rival KFC in Los Angeles before returning to Church's, where he took the reins of a failing 48-unit franchise group and turned it around in short order from a losing concept to one of the brand's top performers.

In September 1999, with his operating, marketing, and managerial capabilities firmly established, and with the financial help of Sentinel Capital Partners, a New York equity firm, Khan bought a six-state, 100-unit group of underperforming Church's restaurants headed for bankruptcy. Now well able to afford all the blankets and warm coats he needed, Khan moved his business to the Chicago area, renamed the group Falcon Holdings, and once again turned a group of failing stores into rising stars.

In May 2005, Khan paid off Sentinel completely, and now owns 100 percent of Falcon Holdings and its 102 Church's Chicken stores. "They got a 30 to 40 percent return," says Khan, adding that Sentinel was a great partner to work with. In 2005, with sales of more than $60 million, Khan is now faces a new challenge: enjoying the taste of success.

Key accomplishments? Acquired a failing franchise in bankruptcy and made a 180-degree turnaround in two years in controllable and bottom-line profits. We were the most improved franchise in 2001 through 2003, and Franchisee of the Year in 2004. Maintained current management team and added several key players to achieve this. Remodeled facilities in several markets and made equipment upgrades.

Biggest mistake? Not making the move three years earlier obtaining a Church's franchise.

Smartest mistake? Taking the risk, and using all my resources to get the job done.

Management method? Speak respectfully while fostering growth, promoting from within, and managing by consent. Empowering my team to take ownership and focusing on managing a business unit while supervising others. Major focuses also include treating everyone with dignity and respect.

How do you do it? Setting expectations and following my business plan as a guide to success.

How will you continue to do it? Continue treating everyone with respect, being honest, having passion for the employees and the business, while focusing and thinking outside of the box. Continue to hold all employees accountable from the bottom up, and praise and reward for good performance. This also applies to my entire management team.

Greatest challenge? Changing the culture of the past management.

Management style? Being consistent, fair but firm and professional. Keeping all decisions job-related.

Personality? Friendly, fair, flexible, two-way communications, and building winning teams.

How do you hire and fire? Hire: By using the three-step interview process to get the "right fit." Fire: Documentation and action plan process to give an employee the opportunity to improve job performance. If policies are involved, we treat all employees consistently, and with dignity and respect, but maintain a zero tolerance on our non-harassment policies.

How do you find good people? Employee referrals, Career Builders, print and display ads. We hire experienced candidates with previous management experience and at least two years positive results in profit-and-loss results.

How do you train them? Four-week training program, All-Star Training program and validation process.

How do you retain them? Workshops, seminars, and train the trainer classes, to enhance skills annually. (He also has a bonus incentive system for managers, giving them a percentage of sales based on exceeding the previous year's numbers.)

How close are you to actual operations? I am close to the operation. I am result-oriented with my team. I focus on the big picture and energize others to get results. My executives get the job done.

How does size of franchise matter?It gives me the opportunity to empower teams in several states, and to build confident teams to get the job done in satellite markets. I trust my employees, I know them, I believe in them, and together we get the job done.

(It also gives him the incentive to develop a state-of-the art information system to track all his stores on a daily basis. After the restaurants close each night, reports are generated by 5 a.m. that all supervisors see first thing each morning.)
Personal
How do you spend a typical day? I make business calls seeking new business opportunities and developments. I am active in the community. I speak to my colleagues and entertain friends and family.

Work week? 8:30 a.m. to 6:00 p.m., Mon.-Fri.

Favorite activity? Reading, and enjoying family and friends

Exercise? Complete workout at my local health club at least four times a week.

Fun? Go out to dinner, vacation, and attend shows and events.

How do you measure your growth? By staying in business and making payroll for all my employees, investors, and family.

2006 goals? Be the best of the best in sales and profits in 2006. Achieve the highest mystery shop scores in the franchise community.

If you could change a federal law affecting franchises, what would it be, and why? Workers' compensation and general liability cost to the business. Because courts accept frivolous claims that are represented by lawyers, and most are fraudulent and without merit.
Published: April 4th, 2006
Share this Feature
Recommended Reading:
Comments:
comments powered by

Disqus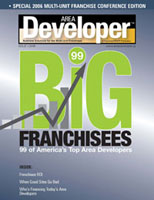 Multi-Unit Franchisee Magazine: Issue 1, 2006
Mr Jeff is an innovative laundry franchise model that has expanded to over 30 countries, by making technology the core of the business. Mr Jeff adds...
Cash Required:
$100,000
uBreakiFix is a consumer electronics repair company based out of Orlando, FL that specializes in refurbishing and restoring smartphones, tablets,...
Cash Required:
$125,000