99 BIG Franchisees: Todd Watkins
Largest Martinizing franchisee
Family first
Martinizing Dry Cleaning
Owner: 22 franchise locations
2205 Revenues in excess of $5 million
80 employees

Todd Watkins may look like a type-A power franchisee with 22 Martinizing locations and the title of largest franchisee in the system. But the 41-year-old Michigan father has other priorities.

"Growing up, I saw my father a lot," Watkins says. "I wanted the same kind of life with my wife and children. I don't work 80-hour weeks like a corporate executive or a doctor. I'm home in the evenings and I make it a priority to be there for my children's sporting events."

His father, Don Watkins, started with Martinizing in 1968. Todd joined the company in 1987, when his dad had 12 stores. His younger brother Kurt joined as his partner 1993. Retired now, Dad is always nearby to keep the brothers' focus in perspective.

"It can be tough sometimes, working with your brother," Todd Watkins says. "But it's the only thing we've ever known."

Watkins initially started out in pre-med at the University of Michigan, and watched his friends put in long hours as their careers progressed.

"At some point, you have to commit to a plan," he says. "Medical school and the life of a doctor weren't in my plan." Instead he married his high school sweetheart and went into the dry cleaning business. He has three children now, with a fourth, a boy he is adopting from Guatemala, on the way. "We have room in our house and in our hearts for another child," he says.

A mentor once told him that the key is not to make money, but to attract and keep customers. He believes that he is good at what he does and says that treating employees as if they were his customers is the key to his success.

"I have good people and good systems in place," he says. "Everybody is treated with respect and know they are appreciated. Everybody can grow to the best of their abilities and are held accountable."

Watkins has been able to stick to his ethics, including his desire to be in the lead with environmentally friendly cleaning systems. Five of his units have converted to Green Earth products, a cleaning solvent alternative to the traditional perc solution, which has caused so many brownfields nationally.

Following his instincts, which so far have been accurate for him, Watkins recently bought into another franchise system called Image First. They rent medical linens to high-end doctors, surgery centers and imaging centers.

"We don't want to have all our eggs in one basket," he says. He has no immediate plans to add units to the Martinizing business. Instead, he's moved some locations and will continue transforming others into Green Earth use.

Sales are up for the year and Watkins says he wishes he could bottle the instincts that have worked so well for him to date.

"I just feel like I'm the luckiest man alive," he says.
Published: April 4th, 2006
Share this Feature
Recommended Reading:
Comments:
comments powered by

Disqus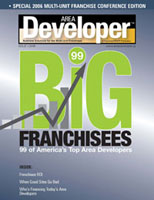 Multi-Unit Franchisee Magazine: Issue 1, 2006
Slim Chickens: Breakthrough Brand. Breathtaking Numbers.
Build a Future with the Computer Service Industry Pioneers. NerdsToGo is paving the way as innovators, entrepreneurs, franchisees, and successful...
Cash Required:
$70,000