A different approach to funding franchise growth
Christopher R. Thomas and his partners, Clyde E. Culp III and John M. Creed, have deep roots in restaurant franchising. They're about to grow deeper.

Thomas is former president and CEO of Sizzler USA, former chief financial officer of NYSE-listed Sizzler International, Inc., and former chairman of the California Restaurant Association.

Creed built NYSE-listed Chart House Enterprises as its chairman.

Culp is former president and CEO of Long John Silver's and co-founder and former CEO of Davco Foods.

The three are already working together in another venture, Passport Restaurants, which owns three franchise brands: Steve's Pizza, New York NY Fresh Deli, and Playa Grill & Margarita Bar.

Now the three "restrepreneurs" have created an unusual platform called Restaurant Acquisition Partners (RAP). RAP is a "blank check" company formed specifically to collect investment funds and acquire another restaurant chain, i.e., it doesn't have a business plan except to acquire another company. This type of venture is publicly traded before it acquires anything, so in many cases a blank check company can be rather speculative.

Not in this case, however. RAP already has raised $20 million and is on the lookout for the right acquisition. Thomas, who is president and CEO of RAP, says it is the first blank check company specifically targeting the restaurant industry.

"Typically these companies are sponsored by financial types," he says. "They get them organized, take their 20 percent, and move on to the next. We want to build great net worth." Theirs is a different kind of strategy-attracting investment for the long haul, not for the short-term return-and these partners plan to stay with the acquisition to help it grow.

Whichever company the partners eventually acquire, it will have several significant advantages. "We have the experience that we can support an existing management team and assist them in implementing a strategy. From a public standpoint, we bring credibility to the market. With this blank check company we bring the capital," he says.

Given their experience with public companies and the restaurant business, the partners are well suited to navigate any regulatory and Wall Street hurdles and complexities. "We've been involved with advising private equity funds. We all have public company experience, and we're not intimidated by the process," says Thomas.

On the purely financial side, he explains, "It really aligns what we want to do with the investor. The investor wants you to grow the business, and what we want to do is grow the business so the enterprise value grows. Growing the business causes us to reach the desired result: accretion of shareholder value. There's no conflict of agendas, which you sometimes have with private equity funds. They can make use of a lot of techniques that create returns, but the result often is in conflict with growing the enterprise."

For the owners of the acquired business, the capital infusion represents a tremendous opportunity. "It gives us a great tool to incentivize management teams, because you can use stock options as a great way of incenting a management," Thompson says. "Most startups don't have the mechanisms to do that." Add to that the decades of experience each partner brings.

The group is flexible about the exact company they're looking for, but is focusing on small, with a good strategy, and capable of growing from 20 units to a large national chain. And franchised, of course. They'd prefer a seller who has a vision and a program they can build on.

Thomas lays out three requirements for success in growing a restaurant business:

a good concept (good economics, cost structure, margins, and investment-to-sales ratio);
a management team that can visualize, articulate a growth strategy, and execute it; and
the capital to fuel the vision.


"Take away any of those three," he says, "and you have a hard time growing the enterprise."

The key is the management team, whether it's already in place or has to be strengthened or created. Says Thomas, "If it's a management team that's less strong or less passionate or just wants to leave, we can step in, operate, and assemble a team from our Rolodexes."

SEC regulations require that the group restrict itself to one acquisition, which must be made within 18 months, and with a fair market value of 80 percent of RAP's assets-so it has to be $16 million.

Given their long history in the field, the partners do get calls. And the fact that they are operators means they speak the restaurant lingo. "We're less frightening than a Wall Street private equity fund," says Thomas. "We understand the degree of difficulty of getting things done, and usually have some solutions."

For example, there's the importance of hospitality. "When I was turning around Sizzler, that was one of the things: Why are all our servers so long-faced with low energy? The answer came back that those were the only people who would work at Sizzler, and I said, 'Oh, really, have we asked? Maybe those are the only type of people we asked.' So I selected a restaurant and went to a college campus to recruit, and the kids were thrilled."

Says Thomas, "You can teach the mechanics of serving, but you can't teach them to smile. Either they are or they aren't, and that needs to be in the hiring description. You don't need your kitchen manager to have an outgoing personality. But you must have it for your front-of-the-house managers." Lesson learned.

As franchising continues to mature and restaurant concepts continue to proliferate, it may well be that this financing method will get more interest and use. It would certainly introduce a comfort level for entrepreneurs who have created a concept and want to grow to the next level.
Published: June 26th, 2007
Share this Feature
Recommended Reading:
Comments:
comments powered by

Disqus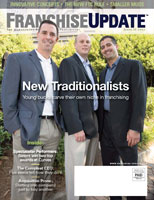 Franchise Update Magazine: Issue 2, 2007
Support your multi-location brands and empower users. OneTouchPoint integrates localized marketing services and comprehensive brand management...
Sociallybuzz, founded in 2009, is the #1 Social Media Marketing Agency to help franchisors and franchisees increase their revenues, drive sales, and...