Against The Odds: ServiceMaster Franchisee Sets Records and Sails To Success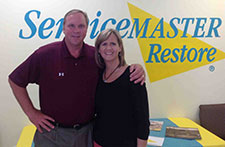 Dan Fry entered the world of franchising knowing very little about the business. He was warned of the odds of succeeding in a new business but he didn't let that stop him or hold him back in anyway. He excelled first as a ServiceMaster franchisee and became one of the brand's top 200 franchisees after only one year in business. He's maintained that growth rate over the last 12 years and has earned numerous franchise growth and excellence awards. His newest business venture is as a Furniture Medic franchisee and he's excelling again. He has already set a record for the highest first year revenue of any new franchisee and been recognized with the brand's Rookie of the Year Award.
Name: Dan Fry
Title: Owner/Partner
Company: ServiceMaster Advanced Restorations, LP (Also: Furniture Medic by Wood Restore, LLC)
Location/Territory: Dallas/Fort Worth
No. of units by brand: 1 ServiceMaster Restore, 1 Furniture Medic
Age: 53
Family: Wife, Amy Lynne and three children, daughters Rachel and Kayla and son Adam.
Years in franchising: 3 years as a regional vice president for Cendant Corporation (Franchisor for Century 21 Real Estate), Owner 13 years with ServiceMaster, 3 years with Furniture Medic
Personal
Formative influences/events:
Our parents have been tremendous influences in our lives instilling a sense of pride in self-accomplishment. We are fortunate and recognize that our good fortune is due to values that we have gained over the years.
Key accomplishments:
As a new ServiceMaster franchisee, we grew at a record pace becoming one of the top 200 franchisees in the company after only one year in business and have maintained a growth rate that has kept us in that position earning numerous franchise growth and excellence awards. As a new Furniture Medic franchisee, we set a record for the highest first year revenue of any new franchisee, even winning the Rookie of the Year Award.
Smartest mistake:
I was told that starting up as a new franchisee in an industry that I knew nothing about would be a mistake and was constantly reminded of the high percentages of businesses that went out of business within the first, second, third, etc. years. It pays to not believe everything you hear.
Work week:
I have tried to take the approach that I was creating a business and not a job for myself. Even though it is challenging to stick to a schedule that allows you to enjoy life and family, sometimes you recognize that you need to do whatever it takes to get things done, so weekends or late nights are not unheard of at times.
How do you spend a typical day?
I like to meet with our team members, technicians, and office staff first thing in the morning and gain an understanding of the challenges we have in store for the day and involve everyone on determining the solutions. I am a daily "to do list" person and enjoy the feel of crossing items off my list and accomplishing multiple tasks.
What's your passion in business?
My passion stems from a true sense of pride in what we have accomplished. I love seeing the impact that we have on our customers' lives and also on each and every family that we support within the business.
How do you balance life and work?
I have always held the axiom that your work should provide for your life and not be your life. That can be challenging considering that my wife, Amy, is there every day by my side. I have heard a thousand times from many people who say they could not work with their spouse; I say that I could not work without her. In fact, she and her brother (Max Kuntz) are largely responsible for all of our success.
Management
Business philosophy:
Treat every customer and employee with respect and appreciation and strive to give them more than they expected.
Management method or style:
We always say that we have a "laid back attitude" around the office; there is no need to create additional stress in your own or anyone else's life. Just don't ever confuse laid back with lack of competitive drive or the lack of desire to obtain serious business goals.
Greatest challenge:
As a franchisee, you are constantly given obstacles disguised as opportunities and you must always be prepared for "curve balls." Whether it is keeping the best-trained staff, dealing with unconventional jobs, varying workflows, new competition, or any other "typical" business owner challenge, you must always remember that the others do not care about your obstacles. It's just important to get past the obstacles.
How close are you to operations?
I am close when I need to be. I have done every job that every person holds in our company. I will not hesitate to jump in right beside them if necessary. But I do recognize that if you give trust to those that have earned it, they will perform at a level that is considerably better than I may have been able to do myself. Always surround yourself with high quality people and then, do not get in their way.
What are the two most important things you rely on from your franchisor?
Innovation and brand strengthening.
How is social media affecting your business?
It has changed how we market. We are able to touch more people in shorter periods of time with a higher degree of certainty through social media than we have ever achieved through old, traditional, advertising methods, like ads in newspapers or yellow pages.
How do you deal with problem employees?
We first make sure that we have an environment that promotes employees who want to work and want to be with us for the long haul. Make sure the issues an employee is having do not relate to something that can be easily addressed. We also want to make sure that we properly train our employees and give them the tools that they need to successfully do their jobs. In the occasions that we deal with an individual who does not fit our philosophies and tend to bring the others down around them, then we deal with it in a consistent manner. If it becomes something that cannot be readily resolved or the individual does not care to resolve, then we feel we must remove that person and part ways. We fortunately have not had this situation because we put every new employee candidate through a pretty thorough screening.
Bottom Line
Revenue:
In the top 25 percent
Growth meter: How do you measure your growth?
My wife is always plotting our rate of growth compared to same time periods in the past to give us perspective. We take revenue and number of jobs into consideration to analyze whether we are getting more or less jobs and how much we expend to complete them versus past performances.
Vision meter: Where do you want to be in 5 years? 10 years?
We would like to double our businesses within the next five years and double them again within the subsequent five years.
How is the current economy affecting you, your employees, and your customers?
With higher deductibles, customers are less likely to file claims, so the number of claims has reduced over the years. On the Furniture Medic side, people are dealing with less disposable income to consider repairs that they may have done in the past. As a whole, people are more cautious because they have a higher level of uncertainty with the economy than ever before.
How do you forecast for your business?
We try to prepare. In our industry, you cannot "forecast" or predict with any certainty what type of volume you can anticipate, so you must always be ready for whatever is presented to you as an opportunity.
Is capital getting easier to access? Why/why not?
I think that capital is becoming a little more difficult to acquire since banks are being more conservative due to past lending practices and their own uncertainty for what is going on in the economy. Fortunately, we have earned a great relationship with our bankers in the case that we may come to need them.
Where do you find capital for expansion?
As a business owner, you have to master the art of finding capital under every rock. It may take using credit lines to give you the opportunity to be prepared for business. Sometimes you have to rely on those relationships with your bankers and learn that you must spend a little money (or borrow a little money) to make money.
What are you doing to take care of your employees?
We believe we have created an environment that our employees enjoy and look forward to coming to work. We make sure that we provide them with the best training, tools, and support for superior work. We also make sure that we treat them with appreciation and respect. We celebrate every employee's birthday, new baby births, anniversary dates, and have a regular company cookout.
How do you reward/recognize top-performing employees?
We recognized long ago that if you have someone who is exceptional at their job then you need to find a way to keep them. Longevity is achieved by creating the environment that I mentioned earlier, but let's not underestimate the power of rewarding someone financially. Also, if someone has mastered their job and has the aptitude to foster that among others, then it makes sense to give them the trust and responsibility to move up in our operation.
Published: August 20th, 2014
Share this Feature
Recommended Reading:
Comments:
comments powered by

Disqus
At Nautical Bowls, we combine healthy, fresh superfood bowls with an uplifting atmosphere, giving you energy to life a full life! Our goal is to...
Cash Required:
$100,000
Own one of the world's most beloved ice cream franchises! For nearly 35 years Cold Stone has been the go-to for the Ultimate Ice Cream...