An Opportunistic Choice: Ahmed El-Hawary succeeds in food franchising and beyond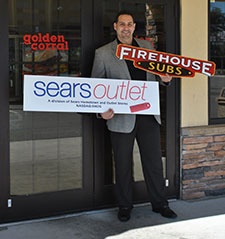 Some would say find what you do best and stick with it. If you've been successful with food franchising, then stay in that lane. But Ahmed El-Hawary doesn't see things that way.
El-Hawary, who worked in his family's restaurant as a youth, operates four Firehouse Subs. When he opened his first 12 years ago, he was the brand's youngest franchisee. Last December, he opened his first Golden Corral restaurant, a $3.5 million project built from the ground up.
But when the 34-year-old--who also worked in his father's business selling glass doors, screens, and garage doors--had the opportunity to acquire eight Sears Outlets stores, he didn't hesitate.
"It was an opportunistic choice. We're the third franchisees to come in and do the Sears Outlets, which are now outside the Sears brand but still have that strong name behind them," he says. "Most of what we do is sell appliances at 20 to 70 percent off retail. We don't own the inventory. Sears owns it and gives us commission on sales. It's a great business model--an old company with a new business model. It's been exciting and the fastest-growing segment in our company. To build Golden Corral restaurants takes more time because of the large footprint, so those won't come on as fast as the Sears Outlets. We'll continue to grow our Firehouse brand, which is a great brand with great guys, as opportunities arise."
El-Hawary was born in Cincinnati to Egyptian parents and grew up in Merritt Island, Fla. He says he doesn't see himself as a restaurateur. "I'm a businessman. And once you understand the fundamentals of business, it doesn't matter if you're selling food, appliances, or widgets. It's all the same: You take care of your customers, pay your bills, and hope to make a little money at the end of the day."
He says his three different brands are extremely different from one another. "One is a buffet restaurant based on volume, the other is a restaurant with an a la carte menu with a totally different volume, budgets, and core marketing, and our third brand is a retail franchise. The differences don't matter."
El-Hawary, who earned a degree in business management at the University of Central Florida and bought his first piece of residential real estate when he was 21, says he's always liked business--especially acquisitions--and real estate. "I had an entrepreneurial family, but as long as I can remember, I've always been interested in business. When you like something, you focus more energy on it and become successful," he says.
When people ask him how he juggles the three brands, he says, "It comes down to Business 101. Ask yourself: What's the game plan? Then you have to get people to understand your concept and to believe in it. And you're held accountable for it. The beautiful thing about franchising is that we have all these franchisors and franchisees out there that can help us benchmark how we're doing against them."
El-Hawary, owner and CEO of Zeal Group in Orlando, says that his businesses are doing well financially, but he's reorganizing the company to ensure that procedures throughout his brands are consistent.
His best advice for would-be franchisees? Network and attend conferences with other franchisees, and embrace social media and technology in growing their business. "You have to get used to change, which is constant. Whatever you're doing is going to change, and you have to go with it."
Name: Ahmed El-Hawary
Title: Owner/CEO
Company: Zeal Group
No. of units: 4 Firehouse Subs; 1 Golden Corral (and 1 under development); and 8 Sears Outlets (all in Florida)
Age: 34
Family: Father, mother, and two sisters
Years in franchising: 12
Years in current position: 12
Published: June 18th, 2014
Share this Feature
Recommended Reading:
Comments:
comments powered by

Disqus
Build a Future with the Computer Service Industry Pioneers. NerdsToGo is paving the way as innovators, entrepreneurs, franchisees, and successful...
Cash Required:
$70,000
Teriyaki Madness is the #1 Fastest-Growing Big Restaurant Chain for a reason: high-quality food, cutting-edge technology and incredible franchisee...
Cash Required:
$200,000