Avoiding Rookie Mistakes
Three gaffes new franchisors can't afford to make with area representatives

As "newbie" franchise companies decide on strategies to grow their systems, they have three choices:
an in-house direct franchise sales strategy;
outsourcing all or parts of the franchisee recruitment process to a franchise sales organization or to franchise consultants/brokers; and
using an area representatives (AR) strategy (sometimes known as area developers or other, similar terms, all meaning essentially the same thing).

There are numerous variations and combinations of these three growth strategies, but in general these are the methods used to successfully grow franchise systems. Recently, in a discussion with an emerging franchisor, the conversation turned to their AR program. Their ARs were in default of their development schedules, and the franchisees they were responsible to for providing operational support were extremely dissatisfied. This type of situation is not unusual, but it can have serious adverse effects on franchise growth. In fact, more than 80 percent of all AR development schedules are in default.

Emerging franchisors make three avoidable mistakes when implementing an AR growth strategy. All are avoidable.

Mistake #1: Recruiting the wrong type of area representatives. An AR is part salesperson, part operations person, and part franchisee psychologist. It is rare to find all these skills in one individual. Most ARs have been a franchisee or come from a franchise management or sales background. Often ARs are undercapitalized. Without the financial ability to build infrastructure and become a quasi mini-franchisor, their inability to provide franchisee support services results in unhappy franchisees. In another discussion with a franchisor struggling with their ARs, I began to probe for the reasons for their problems. Their ARs were doing a great job finding and selling new franchisees--almost too good a job. What was the background of these ARs? Predictably, it was in franchise sales. Although great salespeople, these individuals had little experience in supporting or managing a group of highly diverse franchisee personalities. This proved a recipe for disaster.

Mistake #2: Having no specific support system to manage area representatives. In many cases, a franchisor will use the same personnel, support systems, and franchisee support resources to support area representatives that it uses for its franchisees. This is a mistake.

An NFL football team has coaches, staff, and management systems in place for the offense, defense, and special teams. Franchising requires similar specialization. When using an AR growth strategy, a franchisor needs coaches, staff, and management systems in place to ensure execution in franchise sales, as well as in franchise operations complete with manuals, reporting hierarchy, and accountability specifically for their ARs. Without these types of systems in place for ARs, problems are just around the corner.

Mistake #3: Not developing a different advertising strategy. In a discussion with an emerging franchisor regarding the high default rate in the franchise sales development schedules of their ARs, I asked the franchisor what they were doing to augment their AR's advertising strategy. The reply I got was a blank stare. What was I talking about? Wasn't it up to the AR to handle their own franchise advertising program? After all, the AR received a significant portion of the franchise fee that is, in part, intended to provide the financial resources to fund regional franchisee advertising programs. Wasn't this enough?

I explained that 10 years ago this would have been adequate because lead generation came primarily from three advertising sources: regional franchise expositions, regional newspapers and publications (such as the Wall Street Journal), and local newspapers. Today, there are relatively few regional franchise expositions, and the response rates for regional and local newspapers are a fraction of what they were a decade ago. Today, the Internet is the dominant lead generator. This presents a challenge for ARs because the Internet is ubiquitous. The Internet is not an ideal vehicle for local or regional franchise lead generation because the cost per lead for local and regional advertising is comparable to national cost-per-lead rates. If a franchisor has no coordinated advertising lead generation strategy with their AR, the default rate in their franchise development schedules is predictable.

In order for "newbie" or emerging franchise companies to avoid common mistakes in implementing and managing an AR growth strategy, careful thought must be given to recruiting the "right" profile for an AR, creating a separate support system for their ARs, and establishing a well-thought-out franchise lead generation plan. When managed properly, fast growth--if not hypergrowth--can be created by deploying an area representative strategy.

Join me for the next installment, where I'll be discussing "The Three Stupid Mistakes Old-Guard Franchisors Make in Area Representative Franchising."

Marvin L. Storm is managing director of Blackstone Hathaway, which specializes in using area representatives as a franchise growth strategy. He can be reached at 925-376-2900 x201 or mstorm@blackstonehathaway.com.

Published: June 24th, 2008
Share this Feature
Recommended Reading:
Comments:
comments powered by

Disqus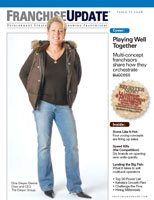 Franchise Update Magazine: Issue 2, 2008
Find the support you need to find success with your small to mid-sized business. Explore the PEO services offered by Integrity Employee Leasing.
Leasecake is location management made easy – from lease contracts and licensing agreements to ASC 842 compliance. Never miss a deadline, stay ahead...