Baskin-Robbins' new multi-unit program targets neighborhood growth
When Denise Taylor decided to move back home to Denver from Kansas, she sold the direct mail business she had built from scratch.

"It was just time, since I couldn't grow the business from a distance," says Taylor.

But then what? She was remarried, had two teenage daughters, but wasn't ready to retire. The answer turned out to be a new program from Baskin-Robbins that focuses on small multi-unit ownership.

"What we've found is whether you own one store or eight, the model is more between three and five units," says Director of Franchising James Franks, who came up with the "Small Business/Small Network" program.

Many franchisors focusing on growth look for large multi-unit owners or area developers who can grow the brand in a hurry. Baskin-Robbins was in a different position: with 5,600 stores in 37 countries, the franchisor wanted to focus on the neighborhood. And, Franks says, they wanted to keep franchisees from "buying a job"-and ending up spending all their time in the store.

"We want them to work on their business, not in their business," he says.

Also, he says, he did not want to pair these stores automatically with parent Dunkin' Donuts, which is on its own expansion strategy emphasizing coffee. The small business/small network program is specifically for Baskin-Robbins.

Before the program, "A lot of people would say they would start with one [store], then grow, but then they would get so caught up in the operation they wouldn't ever open the second. If you're working in the store day in and day out, it's hard to open a new store and also reach out to schools and charities," he says. "The way this is designed, you can start from the beginning with working on the business. You're able to duplicate and grow."

Taylor liked the idea. After selling the direct mail business, she says, "I thought I could now do anything I wanted, and I wanted to do something fun. It was my favorite place to go as a kid, so I did some research and found they had this new concept and how they were positioning themselves."

She was in the "old" mode of thinking that she would buy one store and then see about opening a second. "But once we were presented with the small network, I said this is where we want to be with my personal and career goals."

Taylor is looking to open in the heart of her own community in south Denver, where there are eight elementary schools and four high schools within a three-mile area. She plans to open the stores fairly quickly: the first by mid-summer, the second possibly in March 2008, and the third the following spring or summer of that year.

Good feelings
Pat O'Docharty, who has a trucking business in addition to his Baskin-Robbins units, opened his first store more than 10 years ago, but the new program encouraged him to open 2 more stores early this year. "You can concentrate on running three stores and making that a full-time job. Once we get our feet on the ground we'll look at a fourth."

He says the new program has also meant "a lot more energy from corporate in helping the franchisee run a better shop." And that, he says, "will make everybody a lot more profitable."

While he considers a fourth store, O'Docharty also thinks three might be the magic number…at least for now. "It may be a little early to tell," he says, "but I'm getting some good feelings about three stores. It was like when I first got in the trucking business: you had to have two or three trucks to make it go. So I think it takes a minimum of three stores, but five or six would probably be best." In any case, he says, it has made him a more efficient business owner.

"I think it gives an opportunity for somebody like me to concentrate more on the ice cream side of my personality," he says. (That is a Baskin-Robbins mantra: "Are you in touch with your ice cream side?") Because, as Franks says, franchisees have to understand they are selling not just ice cream, but fun.

O'Docharty says he's now asking that question himself when he conducts interviews: "You can really tell when people know what you're talking about-the fun side."

A major part of the program, says Franks, is connecting it with the neighborhood. "Our tagline is 'America's favorite neighborhood ice cream shop.' Most of our new franchisees are coming on board with shops in neighborhoods where they live or have their businesses already." He says the brand is very involved with schools as well as with firefighters' associations.

For example, new franchisees will go into the schools to hire people from that area, he says. "They work on how Baskin-Robbins can help them with programs that will inspire and improve the children. We believe we owe it to our consumers to have a local shop."

That is the pattern Taylor is following. "I am going to go to counselors in high schools and presenting the Baskin-Robbins experience," she says. "Right next to the location of my first store they're building a large Christian high school. What I'm hoping is to get a pool of kids that they can rotate to new stores."

She wants to make an impact on the kids as well-offering rewards for good grades, and making her stores a place they will want to work, and, as a result, instill a good work ethic in them. With two teenage daughters of her own, she has a good idea how to do that.

Franks says that the program-which has assigned 300 stores in the last year-is the next level up from owning one store. For the franchisee, there's an opportunity to build a strong business. For Baskin-Robbins, there's an assurance that an area will be developed.

"You can own 20 stores and do this if you have the organization in place," says Franks, "but there's something about being close to the store."
Published: June 5th, 2007
Share this Feature
Recommended Reading:
Comments:
comments powered by

Disqus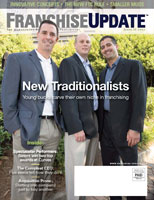 Franchise Update Magazine: Issue 2, 2007
Clayton Kendall provides franchise communities nationwide with comprehensive branded merchandise programs leading to greater brand exposure,...
June 18-20, 2024 Marketing-Operations-Technology. Be a part of this ground-breaking new space for ideas, inspiration and networking for Franchise...