Battle Plan 2011
Franchisors must earn their way out of this economy
Will the 2011 economy provide a further drag on franchise development, or will it allow development to start to gain some speed? I believe the answer is that it will allow some gradual acceleration in most sectors. Let's look at what's been happening in development and the economic factors that will influence it in 2011, and some implications for development that will last beyond 2011.
Although development has slowed in the past two years, it has not fallen off nearly as much as the media and public opinion would suggest. We're still compiling 2009 unit data, so a complete picture of how much the recession has affected development is not yet ready. Historically, development activities at larger, national brands have had affected relatively less than at smaller, lesser-known brands. To see if that is still the case, we looked at 150 mature brands with an average of more than 500 units each.
The accompanying graph shows that unit development declined by nine units, on average, between 2005/2006 and 2009, or about 20 percent. That clearly is a significant drop from pre-recession levels but not as precipitous as many would have us believe. Does that mean that unit development will return to pre-recession levels, which would be good to know for 2011 planning purposes?
I think that's doubtful because we are in a period of economic uncertainty that is very likely to continue for the next 3-plus years. The economy is still struggling, yet the willingness (and some would argue, the ability) of the government to further stimulate the economy is seriously constrained. Further federal stimulus spending is not likely for political reasons, and we're close to the limits of monetary policy bailing out fiscal ineptitude. So that leaves us with doing it the old-fashioned way: earning our way out. That will be a slow process with economic headwinds that will hinder development.
One of the headwinds is that Americans are starting to save again. In 1977, household debt was 20 percent of GDP; today it's more than 100 percent. That level of spending was not sustainable. We are now in a period in which consumer debt is starting to declined. However, it will take a few years, at best, before that decline is likely to level off. Historically, Baby Boomers saved about 10 percent of their household income; in 2007 they saved less than 2 percent. But in the second quarter of 2010, overall household savings reached 6 percent. A psychology of saving creates a headwind for many would-be franchisees, who otherwise would consider incurring more debt to seek a greater degree of entrepreneurial independence.
A second headwind is the business credit imbalance. It now is clear that we are in a multi-year period in which there is considerable competition for credit. On the supply side, banks have become more conservative, as reflected in tighter credit boxes. While many have an ability to fund loans, their willingness is a big question mark. To be convinced that a loan will perform, they have become much more demanding on the information front. With more than 60 percent of all small business loans coming from community banks, the level of knowledge these banks have about franchising is far less than the level the big national banks had a few years ago before they largely withdrew from the small business lending space and disassembled many of their experienced loan teams.
Banks are asking for information that a few years ago wasn't even considered during the underwriting process. Of course they are asking detailed questions about unit performance. But they're also asking questions about a franchise system's performance, level of franchisor support, and the franchisor's own performance. Systems with less-than-average performance have some serious challenges ahead in the competition for credit. Those with above-average performance will be asked to prove it. They should be glad to do so because they have worked hard to achieve good performance and will now be rewarded for that effort.
While the economic recovery faces other headwinds, the two above are particularly challenging for franchise businesses heading into 2011, which leads me to some suggestions for overcoming them.
 On the consumer side, the closer your brand is to being perceived as a necessity and not a luxury, the more likely your sales will remain strong and prospective franchisees will be interested. Much of that really is a perception. For instance, aren't massages a necessity in this period of extra stress in our lives? Go get them, marketing wizards!
 On the competition for credit front, franchisors must take responsibility for educating bankers about franchising and the performance of their brand. Banks want information that addresses credit risk issues. Much of that information isn't in an FDD. Bankers want accurate information, which we know usually isn't the case with such source data as SBA. Lenders can be given bank credit reports without creating disclosure issues.
As the observations above suggest, in response to economic uncertainty and the impact that uncertainty is having on prospective and expansion-minded franchisees, many franchisors are starting to change the way they approach development and support. The ones that make those changes sooner will be the ones that see their development expand more quickly.
Darrell Johnson is president and CEO of FRANdata, an independent research company supplying information and analysis for the franchising sector since 1989. He can be reached at 703-740-4700 or djohnson@frandata.com.
Published: December 27th, 2010
Share this Feature
Recommended Reading:
Comments:
comments powered by

Disqus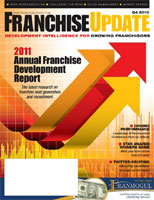 Franchise Update Magazine: Issue 4, 2010
Bring Order to Your Business. All-in-one management, print, and design solutions at your fingertips, on one platform
Leasecake is location management made easy – from lease contracts and licensing agreements to ASC 842 compliance. Never miss a deadline, stay ahead...