Borrow Locally, Grow Nationally: Learning To Think Like A Local Banker
Franchising depends on access to borrowed capital for new units, updating existing units, working capital, and the transfer of units between owners. Where is that capital going to come from?

Many of the bigger banks, which made up a substantial portion of the preferred lenders in franchising, are no longer actively lending. Sure, some are still making some franchise loans, but the terms are considerably less appealing than they were in recent memory. And if the terms aren't too onerous, you may find that the appraisals make the transactions uneconomical.

Lending activity in 2009 is shifting significantly away from national financial institutions and toward smaller local and regional institutions. This creates a different challenge for franchisors. Before this shift, you said, "Franchisee, let me introduce you to our preferred lenders." Now you will find yourself saying, "Franchisee, who is your local lender?"

Preferred lenders had already spent time getting to know a brand, its performance, and its management team. So how do you get local lenders--people you haven't met and won't know before your franchisee points you toward them--comfortable with your brand, your strategy, and you?

Before local and regional lenders will consider a loan to a local customer, they will first decide whether to consider a loan associated with a particular brand. In this era of heightened underwriting, you can be sure they have the same questions your preferred lenders did. However, they will have less of a feel for franchising in general, and likely no feel at all for your brand.

The best way to get through this shift in lending is to think like a local banker. Here's how:

The responsibility of the bank's lending department is to make loans so the bank can make money. The responsibility of the bank's credit department is to keep banks from losing money.For most of this decade, the lending department held sway with banks. Today, the credit departments have the power. Think of credit departments as really big gatekeepers (or perhaps money keepers). So you must start thinking like the people in local bank credit departments. They don't see the world in color, they see it in black and white--facts and numbers, to be precise. They look at a number of risk metrics for a brand, just as the national preferred lenders do, risk metrics such as:
business sector analysis
franchise brand history
franchise system performance
franchise unit performance
franchise fees and investment requirements
SBA loan data, and
franchisor financial performance.

Unfortunately, many local bank credit departments lack the context to put these risk factors into performance metrics, so it's helpful to put your brand's performance in perspective. Further (and I speak from a career in banking on this point), a local bank that is going to make only one or two loans associated with a particular brand has little incentive to figure out the answers to all the credit department questions about the brand. Franchisors, on the other hand, can leverage this work for many local lenders. So it's up to franchisors to do the work for the bankers.

The financial world has changed. Embrace the change and find ways to solve the challenges that change represents. Start with how bankers think. I know that is beneath many of you, but in this economy we all have to make sacrifices.

Darrell Johnson is President and CEO of FRANdata, an independent research company supplying information and analysis for the franchising sector since 1989. He can be reached at 703-740-4700 or djohnson@frandata.com.
Published: February 23rd, 2009
Share this Feature
Recommended Reading:
Comments:
comments powered by

Disqus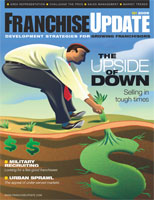 Franchise Update Magazine: Issue 1, 2009
Clayton Kendall provides franchise communities nationwide with comprehensive branded merchandise programs leading to greater brand exposure,...
Sociallybuzz, founded in 2009, is the #1 Social Media Marketing Agency to help franchisors and franchisees increase their revenues, drive sales, and...