Building "America's Diner": Frances Allen Strives to Make Denny's Vision Real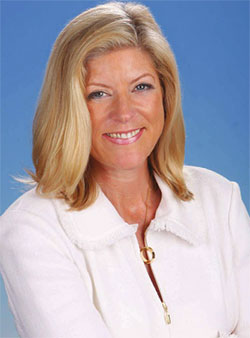 Frances Allen is no stranger to big brands. Over the past 25 years, she's logged successful stints as a senior marketing executive at Dunkin' Donuts, Sony Ericsson, PepsiCo, and Frito-Lay. During that time she has spearheaded brand repositioning initiatives, led new product introduction strategies, and launched expansion into international markets.
Now, as executive vice president and chief brand officer for Denny's since July 2010, Allen is responsible for the overall direction of the brand's marketing strategies and initiatives, positioning, advertising campaigns, menu development, and restaurant image.?One of her core tasks has been to lead the implementation of the company's "America's Diner" campaign, an effort to reposition the brand to reflect its roots and connect with guests. We asked her how she plans to do that, and about the ever-changing role of CMO.
Describe your role as CMO.
My role is to create a vision for the brand based on real consumer insight. The most important part of my job, though, is to inspire all those around me to want to deliver that vision... not just the marketing department. I need everyone, from the customer service department to the operations team, the operators, and the finance group to be just as motivated and committed to delivering against our brand positioning. A brand positioning is just a bunch of words unless it becomes real at every touchpoint within the consumer experience. This requires all departments to be striving to deliver an authentic brand experience. And this is especially true in the restaurant or retail business.
At Denny's that vision is "America's Diner," a place that feels like home for everyone who walks through diner doors, no matter what life stage, age, gender, or ethnicity. It's a come-as-you-are, no-nonsense, democratic environment where people can relax, be themselves, and connect with the people they care about. It's a unique, competitively distinct, yet powerful consumer proposition that is absolutely authentic to who we are as a brand. Whether we are thinking about service, environment, or food, "America's Diner" is our North Star that guides our strategies and our initiatives.
What's unique about the CMO position at Denny's?
Our passionate people. It's always the people. The core tenets of marketing stay the same no matter what business you are in, but the people make it unique.
What's the most challenging part of being a CMO today?
The changing pace of technology creates a constantly different consumer and communications landscape. The CMO today needs to be agile and keep up, while also having the confidence to not want to control everything. The consumer is in charge today. To borrow from a colleague, no marketer would ever have invented Gangnam Style or "Duck Dynasty."
What are the 3 most important keys to being an effective CMO leader today?
1) The ability to balance left and right brain thinking. Using data to make a creative leap into a big idea or unique insight. Reading the data and listening to your gut. 2) The ability to communicate, inspire, and lead with a clear, compelling vision. 3) And, once communicated, the ability to get out of the way to let a talented team of people deliver, to do their jobs with passion and purpose.
How do you prepare a marketing plan and execute the strategies?
First, positioning three or four core marketing strategies into tactics; how these strategic moves play out over the year depends on the ebbs and flows of the brand. Then, charging our marketing team and agencies with innovation in all aspects, not just products, but thinking about all the ways we connect and engage with Denny's consumers.
How do you measure marketing results and effectiveness?
In the restaurant world, the key measure is traffic. There are macro impacts on traffic and brand impacts on traffic. It is making sure you cross-examine both and constantly read, react, and refine your marketing plan to deliver the results. It's also working closely with smart analysts to help read and interpret the data. Your financial analysts are your friends. They can help you set clear goals and expectations up front and analyze results in an objective and thorough way.
Discuss your core consumer marketing strategies and objectives.
1) Everyone has been to a Denny's at some point in their lives, and most have positive memories. The goal of our brand positioning and aligned communication is to reconnect to our guests as "America's Diner" and create an environment that fosters new memories, helping them fall in love with the brand all over again. 2) Our core consumer is working class and has very restricted disposable income. We need to remain committed to creating affordable comfort food accompanied with a warm family dining experience delivered at a great value, every day. 3) Balance affordability with innovative newsworthy, head-turning menu innovations, and limited-time offers. 4) Expand relevance beyond breakfast.
Describe your marketing team and the role each plays.
Our diverse team includes many roles from insights to product development, product marketing to consumer engagement (advertising, menu, merchandising, etc.) and field execution. We're a group of talented individuals dedicated to working together and delivering the brand promise of "America's Diner."
Why is it so important for the marketing department to have a "personal touch" when it comes to helping the brand connect with prospects?
People don't buy a "what," they buy a "why." They are more loyal if they feel a brand is a brand for them, versus a rational transaction.
How does this help your franchise development effort?
Our North Star, "America's Diner," is all about the emotional connection. It's also the reason franchisees bought into the brand.
What ways/tools do you rely on to do this?
Our advisory board for both marketing and operations is very involved in the development of system-wide marketing programs such that our vision, mission, and values statements are authored by both franchisee and corporate leaders. This has allowed us to make better-informed decisions on programs and marketing campaigns that will best resonate with our guests. We do this through the cascading of information through field teams, internal communication, annual conventions, local market meetings, training, and the like.
Do today's prospects expect more from the franchise marketing department? What, and how do you provide it?
Like all shareholders and stakeholders, they expect us to be better informed and do more with less. They expect us to be focused on both the short and long term. They want a silver bullet, but I honestly believe they realize it doesn't exist today. Finally they want and expect us to lead while making sure we have listened to their points of view.
How is technology changing the way franchise marketing is done in terms of one-on-one contact?
As a heavily franchised organization, it is critically important that we work very closely with the Denny's Franchisee Association on the brand strategy and direction. Today's technology and communications tools certainly make that flow of communication more engaging and efficient. Our franchisees are the men and women who are in the field every day, running restaurants and interacting with our guests on a daily basis. They hear directly from the guests and are invaluable in shaping the decisions for the brand. It is our one-on-one interaction with them that helps us make balanced and well-informed decisions in a timely manner on behalf of the system.
How are you assisting your existing franchisees with more contact and transparency? What are their immediate needs?
We have an advisory structure for marketing, operations, and development made up of a core group of franchisee leaders who help us refine our plans and test our strategies and initiatives. In addition, we hold DMA-level meetings where information is cascaded and needs are communicated to corporate.
How do you work with other internal departments, and does technology help?
We have our internal version of Facebook, which we call Denny's Connect. We also leverage email and cell phone communication far more than landlines and extensions.
How do you manage costs and budgets for the marketing department?
Carefully and well.
Do you see vendors as business partners? Why/why not?
Yes. The more they understand our strategies and goals, the more likely they are to help us find solutions and help get us to where we need to be.
How have marketing strategies/tools changed over the past decade? How have you adapted?
Throughout my career I have always stayed true to five core principles that I believe are important, no matter what industry you are in or what product you are marketing. Those principles are certainly followed closely at Denny's. We stay relevant by using these core principles, which are:
Understanding our core brand DNA, what we mean to our guests and what role we play in their lives.
Driving our brand positioning throughout the entire organization, from marketing communications to food and service, all consumer touchpoints.
Engaging with consumers in a more meaningful two-way versus one-way conversation through social media, creating a relationship that is unique and valuable to each of our different audiences, whether Millennials, Boomers, Hispanics, or families.
Innovating across all areas of our marketing plan, whether through product introductions like the Maple Bacon Sundae, or through our $2/$4/$6/$8 Value Menu, or our engaging media strategy.
Reading, reacting, and refining constantly to hone our approach. Innovation is key, but learning from the risks we take and the new approaches we apply is equally important.
Driving our brand promise throughout the entire organization has been imperative to the success of repositioning our brand as "America's Diner," and we have used additional tools like media fragmentation, media modeling analysis, smarter POS data analysis, etc. to help us better measure consumer interactions and effectively understand these insights to improve our brand strategy.
What challenges have you faced as a female C-level executive and how did you deal with them?
None. I believe I am an equal member of the management team and have a voice.
What advice would you offer to aspiring female executives?
As Sheryl Sandberg said so well, "lean in" to the business. Don't wait to be asked to participate.
Published: March 27th, 2014
Share this Feature
Recommended Reading:
Comments:
comments powered by

Disqus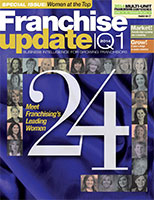 Franchise Update Magazine: Issue 1, 2014
The Titus Center for Franchising, one of Palm Beach Atlantic's Centers of Excellence, offers a concentration in franchising to business students.
ApplePie Capital provides a fresh new approach to franchise financing that is focused on your growth and success.