Building Lives and Dreams: Rising from the Ashes of Failure to Mega-Success
Serial entrepreneur Doug Pak was fresh out of college--armed with a degree in business and economics from UCLA--when he cut his teeth in franchising the old-fashioned way.
"All of my friends were looking at investment banking, consulting, and CPA firms. I just wanted to learn how to own and operate a business," remembers Pak, a franchisee of 72 Papa John's and 50 Hardee's restaurants. "I was intrigued by that, so I took a job with a small franchisee who had one Denny's restaurant and I learned a lot about the franchise business."
An idea guy who loves solving problems, Pak is the recipient of the 2019 MVP Award for Mega Growth Leadership for building a diversified franchise enterprise that generates $130 million in annual revenue.
"You kind of have to know where you are going first," says Pak. "We always had an ambitious vision of fast growth, and that has allowed us to do so."
Pak is founder, chairman, and co-CEO of BLD Brands in Newport Beach, California. BLD includes three divisions: the multi-unit franchise investment company Serazen (operators of Papa John's and Hardee's); the corporate-owned and operated Spaghetti Warehouse chain (8 units); and ARK09, a multi-unit business management system and technology platform.
Pak is no stranger to adversity. He was just 14 when he moved from South Korea to California, where he had to learn a new language and way of life. He says his parents' business struggles left the family broke for a short time; and his own Internet start-up company, launched during the dot.com era, folded when the economy went bust. "Everything you go through, you learn a lot and become more humble," he says.
In 2005, he launched BLD Brands, raising more than $120 million with the help of Derek Kim, a senior officer at Korean global giant SK Group, who believed in Pak and taught the young entrepreneur the art of strategic thinking.
Pak also counts the late John V. Shields Jr., former CEO of Trader Joe's, as a life-changing mentor. Shields, who built the California grocery chain into a national powerhouse, was the keynote speaker at a business conference in 2010. Pak was in the audience and still has the six pages of notes he took that day.
"I was the only one who was frantically writing notes. Everything he talked about, his experience and what he did, was so new to me. I learned so much in that one hour," says Pak. "So I approached him and begged him to become my mentor."
Once focused solely on rapid growth, Pak is now focused on the quality of his growth. Among his many ventures, Pak expects to franchise additional brands and is set to launch a new concept, Warehouse 72, that will pay homage to the legacy of the full-service Spaghetti Warehouse brand, founded in 1972.
No matter how he gets there, expect Pak's path to continued success to be a long-term journey.
Name: Doug Pak
Title: CEO, co-founder
No. of units: 72 Papa John's, 50 Hardee's
Age: 46
Family: Wife and two kids
Years in franchising: 13
Years in current position: 13
Personal
Formative influences/events:
Two key mentors in my life: John Shields, former CEO and chairman of Trader Joe's; and Derek Kim, a senior officer of SK Group from South Korea. The event I love is the World Business Forum in New York.
Key accomplishments:
Married the love of my life and have two awesome kids. Everything else is the icing on the cake. Started and failed in many business startups. Learned a lot. Still learning. Went from broke, getting calls from credit card companies daily, and living on 99-cent burgers to starting and growing a company from zero to $200 million in 8 years. Came to the U.S. at the age of 14 (freshman in high school with very little English). I was able to get a great education and graduate from UCLA with a business/economics major. Donor and a board member of Pepperdine University.
Work week:
Work all the time, with a lot of travel. Two days are administrative days in the office.
What are you reading?
I used to hate reading when I was young. I just played all the time. Now I have become an avid reader and read about 20 books a year. Dark Nights of the Soul by Thomas Moore (just finished and it is a life-changing book); A Shattered Peace by David Andelman; and Love Wins by Rob Bell.
Best advice you ever got:
Don't make decisions based on fear. Life is 10 percent what happens to you and 90 percent what you decide to do after. Focus on what you can control.
Management
Business philosophy:
If you have the right ideas, the right people, and the right system in place, the money will follow you. Start with a 100-year dream. Then work your way down to a 10-year vision, 3-year business plan and strategy, 1-year operating plan, and daily actions. Business is not about transactions. It's about building relationships. Always leave something on the table. I do get burned by this philosophy for sure, but I know I can sleep well at night.
Management method or style:
BLD, which stands for Building Lives and Dreams. We have six pillars that capture it all: 1) Drive Results; 2) Make Money; 3) Explore the World; Have Fun; 5) Do Good; 6) Grow Your Mind. I try to make decisions based on these principles.
Greatest challenge:
I love technology to solve problems and grow the business, but I can't keep up with technology and social changes that are happening so much faster than before. Too many emails. It is also hard to hire great people with the overheated and over-financed economy.
How do others describe you?
Visionary (and way too many ideas), driven, and energetic. Thinker and strategic.
How do you hire and fire, train and retain?
Hire slow and fire fast principle (most people do the opposite). Demand performance but be good to people and build relationships. We don't do as good of a job as I would like with training. We need to do better.
Bottom Line
2019 goals:
$130 million (from Serazen, our franchise business).
Growth meter: How do you measure your growth?
Same-store sales, profitability, and store count. We are really trying to measure company culture growth and are having a hard time with how you actually measure culture. We are working on that, but we don't have the answers yet.
Vision meter: Where do you want to be in 5 years? 10 years?
When I started, my goal was only about fast growth, which I achieved in the early years. My new vision is slow growth, but building an amazing company and culture for a long-term legacy and to make a positive impact in the world. We plan to diversify into additional brands and non-food franchise brands as well, especially in health and fitness, education, and children-related areas.
What are you doing to take care of your employees?
We have built a culture of doing good by taking care of our team members. We identify key life events (marriage, newborn, graduation, death in the family, birthday, etc.) and send flowers or gift cards. We built our own technology to handle this. We created our own support fund (Sherry's Fund, named after my wife because she put up with me all these years) where team members who have financial emergencies can apply for a grant, not a loan. They are typically $100 to $1,000. We have helped team members who have experienced a disaster such as a fire or a hurricane, vehicle emergencies, funeral support, etc.
What kind of exit strategy do you have in place?
My former mentor, John Shields, once told me something very insightful when I asked him about exit strategies. He graduated from Stanford University with an MBA in the 1960s. He said, back then, the term "exit strategy" didn't even exist. I also heard from Bill Marriott (of Marriott International), who said even in his 80s, his only focus was to keep growing and building more hotels, and not think about exit strategy. So while I do engage in acquisitions and divestitures from time to time, I do not have an exit strategy for my main company (although I think about it all the time, especially when I am faced with daunting challenges). It's about building it for the long term and building lives and dreams in small and big ways along the way. I believe that more exciting business and life opportunities will appear as I continue to engage in my business in a positive way. I will keep working and try to figure things out.
MVP Questions
Why do you think you were recognized with this award?
I grew from nothing to a $200 million company in 8 years starting with nothing in my pocket. Definitely, there was fast growth through the Great Recession in 2008 and 2009. I got to a point in 2013 where the company was about $200 million in annual revenue--not too shabby in terms of fast growth. The technology: we built our own technology that really allowed us to grow faster and operate well.
How have you raised the bar in your own company?
With my tech background, we have built amazing technology to manage our business. This is how we are able to manage 100-plus locations from my home office in California, where we presently have no operations.
What innovations you have created and used to build your company?
We built our own technology, a multi-unit business management system we call ARK09. We have an internal development team with four full-time programmers who report to me directly. It has big data, an executive dashboard, online financials, workflow, ops reporting, a leadership and culture management module, a marketing system, and more. Tech is my passion.
What core values do you think helped you win this award?
Fast growth, innovation, inspiring vision.
How important is community involvement to you and your company?
It's been difficult to focus on community involvement when both the Papa John's and Hardee's brands are not doing well. However, we are trying to embody local fundraising as a key strategy and culture, where each location partners with local community organizations for a long-term fundraising partnership. They key here is not just trying to get more sales. It's about creating real partnerships that help us "do good" and also build sales.
What leadership qualities are important to you and to your team?
Business success is 10 percent ideas and 90 percent execution. Details, details, details. Embrace change. Focus on the long term and big picture. Focus on drivers of results, not the results themselves. "Fierce conversations." We try to have direct conversations, respectfully, so we can make tough decisions and solve real problems.
Published: July 5th, 2019
Share this Feature
Recommended Reading:
Comments:
comments powered by

Disqus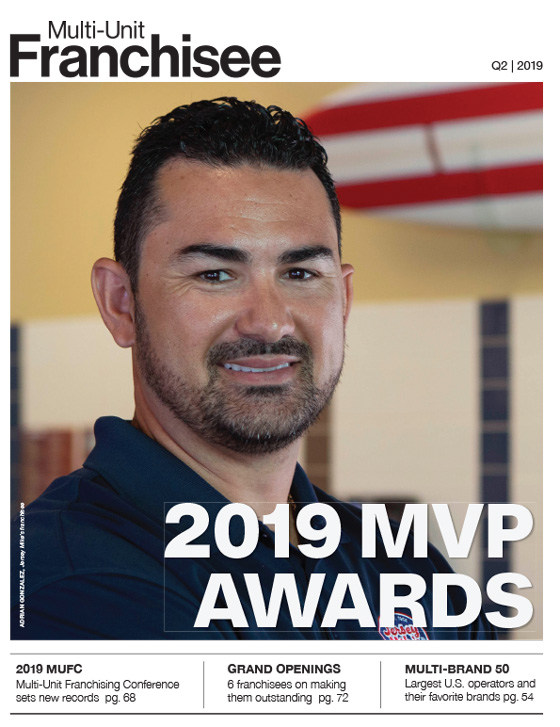 Multi-Unit Franchisee Magazine: Issue 2, 2019
PetWellClinic is a walk-in veterinary clinic offering basic health and wellness services to dogs and cats. PetWellClinic is the first vet clinic...
Cash Required:
$250,000
Massage Heights is a passion brand, a lifestyle brand, and a spa franchise brand that truly helps people live their best lives by encouraging them to...
Cash Required:
$175,000