100 Percenter: Building on Hard Work and Teamwork
In just 2 years with Wayback Burgers, Jigar (Jim) Patel has excelled. Last October, at the Driving Wayback to the Future Franchisee Convention, the fast-casual chain named him its Multi-Unit Franchisee of the Year. This year, he is the winner of the 2019 MVP Award for Single Brand Leadership. Currently operating five Wayback Burgers restaurants in Delaware and Maryland, Patel is gearing up to open two to three more annually over the next 5 years.
"I believe in letting everyone have an opportunity to prove their success--whatever their talent," he says. "I might have different talents from someone else, so why not let everybody explore their talents?"
Patel may be relatively new to franchising, but he's no stranger to hard work. Born in India, he was 16 when he moved with his family to Delaware. He learned the value of a strong work ethic from his father, an entrepreneur with various retail businesses, and was always looking for the right opportunity to be his own boss.
"I always wanted to work in a platform where I could prove myself and put 100 percent toward it," he says. "The difficulty in non-franchised locations is that there is no structure to owning a small store or gas station. With Wayback Burgers I found the platform that I needed, and I loved the product."
Patel strives to lead by example as a hands-on operator who also works closely with his franchisor to make the most of the relationship. As a team player, he follows the system and thrives on being a mentor to other franchisees. "I know the pros and cons of the retail world," he says. "I try to get feedback from corporate, which makes us stronger as a business. The franchise system really works."
Like many successful franchisees, Patel gives as much as he gets. He's committed to contributing to each community his restaurants serve, sponsoring local sports teams, and supporting fundraisers. His success in embracing the marketing programs at Wayback earned him a seat on the Wayback Burgers Marketing Committee. This exchange of ideas helps make Patel the best operator he can be, he says.
"Marketing is about trying new things to reach out to our guests in the best possible way, so they feel like they are welcomed at our location," says Patel. "Corporate has a great marketing team, and I like to listen to their ideas and share ideas with them."
For Patel, every day is a chance to learn new ways to lead and motivate his team to fulfill the potential he sees in his employees and for his franchise business. He turns to books for inspiration and is a big fan of biographies and autobiographies written by respected leaders.
"In reading biographies, I've found that if I want to be a leader, I have to respect other people as a leader," he says. "What I have learned about hard work is that if you work hard you might not have success today, but down the road you are eventually going to succeed. That is what motivates me."
Patel believes he has found a once-in-a-lifetime-opportunity in franchising. While future plans include adding another brand, today he is focused on making the most of his success with Wayback Burgers. "Down the road, I will look at opportunities in the market, but I want to make sure that what I am doing now I'm doing 100 percent," he says. "My success is my team. If you have a strong team, you can pursue any dream."
Name: Jigar (Jim) Patel
Title: President
No. of units: 5 Wayback Burgers
Age: 32
Family: Wife, two kids, my parents, and grandparents
Years in franchising: 2
Years in current position: 2
Personal
Formative influences/events:
I have always wanted to make the impossible thing possible. Since I started in business, I always followed two mentors. One is my dad, who taught me to work hard in life. Second is my guru, who taught me lots of lesson of business.
Key accomplishments:
I don't usually count my accomplishments, but would say keeping my team as one family. Last October, I was recognized by Wayback Burgers as their Multi-Unit Franchisee of the Year for 2017-2018 and awarded third place for "Highest Increase in Sales" at the 2018 Driving Wayback to the Future Franchisee Convention.
Work week:
Six days.
What are you reading?
Autobiographies and biographies. My favorite is Wings of Fire, the autobiography of A.P.J. Abdul Kalam. He was a scientist and former president of India.
Best advice you ever got:
Work hard and do things the right way--and never use shortcuts.
Management
Business philosophy:
Make a strong team. I really try to give all the credit for our success to the team and not myself. By giving credit to my team, they are motivated to do better and that helps build a great team and company. Our company's mission statement is, "Whatever you do... do it best."
Management method or style:
My management method is pyramid style: area manager to manager to assistant manager to shift leaders and front-line members.
Greatest challenge:
Uncertainty and a tight labor market.
How do others describe you?
Very quiet. I believe in "action speaks louder than words."
How do you hire and fire, train and retain?
We have a great system set by corporate to train and retain team members. Firing is my last option, I don't believe in it.
Bottom Line
Annual revenue:
$3 million.
2019 goals:
Make our team stronger than what we have today, open more restaurants, and be more successful.
Growth meter: How do you measure your growth?
Great customer service along with quality food--what we already have.
Vision meter: Where do you want to be in 5 years? 10 years?
I want to open more restaurants and, additionally, expand into a different field of businesses. In 5 years, I want our company to be known as great in customer service. In 10 years, I want all my team leaders to set their own examples as great leaders.
What are you doing to take care of your employees?
Recognizing their great talents and giving them a chance to show their performance.
What kind of exit strategy do you have in place?
Make a great leader from the team and give them a chance to show their performance.
MVP Questions
Why do you think you were recognized with this award?
The hard work done by all team members of this great company. It would not have been possible without great support by corporate.
How have you raised the bar in your own company?
I always believe in giving our team a chance to prove their talent. That gives me inspiration to expand.
What innovations have you created and used to build your company?
We believe in quality food with great customer service.
What core values do you think helped you win this award?
A positive and honest workplace environment along with hard work.
How important is community involvement to you and your company?
We sponsor local sports team, fundraisers, provide special discounts for public service personnel, and volunteer for good causes for the community.
What leadership qualities are important to you and team?
Be honest, work hard, and do better today than yesterday.
Published: August 1st, 2019
Share this Feature
Recommended Reading:
Comments:
comments powered by

Disqus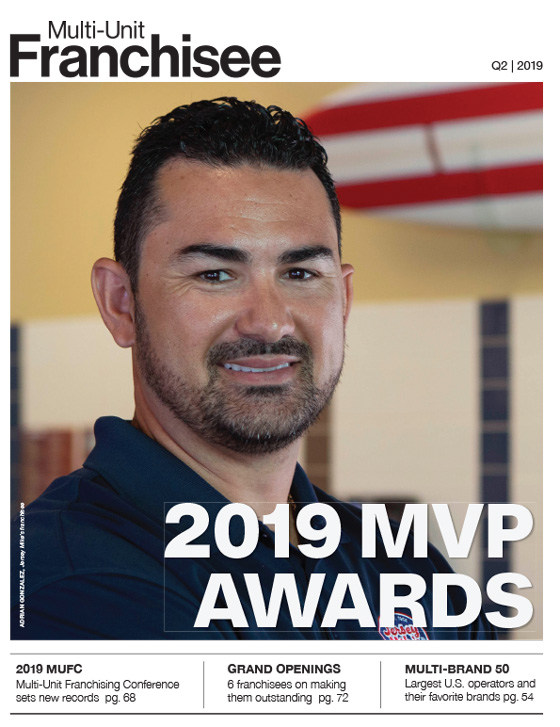 Multi-Unit Franchisee Magazine: Issue 2, 2019
uBreakiFix is a consumer electronics repair company based out of Orlando, FL that specializes in refurbishing and restoring smartphones, tablets,...
Cash Required:
$125,000
MassageLuXe® is a fast-growing massage franchise providing massage services to clients, primarily through multi-unit area developers & single...
Cash Required:
$100,000