Building On Experience: Lyndon Johnson Has High Standards And Expectations
Reciprocity Restaurant Group President Lyndon Johnson good-naturedly lets new acquaintances have a little fun with his name. That's because he's fine with his name. "I can think of a lot worse people to share a name with," says Johnson.

But when the joke is over, Johnson, who holds a degree in business administration from Northwood University in Midland, Mich., is ready to get down to business. And it's no accident this rabid sports fan describes his day-to-day function running his company's 13 Church's Chicken restaurants as "head coach."

A COO runs his day-to-day operations, with general managers at every location, while HR, training, and accounting are outsourced. As president, Johnson says he has a good eye for details and high expectations of performance. "I have low tolerance for incompetence," he says.

Johnson, a veteran franchisee who started as an assistant manager at KFC, once managed all the KFC franchisees in Texas. His ability to relate to people, along with good communication and relationships are key to his company's success, he says.

"It's having a clear grasp of what keeps us in business--making sure that customers, employees, and vendors understand that there's a mutual degree of responsibility and a mutual dependency," he says. "That's the essence of the company's name, and these mutual relationships play a significant role in its ability to be special."

So far, Johnson--who ran more than 100 company-operated restaurants for Church's and developed 600 as director of franchising--has concentrated on a single brand. But he's looking to acquire another food concept in the near future.

"We're building two new restaurants this year and three or four next year," he says. "But diversification is important. I'm a frugal guy by nature, and I have an evolving interest in other concepts and how they play out in the market."

Name: Lyndon Johnson
Title: President
Company: Reciprocity Restaurant Group
No. of units (by brand): 13 Church's Chicken (Tulsa and Oklahoma City)
PERSONAL
Age: 47
Family: Wife, Deborah, one daughter
Years in current position: 6
Years in franchising: 26, with 20 on the corporate side
Key accomplishments: Being named Church's Franchisee of the Year and Local Store Marketer of the Year, both in 2006.

Biggest mistake: Underestimating the difficulties in effective hiring.
Smartest mistake: It might have to do with negotiating terms when I bought the restaurants.

How do you spend a day, typically? First, I turn on the computer and check results from the previous day. That governs how my day gets started. My day is usually a combination of working out in the field and the restaurants.

Workweek: It varies, there's no set schedule. Some weeks I work weekends, even if I'm not physically in a restaurant.

Favorite activity: I love sports, basketball especially. I like football too. My teams are the Dallas Mavericks and the Detroit Pistons.

Exercise: I lift weights and try to work out two or three days a week.

What do you do for fun? I like to travel. I've been to Peru, Argentina, and Japan twice.

Books/magazines recently read/recommended: I like to read a lot of industry publications. I like the business section of Restaurant Finance Monitor, and I like to keep up with current events and trends, particularly as relates to retail.
MANAGEMENT
Management method or style: I have very high standards in terms of day-to-day operations. I am very customer service-focused. I like to see managers have a great presence in their local restaurant.

How close are you to operations? Very close. I started as assistant manager of a restaurant, so I know the ropes.

Greatest challenge: Establishing a sustainable team.

Personality: Even-tempered.

How do you hire and fire? It depends on the circumstances. On hiring, I like to understand the person's background, what skills they bring to the table, so I can try to determine compatibility. In terminations, generally because expectations are so high, if someone's not going to make it they usually opt out themselves without being terminated. I will fire for egregious performance and policy violations.

Find good people? Through referrals and recruiters.

Train them? They spend six weeks in the restaurant with a training manager.
Retain them? I do it by staying engaged and connected with what's taking place with them personally and professionally.

"Growth meter"--How do you measure your growth? By the bottom line.

Annual revenue: In excess of $12 million

2009 goals: To add more depth to the management team and effectively weather the challenging economic times we're faced with.
Published: January 26th, 2009
Share this Feature
Recommended Reading:
Comments:
comments powered by

Disqus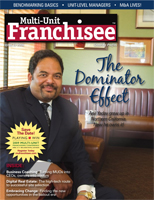 Multi-Unit Franchisee Magazine: Issue 4, 2008
Slim Chickens: Breakthrough Brand. Breathtaking Numbers.
Shakeaway is a unique global company with stores popping up all over the world! Get involved in this fun, fast growing and profitable franchise now...