Burger Kingdom: Arby's ex-CEO Returns to his Multi-Unit Roots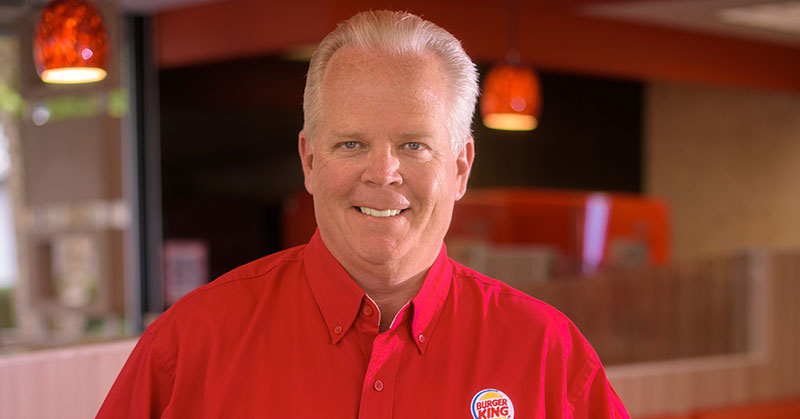 Tom Garrett breaks down his 30 years with Arby's--first as an assistant manager, then as the brand's largest franchisee, and finally as CEO of the franchisor--this way: "I like to say that 25 of those years were great, 3 were mediocre, and 2 were miserable--in that order."
In mid-2005, Garrett was president of RTM Restaurant Group (operator of 775 Arby's in 22 states with sales of nearly $800 million) when it was acquired by Triarc Companies (franchisor of the Arby's brand). Following the sale, he became COO of Arby's at a time, he says, when the company was "overleveraged in an economic crisis." However, he adds, the time he spent there, before exiting as CEO of Arby's Restaurant Group in early 2010, was ultimately worthwhile. "I can't say it was fun, but those 5 years made me tougher and smarter and better prepared to go back to what I love: being a multi-unit franchisee."
Following a couple of years as a full-time dad to his two young daughters, Garrett began to look for new opportunities in franchising. "You don't get to be an 800-store franchisee without knowing how to consolidate and how to create value where other people haven't been able to," he says. "So we went about putting together a team and began to look at the best opportunities in the industry. A lot of former RTM employees are on our team and we have great systems and a great culture."
In 2012, the Montgomery, Ala., native knew Burger King was beginning a huge refranchising effort. "This was an unbelievable opportunity to get involved with a brand that enjoys--though it was a little beat up--100 percent brand awareness. They had a smart new management team and we wanted to be part of things," he says.
However, when he called, Garrett learned that all the markets of interest to him were already sold. "That was discouraging, but I knew what I wanted to do. So I went ahead and did my training, working in Burger Kings in Atlanta for seven weeks, and waited for God to sort it out for me."
It was unusual to work in a store without an opportunity, but Garrett says he wanted to convey something to Burger King. "It was a leap of faith and I wanted to show them that I was committed. They didn't know me or owe me anything. But within two or three months, the transaction for the Atlanta restaurants fell apart and we stepped in."
In October 2012, GPS Hospitality (Goal Focused, People Oriented, and Service Obsessed) was formed with the purchase of 42 company restaurants in Atlanta. Acquisitions in West Virginia and Ohio added 15 more restaurants, followed by a few more in Atlanta. In September 2014 the company reached 100 units with it fourth acquisition adding 39 more restaurants that needed a "full-on turnaround." By the end of 2014, GPS had added several dozen more restaurants in eastern Pennsylvania. This past July, a 60-store acquisition in Michigan brought the company's total Burger King count to a whopping 196 restaurants in 9 states (Georgia, Indiana, Kentucky, Maryland, Michigan, New Jersey, Ohio, Pennsylvania, West Virginia).
"By late 2014, people were beginning to recognize what kind of company we are, that we're really good operators who run good margins, pay fair prices, and don't re-trade on price or take advantage of sellers," he says. "Sellers began to seek us out for those reasons. We never knocked on a door or called and asked people to sell. That's not what we do. We built a reputation that makes people want to do business with us."
This past June, GPS Hospitality was recognized by the Atlanta chapter of The Association for Corporate Growth as one of the top three honorees of 2015 Georgia Fast 40 in the Upper Middle Market category.
The re-imaging of BK is going very well, according to Garrett. "Burger King had gotten old and tired, and part of what we're excited about is helping the team in Miami to breathe new life into the brand. It's paying off in a huge way. Burger King is relevant, at the center of pop culture, and possessed of 100 percent brand awareness," he says.
"We couldn't be more pleased with Alex Macedo and the entire Burger King team," he says. "They've done a good job from a facilities standpoint with an ambitious renovation and reimaging on 800 stores last year and about 700 this year. They've built on the recognition that you have to give guests a superior experience and followed up with much-improved operations, better people, and better training."
Garrett, who credits great managers he had as a teen working at Wendy's and partners and mentors in RTM Restaurant Group and Arby's for his work ethic and success, says he is an entrepreneur by nature whose priorities are being a good husband and father. "Everything else comes after that."
Name: Tom Garrett
Title: Founder, CEO
Company: GPS Hospitality
No. of units: 196 Burger Kings
Age: 53
Family: Wife of 33 years, Mary Frances; daughters, Kaitlyn, and Sarah
Years in franchising: 32½
Years in current position: 2½
Personal
First job:
Wendy's in Rainbow City, Ala.
Formative influences/events:
I joined RTM Restaurant Group as an assistant manager for Arby's in Gadsden, Ala., with the intent of working there a couple of years before attending college. Instead, I spent 25 years with RTM, serving as president my last few years. I am the leader I am today because of the influence of Russ Umphenour and my former partners with RTM.
Key accomplishments:
Becoming president of RTM Restaurant Group, CEO of Arby's, and the current success of GPS Hospitality.
Biggest current challenge:
Managing our growth.
Next big goal:
400 restaurants, $600 million in revenue.
First turning point in your career:
I got my first experience as an entrepreneur when I was promoted to vice president at RTM. It was there that I really learned all the different ways I could grow a business and motivate people to succeed.
Best business decision:
Purchasing the 42 company-owned Burger King restaurants in Atlanta. We are excited to be a part of the remarkable turnaround of the brand and enjoy working with Miami-based Burger King Corp. to grow our Burger King business.
Hardest lesson learned:
I naively went into a business deal with a friend believing he had the same values as I had. Unfortunately, he did not and reneged on the transaction.
Work week:
Every day starts after I take my daughter to school and ends when it ends. I try to focus on my family and children's sports on the weekends, but I do touch the business every day.
Exercise/workout:
Three to four times a week.
Best advice you ever got:
Be yourself--don't pretend to be what you are not.
What's your passion in business?
I love the challenge presented by growth. Whether it is helping a person grow or growing a business, it is very fulfilling, never boring, and requires many different skills.
How do you balance life and work?
Total balance is not really my goal. My two biggest priorities are family and GPS Hospitality. That means that during this season of my life some other things have to go on the back burner. I am good with that choice.
Guilty pleasure:
Hunting and fishing.
Favorite book:
David and Goliath by Malcolm Gladwell.
Favorite movie:
Jerry Maguire.
What do most people not know about you?
I cry during movies.
Pet peeve:
Lack of a sense of urgency.
What did you want to be when you grew up?
Engineer.
Last vacation:
I spent two weeks in France this summer with my family.
Person I'd most like to have lunch with:
Mom.
Management
Business philosophy:
We like mature brands that offer an operations upside measured in sales and/or margin improvement. We see and create value that many overlook.

Management method or style:
I surround myself with smart people who possess common values, align them with exciting goals, share generously as the business grows, and make certain we have the people and systems to sustain it.

Greatest challenge:
Making sure we have the team to sustain our growth rate.

How do others describe you?
Fair, on an even keel, challenging.

One thing I'm looking to do better:
Keep up with technology.

How I give my team room to innovate and experiment:
I believe in encouraging risk-taking and trying new things with most people. I don't believe in letting incompetent people try things in the spirit of innovation.

How close are you to operations?
We don't view operations as a department, therefore everyone is involved in operations. My role is focused on the growth side of our operations--preparing for growth by ensuring we have the people for sustained growth, maintaining and building a consistent culture, and identifying opportunities that leverage our operations capabilities.

What are the two most important things you rely on from your franchisor?
Brand integrity (compliance and brand relevance) and marketing communication.

What I need from vendors:
Resources--the talent and systems to support the growth of our company.

Have you changed your marketing strategy in response to the economy? How?
Our focus has been on improving the guest experience, which means they are willing to pay a little more as opposed to strictly discounting.

How is social media affecting your business?
The Burger King brand is part of pop culture, making it very relevant. Burger King has done a great job leveraging social media to rebuild the stature of the brand.

How do you hire and fire?
We apply our GPS values (Goal Focused, People Oriented, and Service Obsessed) to all people decisions. This filter helps us determine who belongs on the team and who does not.

How do you train and retain?
We provide the tools and the environment for people to succeed, but we expect the trainee to be accountable for their training. We retain people by providing them with personal growth opportunities and rewarding and recognizing their

successes.

How do you deal with problem employees?
It depends on the problem. I have little patience for people who don't fit our values. I do believe in providing the training and coaching necessary for people to succeed.

Fastest way into my doghouse:
People who require me to micromanage because of their lack of effort or competence.
Bottom Line
Annual revenue:
NA
2015 goals:
$200 million.
Growth meter: How do you measure your growth?
Against our goals. Did we accomplish what we set out to do?
Vision meter: Where do you want to be in 5 years? 10 years?
We call this Vision 400: 400 restaurants and an AUV of $1.5 million.
How is the economy in your regions affecting you, your employees, your customers?
It's improving in the 9 states in which we operate restaurants.
Are you experiencing economic growth in your markets?
Yes.
How do changes in the economy affect the way you do business?
QSR rises and falls on disposable income. Improving employment and lower gas prices are improving the outlook for us.
How do you forecast for your business?
We have a 5-year outlook, a 1-year annual budget, and a weekly cash forecast.
What are the best sources for capital expansion?
Senior debt, equity from family office investors, depending on the transaction.
Experience with private equity, local banks, national banks, other institutions? Why/why not?
We do not believe that private equity capital is a good fit for our company.
What are you doing to take care of your employees?
We believe that our success is directly tied to the success of our team. We encourage our people to set personal goals and we look for ways to help them achieve them. As they succeed in accomplishing their goals, both personally and professionally, our company wins.
How are you handling rising employee costs (payroll, minimum wage, healthcare, etc.)?
We offer competitive salaries and very aggressive, unlimited bonuses based on growth. Since every employer faces the same issue, we look for efficiencies and adjust, just as our competitors have to do.
How do you reward/recognize top-performing employees?
Our culture is all about motivating everyone on the team to perform at a high level. We focus all of our incentives and recognition on this group, which encourages everyone to grow and improve. We are very generous in our reward system: as we grow our business we share a significant percentage with the management team. We will have several restaurant general managers who will earn more than $100,000 this year.
What kind of exit strategy do you have in place?
Not thinking about it.
Published: February 11th, 2016
Share this Feature
Recommended Reading:
Comments:
comments powered by

Disqus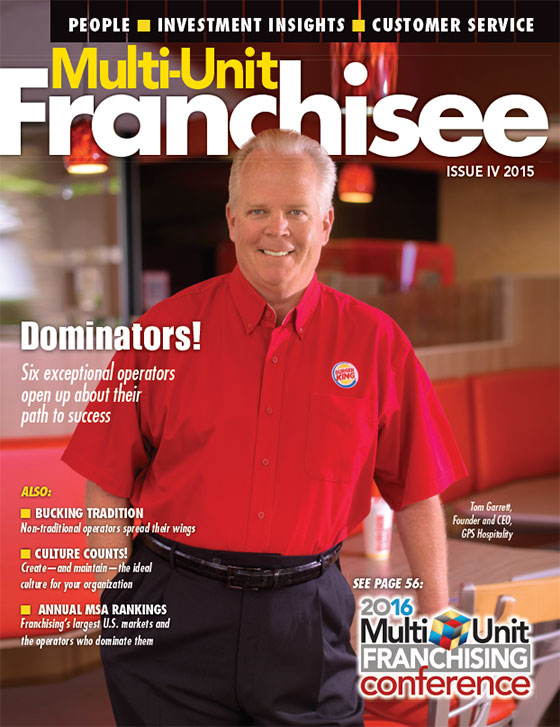 Multi-Unit Franchisee Magazine: Issue 4, 2015
Cicis is an iconic, modernized restaurant that pushes the limits of the regular family dining experience. With unlimited opportunities for revenue,...
Cash Required:
$250,000
MassageLuXe® is a fast-growing massage franchise providing massage services to clients, primarily through multi-unit area developers & single...
Cash Required:
$100,000