Capital Ideas: Bridging The Lender-Borrower Gap
Access to capital has been a bane to franchise growth for nearly three years. Much of the blame has been placed on lenders, who have been notoriously gun-shy since the September 2008 financial debacle. Stricter underwriting policies, the result of increased regulatory oversight, bankers say, is to blame. Of course, that's not the whole story. Other obstacles are involved, many of which can be eliminated by franchisees--but not without help from their franchisors.
That's one of the major takeaways from the IFA Small Business Lending Summit in April, which brought together about 200 bankers/lenders, franchisees/franchisors, and government regulators/officials seeking to improve the lending environment for franchisees.
While it shouldn't come as news to any savvy franchisee seeking capital, bankers at the event repeatedly spoke about a communication gap between the lending community and the applicants who approach them. Bankers said they want to lend and have capital available. Franchisees said, "There's no money out there." Now there's a gap. We followed up with several of the panelists to ask them what multi-unit franchisees should know before approaching a lender.
"I think the most successful franchise systems are those that regularly engage with the financial community to ascertain what they are looking for in providing capital to their systems," says Randy Schultz, managing director of the restaurant group at Regions Financial. For example, he says, Taco Bell or Wendy's will routinely reach out to capital providers and lenders with updates on how the system is performing--and, he adds, they also try to understand the universe of financial providers that support their systems.
He encourages franchisors "to proactively advise their franchisees on how to best approach the financial community." (One vehicle is the FAC.) The better brands, he says, do this. "It's in the franchisor's best interest," says Schultz. "That's why they're getting a royalty of 4 to 6 percent."
For Ron Feldman, CEO of Franchise Finance America (FAF), one big takeaway from the event is that "Franchisors have to communicate better. Have resources in your organization to help franchisees get credit. Franchisors used to say 'Go get your own money.' That dog doesn't hunt any more."
Mark Edwards, senior vice president and senior loan administrator for BB&T, commercial credit administration, says, "When we talk to a franchisor about our bank working with them and their franchisees, we talk primarily about what their expansion plans are, what their concept is, and what process they follow to choose franchisees. This will tell us a lot about what they're looking for."
First, says Edwards, "We want to have a relationship with franchisors--a clear relationship, not direct or depository, necessarily--and how it affects the individual franchisee in their particular concept. Second, he says, "The franchisee is our direct borrower and direct relationship. Our approach at BB&T is to have a local community bank relationship with each borrower."
Think inside the box
Bankers and lenders want to make loans and to feel comfortable about the risk involved, says Schultz. That comfort level requires confidence in the franchisee, the brand, and in being able to defend their loan portfolio in today's harsh light of regulatory oversight. For that, they need data.
"What's missing in a lot of situations is not understanding what the bank's box is and what data is available," says Schultz. Good data, he says, is a predictor of probable success or failure.
Banks today, says Edwards, will look at the track record franchisees have with their current locations. "This will essentially entail a review of their performance from a revenue standpoint, but particularly from a cash flow point of view--and their ability to take on additional debt." For example, if requesting capital for a piece of equipment to enhance or upgrade a current location, will it be additive to revenues and increase cash flow?
Franchisors, for their part, he says, should be as open as possible with lenders about their plans, realistic about expansion (where, how fast), the direction of their business, and about introducing new concepts that may require a franchisee to add equipment or price differently and affect how that individual franchisee operates.
Says Schultz, "Establish a collaborative partnership with the franchisor. Go to them and ask, 'What are you doing? Who are the people who understand the business? Are you leveraging FRANdata?" (See page 52.) This is particularly important for smaller, emerging franchise systems, he says. "That's where you have the biggest issues. Can you give us good data on why this brand is going to be successful?"
"Banks want to see historical, profitable tax returns--2010, not 2009--and positive same-store sales," says Feldman. Banks today are afraid to lend because of the regulators, he says.
One approach to improving the lending environment is Franchise America Finance (FAF), a collaboration between Siegel Capital Group and The Bancorp Bank. "What we wanted to create was a custom SBA lending program for franchise companies," says Feldman. FAF is looking to work with 30 brands initially (they were up to 19 when we spoke), with less than 70 percent in food and hospitality.
The goal, he says, is to work with franchise brands to "come up with a credit box that works for the bank and the franchisor, so the growth becomes predictable for the brand." That way, he says, "When you bring in a prospect you know they qualify before they even go to the bank."
When approaching a lender, says Feldman, "Performance matters, and showing that on your P&Ls and tax returns is more important than ever." Don't bury expenses, he cautions, and if you have several units, break out your P&Ls for each, don't combine them. "Show the banks that making your loan is a no-brainer from a cash-flow standpoint." When it comes to securing capital these days, "It's a lot about the financial package. You get one shot."
Survivors wanted!
While banks ask for projections, says Feldman, they also look back at the past 12 to 24 months. "If you're looking to grow and add another unit, they want to see that you held the bottom-line margin. Banks won't lend you money on a story."
"We may put more weight on someone who has weathered the economic downturn, who is bruised but not broken," agrees Edwards. "If they've survived the past three years, they're likely to survive going forward. That's a testament to their management ability."
Even some multi-unit operators with profitable organizations are experiencing some downturn in the values of their real estate, he says, which puts them in a position where they would not qualify for a conventional loan. In those cases, the SBA could tip the scale in favor of the loan. "We use the SBA to assist in some lending situations," says Edwards. "We primarily look at that as a credit enhancement for the borrower who needs a longer amortization than we would offer on a conventional loan, or who needs more collateral."
"Right now there is money for small business lending, just not in the terms the market is comfortable embracing," says Feldman. Borrowers today have to pony up more equity, perhaps their house--something many are unwilling to do. Franchisees, he says, were used to financing 80 to 90 percent. Today, he says, it's 55 to 70 percent, and franchisees either don't have the cash or don't want to put up their house.
On the bankers' side, says Edwards, "We take a very serious approach to our fiduciary responsibility to the borrower. We need to ensure they are capable of repaying their debt. A single bad loan is an event for us and can be a financial disaster for the individual."
"Franchisees really need to dig deep and do their due diligence on unit economics," says Feldman. "Unit economics will determine if you get the money."
Ask a banker!
Still in doubt about what to do next? Call a banker, suggests Schultz. "The financing community is pretty approachable," he says, if you come in with an approach of "Here's what I'm trying to do. Can you give me some suggestions on who I should speak to?"
"Most people in this business will tend to have a 10- to 15-minute conversation and tell you who else to talk to. We know what each other is looking for," says Schultz. Tell your story about why it's a good investment. Ask what the lender is looking for, what they invest in, what are their criteria. "My view," he says, "is 'I can't help, but try these three or four guys; or don't call these three." Two questions you should never ask: "How much can you lend me?" and "What's your rate?"
Bank Credit Reports
Want a bank loan? Learn to speak "bank"! A franchisee's chance of getting a bank loan increases if they include a Bank Credit Report (BCR) in their application package, according to a survey released by FRANdata this spring. (Disclosure: FRANdata prepares and sells these reports.)
According to FRANdata, a BCR provides an independent analysis of the performance of a franchise brand with the aim of both introducing and validating the brand to a regional or community lender who may not be familiar with franchising, or with a particular brand. These reports follow standard bank underwriting topics and use established banking terminology to provide a detailed analysis of a brand, including brand strength, financial and operational risks of the franchisor, franchise system and unit performance, SBA lending outcomes, and comparative sector performance.
"With the main franchise loan activity increasingly coming from the community and regional banks, franchise brands are having to do all they can to assist franchisees in finding financing," says FRANdata CEO (and former bank executive) Darrell Johnson. "The successful loan applicant recognizes that credit departments at these lenders have less experience with franchises at a time when banks are more risk-averse."
Q&A with GE Capital
Todd Jones, managing director of brand management and business development at GE Capital, Franchise Finance, participated in a panel discussion on the challenges facing franchising at the IFA's Small Business Lending Summit in April. In a follow-up interview, we asked him to elaborate on some of his comments.
What should multi-unit franchisees know about today's lending environment?Franchisees should know that capital is available, but lenders are more selective than they were before the financial crisis. Not only will lenders analyze the franchisee's financial health and operating performance to determine creditworthiness, but also the brand's overall performance and capitalization. To expedite the process, franchisees should have their financial statements available and be prepared to discuss their business plan, their capital needs, and operating performance with their lender.
How can they enlist the help of their franchisor to obtain capital for growth, remodeling, acquisitions, or other expansion? Franchisees can encourage their franchisors to build relationships with a variety of lenders to help make more capital available. The more that a lender understands about the brand's strategy, its growth plans, its franchisee and site selection processes, and its overall positioning with consumers, the better.
What did you mean when you said, "My customers, technically, are the brands themselves"? My brand management team builds strategic relationships with executives in development, marketing, operations, and the C-suite at the franchisors to help support our originators in their efforts to provide capital to franchisees.
You said the key is: "What is the value proposition to the consumer?" Please explain. This means how well the brand meets the needs of its target consumers (e.g., is the brand delivering value, convenience, quality, taste, image, etc.). This is an important element of a lender's evaluation of the attractiveness of a brand.
You said that you look at same-store sales and how the franchisee has responded to reduced spending. In addition to assessing same-store sales trends, we also review the operational adjustments franchisees made to be more efficient in managing food and labor costs, as well as trimming other operating expenses. This analysis helps us determine the franchisee's effectiveness in preserving profitability margins in the face of declines in traffic and sales.
You also mentioned the business/operating model being profitable for the franchisees. After factoring in development costs, occupancy expenses, franchise fees, advertising expenses, food and labor costs, and other operating expenses, we evaluate the profitability of the business and the franchisee's ability to repay its obligations based on the cash flows generated by the business.
Published: July 18th, 2011
Share this Feature
Recommended Reading:
Comments:
comments powered by

Disqus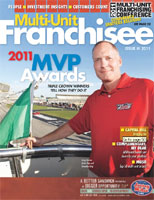 Multi-Unit Franchisee Magazine: Issue 3, 2011
Signage has never been more important. Right now, businesses are looking for new and better ways to compete.
Cash Required:
$80,000
Loyalty Brands has launched an exciting new franchise concept, Loyalty Business Brokers. This brand is focused on connecting buyers and sellers of...