Capital Won: How to get the Funds You Need
After decades involved in franchise finance from both sides of the desk, Rich Pawlowski knows there is no silver bullet for franchisees in search of capital.
However, he does have a tried-and-true process of raising debt that he calls the "Six P's," and they make a handy list: preparation, planning, practice, pragmatism, perseverance, and patience.
"Whether it is your first or your 500th franchise or location, the underlying principles and approach broadly remain the same," Pawlowski says, "although you might be speaking to different financiers, focused on different terms, and have access to different lending products."
Pawlowski is now chief financial officer at Yadav Enterprises, which has a portfolio of more than 400 franchised restaurants representing seven brands. The company is one of the largest U.S. franchisees of Jack in the Box and Denny's.
Dawn LaFreeda, another Denny's franchisee, has 87 locations and an even longer history in franchising. She also has learned to refine her preparation before she goes in search of financing. When she started out, however, it was not easy. "I was not able to negotiate my terms as I was learning to build credit and I was more of a risk," she says.
Mitch Cohen remembers his early days as a Baskin-Robbins and Dunkin' Donuts franchisee in the 1980s. "When you start out, you have only profit-and-loss projections," he says. What can make the difference to prospective lenders is choosing a brand they will see as investment-worthy. He asks, "What does its category look like? Is it emerging? Is it a brand in a crowded category? How successful have its franchisees been? How long do those franchisees stick with the brand?"
If you have no track record, knowing as much as possible about the brand becomes even more important when money is tight. Cohen says lenders today are investing not just in individuals, but in brands. And that combination begins as a franchisee investigates who they want to be, Cohen says.
"A lot of times you're more interested in what the franchise brand concept is and how much time do you have to put in, how much work it is. I would suggest you ask, 'How can I finance that? How do I make the numbers work?'" he says. "I ask franchisee candidates to spend a day with veteran franchisees--and to consider if the money is going to be affordable, if it will make all your hard work pay off."
Be prepared
Then, says Pawlowski, comes the next step. "Preparing an effective pitch is going to be about 80 percent homework and about 20 percent execution. The factual documents alone--articles of organization, W-9s, leases, franchise agreements, etc.--won't be what get you financed. They just need to be there and well-organized," he says. "Understanding who you are, who you're pitching, and how to refine your presentation and business plan is going be key to being successful in securing debt."
Certain questions around your comfort with debt are important to answer, says Pawlowski, particularly in the early growth stage. "Are you comfortable signing a personal guarantee--and potentially having your significant other sign, too? If you are able to spend a little time thinking through issues like this, it will help you refine your approach."
Choose carefully
Choosing the right lender is at least as influential in obtaining the capital you need, on the terms you can afford, as any other aspect of the process. LaFreeda has learned to focus her gaze on the ultimate purpose of the financing she seeks. "The first thing I do," she says, "is determine which lender might be the best fit for the type of transaction I am doing--a new development, an existing location, a remodel, a conversion, or equipment upgrade."
In her years of experience, she has developed a handful of preferred lenders that she keeps updated with information about her company so she can expedite financing approvals. If she considers new lenders, she gets references, making sure to find out how it is to work with them and the timeliness of their transactions. In turn, she says, "I am up front about the lending terms I need. After 35 years in business, I am particular about the deal points, and it is important to me to not be locked into terms that may handcuff or restrict my ability to do other things, other transactions, use other lenders, or release collateral."
She has built relationships with lenders that have allowed her to have a line of credit she can access "on the spot, so I am able to act and fund a deal quickly." That works when times are good, she says, but when they're not--during the 2008 financial crisis, for example--she found that even with her background of success, "I had to pull out everything I had to sell myself to them that I was a good credit risk in very bad times."
And from her side of the desk, LaFreeda makes sure to be prepared and ready to capitalize on new opportunities. "I always make sure to supply the information lenders request in a timely, professional, and organized fashion," she says.
Pawlowski suggests a good source of ideas for approachable lenders can come from the franchisor. He also believes that a broader view of the lending landscape is useful. "It is important to understand and evaluate potential lending partners before you approach them. Different lenders focus on different industries and franchise systems, lending products, transaction sizes, geographies, lending criteria, and borrowers. It would be worthwhile to create a prioritized short list that marries up what you bring with what they offer."
In general, he says, "Approaching lenders who have strong alignment with what you bring should ultimately result in a more successful outcome. In addition, the right lender can be, possibly should be, thought of as much more than just a source of capital. Try to leverage them for more than just their money."
That broader view might also include a lender close to home. "Local community banks might have a slightly different mandate than national banks or non-bank lenders, and you should explore this channel," he says. "They might be willing to stretch a little further to help a local operator, even if they have limited experience in lending to your specific system."
While there are many other options, Pawlowski advises franchisees to be realistic about what those options might offer. "There are programs intended for first-timers--for example, SBA financing--but the criteria are quite stringent," he says. "Understand the advantages and disadvantages of SBA financing and decide if you can live with the criteria. Also explore non-bank, non-traditional lenders and non-traditional sources of financing, like the immigrant investor program EB-5. But again, make sure you clearly understand the pros and cons of their lending products as well."
Paperwork: neatness counts
Once that key homework (aka due diligence) on brands and lenders is complete, Cohen recommends making sure that certain financial documents are clean, particularly if a franchisee has been in business for some time. "We're all in business to make money and want to be able to write certain things off," he says. "But sometimes you get ahead of yourself and you've included too many expenses inside your balance sheet, so you have lot of explaining to do. You don't want to have a large entertainment budget, for instance. Overall, you want to make sure that your income-to-debt ratio makes sense so someone would want to invest in you."
Showing, not just telling, lenders how the payback will play out can be most persuasive. "Your business plan should be robust, thoughtful, rational, and polished," Pawlowski says, "and your supporting documents need to be well-organized. Lenders generally care more about how they are going to get their money back in the downside case, as they do not often share in any outsized upside. Your business plan should balance your optimism with a pragmatic view of what happens if it works out differently. The list of backup documents will likely surprise you, particularly the first time."
And, as LaFreeda has found in her practice of being fully prepared well in advance, Pawlowski says, "It is worth putting these in one place as you'll need them regularly throughout the process."
Finally, he adds, by way of encouragement, "It gets easier with practice. You are going to speak to more than one lender and each interaction is an opportunity to learn, refine your presentation, and start building a relationship." He also likes to cite a classic Rolling Stones song lyric. With preparation, planning, practice, and pragmatism, he says, "You can't always get what you want, but if you try sometime, you'll find you get what you need."
Published: January 16th, 2020
Share this Feature
Recommended Reading:
Comments:
comments powered by

Disqus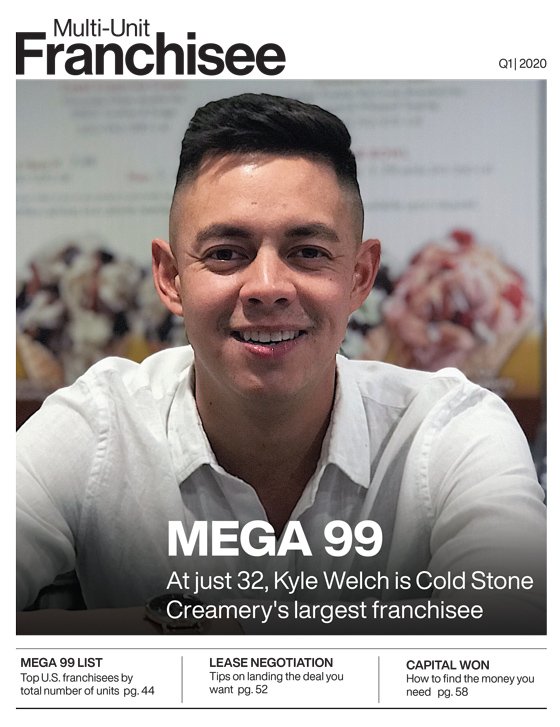 Multi-Unit Franchisee Magazine: Issue 1, 2020
It's time for a fresh start. Join Kona Ice today! We're a low-investment, fast-growing business with over 1,500 franchises in the last 12 years. And...
Cash Required:
$20,000
Boring breakfast food? Never heard of it. Bring the savory flavors and colorful personality of the South to your neighborhood with the Biscuit Belly...
Cash Required:
$500,000