Give and Take: Tips on Site Selection and Lease Negotiation
Whether you're sealing the deal for your first franchise unit or are ready to re-up, location and lease negotiations remain a constant for franchise growth and longevity--whether it's a buyer's or seller's market. Either way these days, the cost of doing business is going up.
"Interest rates have remained favorable for new development, and demand for new space has continued to grow," says multi-brand franchisee Mike Philip, whose portfolio includes Tropical Smoothie Cafe and Einstein Bros. Bagels. "But inflated property values and the higher costs of building, site improvements, and TI have increased significantly with no signs of slowing."
Identifying specific issues early in the process can provide powerful leverage to help establish and sustain a franchisee's success. The courtship of landlord and tenant is critical to defining the relationship. "You want to seem attractive as a prospective tenant and the landlord wants to sell you on inline, 'behind' space at the same price as a hard corner," says Philips.
Consider the following advice and best practices to pave the way, before you get to the table.
Location always matters
When Bryce Bares opened Nebraska's first Dunkin' Donuts in 2013, the real estate market was still reeling from the recession. "It was definitely a buyer's market, and we were able to acquire some great locations for good prices," he remembers. "Now we're facing the reverse situation: it is very difficult to find prime locations for a good price."
For Bares, who operates 12 Dunkin' stores in Nebraska and Kansas, convenience and accessibility for his customers still top his must-have list when shopping for a new location.
"The challenge is that all of our competitors are looking for the same thing, so we end up competing for prime locations, which also drives costs up," says Bares, who practiced real estate and employment law before turning to franchising.
Fundamentally, locations should meet all the franchisor's site evaluation criteria. Use that information as a starting point and don't settle on a location for the wrong reasons.
"The number-one mistake I've seen franchisees make is to be lured to bad locations by a low price," says Bares.
Be flexible, but firm
Most leases are negotiable.
"Right now, the market is great and you are going to get a lot more from a landlord today than you would have 10 years ago," says Wireless Zone multi-unit franchisee Christopher Severo. "But as a franchisee who is focused on the bottom line, rent is very important. Not overpaying is very important."
With 46 Wireless Zone stores in six Northeastern states, Severo is well-versed in the art of negotiation. The Stamford, Connecticut-based franchisee enters every lease negotiation with a framework for a flat-rate agreement, options, no guarantee, six months of free rent, and TI money to build out the space. If Severo can't get that, he looks to lock in a 10-year lease.
"Go in with a structure in mind, but you have to be flexible," he says. "If you are going to grow to a multi-unit level, you will deal with all different sizes and types of landlords. If you think you are going to get everything you want every time, you are going to lose a lot of deals. I've learned that through trial and error."
Do your homework
Before you go to the bargaining table, do your homework. Ask up front what the landlord's objectives are to learn what may drive the economics of the deal, suggests Bares. Are they a long-term holder or a developer?
For example, he says, if a landlord is planning on flipping the building to an investor, you know they are looking for high base rent because their property value is based on the rental stream. In that situation, you may be able to negotiate higher up-front tenant improvement contributions. "Alternatively, if the owner is a long-term holder, they may be willing to accept a lower rent for a longer-term commitment perspective."
It is also helpful to know early on whether the landlord is so one-sided that they aren't willing to negotiate on items critical to the franchisee, says Bares. "I don't like wasting time negotiating with landlords who have unrealistic expectations about the economics."
Negotiations are about building a relationship with the landlord or their representative. The most successful strategy creates a win-win scenario for both parties.
Understanding the landlord's thinking can go a long way toward helping franchisees structure a winning agreement and avoid needless concessions, says franchise development veteran Greg Vojnovic.
"The landlord is not your enemy," says Vojnovic, president and CEO of Vickery Creek. Formerly chief development officer for Inspire Brands, he has opened more than 2,000 restaurants and remodeled thousands more. "Try to get to know them," he says. "Find out their goals and what they are trying to do with the property. This information will enable you to determine your objective. If it's a big winner for you, tie it up for as long as you can. Rich people don't get rich by saying okay."
Finally, never talk proposal terms on the phone, says Vojnovic. Face to face is best for negotiating a deal that works for both parties. "You are never as smart as you think you are," he says. "You have to be authentic and have credibility. You don't want to walk from a deal point."
Don't sweat the small stuff
Philip says too often franchisees--under pressure and armed with a franchisor's laundry list of requirements--get bogged down in the minutiae. "To get the deal done, worry about the big things," he recommends. "How much am I going to pay? What are my renewals? Will there be a personal guarantee and does it burn off? And then, what is the turnover condition of the shell? Don't make it harder than what it is."
Make a checklist of brick-and-mortar needs for the space. Look for hidden expenses. Careless lease negotiation mistakes can hurt you down the road.
"I have done that in the past where we have assumed incorrectly about maintenance on AC units, only to find that we didn't budget, thinking the landlord was responsible for the roof unit outside our four walls," says Philip. "We have eaten that cost."
He now considers a clear work/shell condition letter part of every negotiation process that defines the condition of the space down to the size of the water line, utility locations, and dumpster responsibility.
Lease negotiations are also about give and take. It is vital to know your market and what concessions you can--or cannot--make without putting your business in jeopardy.
"Too many times a franchisor will provide a guideline that will chase any landlord away," says Philip. "So compromise , put it in black-and-white, and attach it to the lease as a rider/exhibit."
Sometimes it pays to practice patience. Severo has walked away from the table when talks have stalled with no middle or common ground, only to have the landlord reach out later to get the deal done. "Those have been incredible learning experiences," he says. "You are going to get the best deal when you are willing to walk away. When you approach it that way, you might lose some deals, but today you are going to get more than you lose, and that piece is huge."
Renewal: please re-lease me
Many franchisees are missing out on a huge opportunity to enhance their position through lease renegotiation, says Vojnovic. He recommends franchisees approach lease renewal as an entirely separate process and put resources behind it. He suggests using a spreadsheet to keep track and regularly update the base-rent-to-sales ratio for each location and have that information available to educate your landlord.
"When you renegotiate your lease after a period of time or when you buy, that is where the real money is. I call it dialing for dollars," says Vojnovic. "Based on your size, there could be millions of dollars. But it's not just about the money. It's also about key components within the lease that you want to negotiate that are important to your business."
Common requests include defined and fair rent/lease rates, tenant improvement packages, new base years for common area maintenance calculations, a burn-off of any personal guarantee, and other fee adjustments and operating expense caps.
Lease renewals are an organized part of Severo's business strategy. He keeps all of his lease files in one place with calendar notices to give him plenty of time to start thinking about his approach. "You don't want to miss those dates and have less leverage," he says.
Generally, most retail lease agreements are up for renewal six months to one year before expiration and require the franchise owner to exercise the right to renew. Other opportunities to enhance your position include at the end of the initial term of a lease, before you negotiate options, when there are changes in the market, and before you remodel. You can also add value to your business by re-upping before you plan to sell.
"Renegotiating is one of those things that people don't think about because it's already done, and they just kind of go with it," says Vojnovic. "Every time you get a chance, take another bite at the apple. You don't just have to sign the contract."
Make your presence known
To secure prime spots and smooth lease negotiations, time on the ground locally can carry a lot of weight. To get the jump on a space, Philip makes sure he is a familiar face in every town he operates in--beginning with developing relationships with those in the know. He makes sure his Tropical Smoothie and Einstein Bros. brands are plugged into the local chamber of commerce, charity events, and area churches and schools for brand recognition.
"Find out where your local real estate board is meeting and sponsor breakfast. Talk to the Realtors and tell them who you are, what you need in a space, and the broker you work with so they can take new sites to that person first," he says. "We take bagels, coffee, and smoothies to real estate board meetings all the time. They know me, I know them, and I don't want them to forget about me."
Introduce yourself to local Realtors and tell them what you need in a space so they will think of you first with new sites.
Get professional help
Just because you are an excellent operator doesn't mean you are a good negotiator. Look to legal counsel and reliable real estate advisors where you need it, and have an attorney review your lease to protect your interest. Franchisees recommend choosing one or two trusted local brokers and using them for everything.
"Don't bounce around," Philip says. "They need a commission, and you need someone who will look out for you and work for you. Use your franchisor as wise counsel, but no one knows your market like you and your local trusted broker."
Knowledge Is Power
When it comes to finding the right location for your business, franchise pros say that knowledge is power. And to gain that knowledge, any search begins with good old-fashioned footwork to identify the right--and wrong--types of locations for your business.
As the largest Verizon franchisor in the U.S., Wireless Zone's intel is paramount to the success of Christopher Severo, whose 46 stores stretch from Pennsylvania to Massachusetts. "If Verizon has growth in the market or there is an underperforming store, the franchisor's communication with me is 'Hey, go find a great spot in this market'; or, more importantly, they may already have a spot in mind. I'm just picking up the conversation with the landlord," he says.
Know your brand. Know your market. And get to know the folks who can help drive the site selection process.
Negotiating from a place of strength requires a franchisee to understand the local market based on what they are selling and the habits of their customers. Although the depth of their support varies, most franchisors will provide guidance on the type and size of ideal locations and may be able to provide real estate analytics and other location data based on the experiences of other franchisees in the system.
Depending on your business model, criteria often include demographics, the target customer, traffic count, parking needs, and the visibility and accessibility to the area from primary and secondary roads. A traffic nightmare can be a deal breaker for customers who only care about visiting your restaurant or retail location if it's convenient.
Franchisees also recommend talking real estate with existing owners. Find out how and why they chose their location and seek their advice for your own success.
Scout out the competition. With some restaurant and retail businesses it helps to keep good company. Other businesses may look to avoid the competition and oversaturation.
Remember the economics
Finding a location is just part of what goes into your search. The economics of a perfect spot must also be considered as part of the real estate package. What seems like a good deal won't mean much if you don't have any customers or it doesn't meet your needs. On the flip side, if your franchisor offers more flexibility, there may be more than one creative way to afford a prime spot.
"In my world, I can make it work in different markets," says Severo. "I could go to a market where the rent is a higher cost per square foot, but then my negotiation is to go to the landlord and say, 'I don't need 3,000 square feet, get me 1,500 square feet. How do I make that deal work? In today's market, the landlord is looking to make deals."
Real estate brokers with a strong local presence can also be a go-to source for the inside scoop on locations, future site availability, development insight, and leasing rate advice based on the market.
Finally, franchise tenants offer massive marketing appeal for those looking to attract top tenants. Educate a prospective landlord on the value and name recognition of your proven brand for added leverage. It just might be the competitive edge that lands you the perfect spot for your next location.
Published: January 16th, 2020
Share this Feature
Recommended Reading:
Comments:
comments powered by

Disqus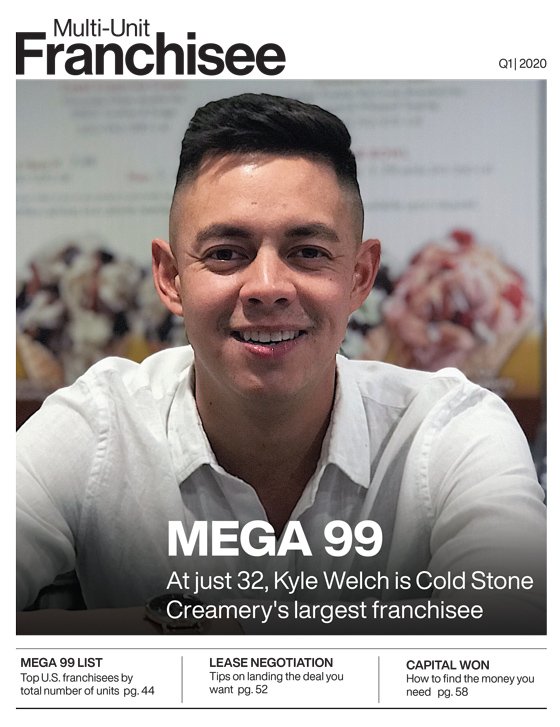 Multi-Unit Franchisee Magazine: Issue 1, 2020
PetWellClinic is a walk-in veterinary clinic offering basic health and wellness services to dogs and cats. PetWellClinic is the first vet clinic...
Cash Required:
$250,000
Minuteman Press is the world's largest & number 1 rated printing & marketing franchise. Our business model features multiple revenue streams,...
Cash Required:
$30,000