Catalyst for Change: AAMCO CMO Amy Johnson drives innovation to success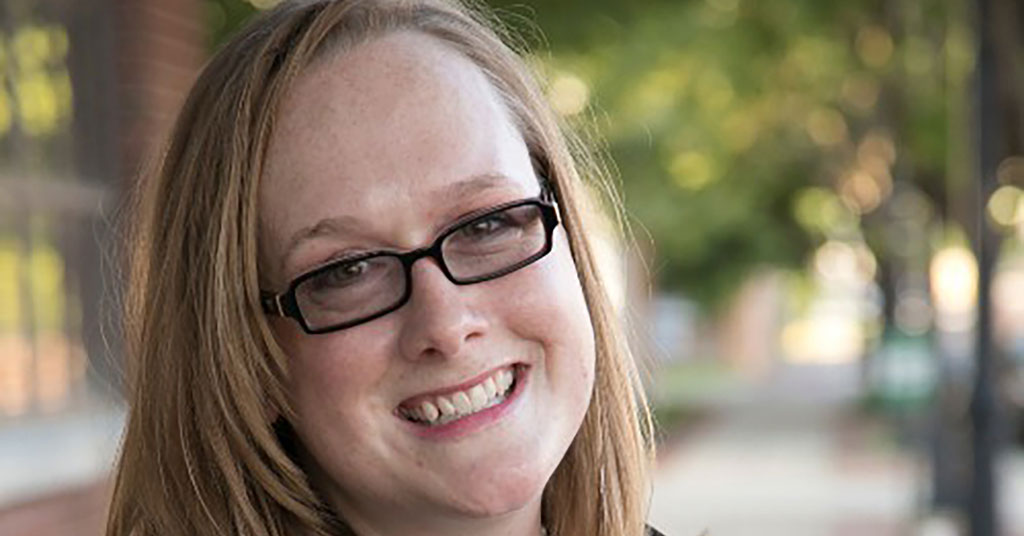 As CMO for AAMCO Transmissions and Total Car Care, Amy Johnson sees her role as being a catalyst for change.
"Understanding consumer and market behavior is critical," she says. "That is often where the need for innovation is exposed, and I am able to bring subject matter experts together to plan and execute that innovation." That's something she does by working side by side with her marketing team and other leaders who are receptive to change and to using consumer data to plan the best user experience.
Johnson joined American Driveline Systems, AAMCO's parent company, in 2019. Previously, she worked for the world's largest cybersecurity integrator, in finance for a $750 billion global bank, and spent time in the healthcare and higher education fields. No matter where her career has taken her, she has always viewed what she does as a journey of connecting people and products in creative ways.
Success as a CMO, she says, is dependent on three key factors. First, she says, "Spend time understanding the priorities of peers and pursue solutions as a team." Next, lead with the needs of the customer. "I firmly believe that successful CMOs are obsessed with who their customers are and what they need." Third, she says, have long-term goals in place with "strategies to attain those goals, and near-term activities that have clear strategic alignment."
In the end, she says, the voice of the consumer must drive every other function of a marketing leader.
Describe your role as CMO. I often describe my role as CMO using Deloitte's research on "The 5 Roles of the CMO" model: Customer Champion, Growth Driver, Capacity Builder, Change Catalyst, and Brand Storyteller. I weave these key roles into my philosophy of shaping the future direction of both the marketing team and AAMCO.
As a Customer Champion, my team is responsible for gathering customer insights through analytics and qualitative feedback to deliver an improved customer experience. By aligning the entire organization around the customer, we ensure that every business unit has a clear understanding of our customers, their needs, and the way they prefer to engage our services. That means our franchisees, as well.
As CMO, I am responsible for driving critical components of our brand's growth activities and revenue generation. Working closely with our strategic business units, my team develops and executes strategies to deliver growth in consumer demand and demand for our franchise model. It is essential to drive sustainable growth through understanding our customers, their motivations, and their needs.
Scaling marketing activities through robust systems and processes designed for a forward-thinking franchise organization is key aspect in my role as Capacity Builder. Identifying, testing, and deploying necessary technology and the internal processes to answer consumer needs quickly and successfully are a critical part of my team's responsibilities. Consumer trends sometimes shift quickly, and it is our responsibility to be ready to capture key insights from the shift and pivot to meet the needs of tomorrow.
One of the most exciting aspects of my role as CMO is being a catalyst for change. Being able to study and understand consumer and market behavior is critical. That is often where the need for innovation is exposed, and as CMO I am able to bring subject matter experts together to plan and execute that innovation. I'm fortunate to work with leaders within AAMCO who are receptive to such change and excited to use our consumer discovery data to plan the best user experience in the automotive aftermarket.
The voice of the consumer must drive every other function of a marketing leader. The AAMCO brand has a longstanding association with the American public. It is my role to continue to tell the compelling story of one of the most iconic brands in the automotive aftermarket—a story that not only pays tribute to our past but positions us for the future.
What's the most challenging part of being a CMO today? The biggest consumer behavior shifts affecting the role of the CMO today relate to the ways consumers research and buy products. Consumers have an ever-growing reliance on user-generated content (UGC) for their research of brands and products, and this often occurs before a consumer ever contacts a brand directly. Since UGC isn't contained within the brand's digital ecosystem, brands like ours have a heavy lift in monitoring, responding to, and even soliciting things like ratings and reviews to be as present as possible in the consumer journey. This trend shows no signs of slowing and presents one of our largest opportunities to equip consumers by ramping up our educational content and leveraging consumer stories to continuously learn and improve our processes.
How has Covid-19 affected the way you have led your brand's marketing efforts? Covid's impact on our marketing processes is undeniable. We were just beginning to mature our marketing processes to be proactive and programmatic. When Covid hit, our efforts were accelerated dramatically. We realigned our communications strategy to rely less on field contact and more on consistent real-time digital multi-channel communications. In addition, we adapted our agency communications to ensure we are driving consistent change for all franchisees. We updated our processes to boost the number of touchpoints with each franchisee, offer them more self-serve and full-service options, and make our responses to requests faster than ever.
What are the 3 most important keys to being an effective CMO leader today? 1) Cross-team collaboration. Successful marketers spend time understanding the priorities of their peers, finding opportunities for alignment, and pursuing solutions as a team. 2) Championing the needs of the customer. Most organizations have slogans encouraging employees to lead with the needs of the customer, but few departments are run with those mantras as their source of truth. I firmly believe that successful CMOs are obsessed with who their customers are and what they need. That simple "How can I solve your problem and make your life better?" attitude is essential for success as a CMO. 3) Leading with a long-term mindset. The temptation to focus heavily on current campaigns and immediate results is very real. However, effective CMOs lead with longer-term goals in place, strategies to attain those goals, and near-term activities that have clear strategic alignment.
How do you prepare a marketing plan and execute the strategies? Marketing strategy starts with the goals of the business set with stakeholders from across the organization. From there we lean on data, do everything possible to gain a deeper understanding of our customers, and focus on a cohesive multi-channel approach. Having this blueprint allows both the team and the organization to turn the strategy into real-life projects that have a direct impact on the bottom-line.
How do you measure marketing results and effectiveness? This depends on the goal, but we focus primarily on metrics that show us how well we are creating awareness, capturing attention, and converting leads into cars in the bay. For this, we track everything from impressions to clicks to call volume, content, and duration. Last, we measure how satisfied our customers are, our most important measure of how we are fulfilling our brand promise. Satisfaction is measured by ratings, reviews, and surveys.
Discuss your core consumer marketing strategies and objectives. Automotive repair is a very local shopping experience for most consumers. If you need your car repaired, you're looking for expertise, price, and convenience. Because AAMCO focuses in on the most complex auto repairs and diagnostics, our consumer marketing strategies start with education: how we help consumers understand what's going on under the hood and how to stay safe on the road. Next, we want to be present and local to them, so we focus attention on appearing in local search and having our great customer base leave us honest ratings and reviews so new customers in the community know what to expect and who to trust. Automotive repair is a high trust business. You really want to know that you have the best of the best fixing the car you rely on every day.
How do you go about creating a customer-centric marketing and brand philosophy? We start by considering each step across the customer journey. Few people plan to have transmission or engine work performed. It's usually a surprise! When we are surprised with a need for a major repair, the rest of life doesn't stop. Parents still need to get their children to school. We all still need to get to work. The activities our customers perform to keep our communities moving are important, necessary, and some essential in times of crisis. Our focus is getting our customers back on the road. That's why automotive care is so important and why it's considered an essential business—without transportation, everything stops. Creating a marketing philosophy around our customers is simple: we know how important you are to the community and we are committed to keeping you on the road so you don't have to slow down for repairs…to keeping you moving at the speed of life.
Describe your marketing team and the role each plays. Our team is made up of marketers who perform vendor and campaign management for all our franchisees and corporate locations, and others who design, manage internal communications, social media, and more.
Why is it so important for the marketing department to have a personal touch when it comes to helping the brand connect with franchise prospects? Owning a franchise is a very personal decision. We have a strong motivation to make sure the relationship is positive both for the franchisee and for the chain as a whole. We invest significant one-on-one time with each candidate to ensure they know who we are, why the brand has been successful for so many decades, and what it takes to be successful as an AAMCO dealer.
How does this help your franchise sales and development effort? We always want every potential owner to be completely confident they know what their day-to-day life will be as a member of the AAMCO family. Our high-touch, individualized approach gives us an opportunity to share our experience, learn about the candidate and what they bring to the table, and ensure that we have answered every question thoroughly. We want to have the most transparent franchise-buying experience in the industry.
What tools do you rely on to do this? Like most franchisors, we rely on a CRM, customized content including white papers, videos, infographics, website experiences, webinars, and good old-fashioned face-to-face meetings (whether in person or through virtual video meetings). We have also added more on-demand content recently, based in part on feedback from our newest franchisees.
Do today's prospects expect more from the franchise marketing department? What, and how do you provide it? Today, individuals want to be led through the buying process. This ranges from detailed financials, extensive help with real estate and startup processes, recruiting, training, and even trial experiences with our current franchisees. They even look to us to help guide them through their fears as this is a life-changing decision. Fortunately, AAMCO has a dedicated team to guide them through the process of ownership, a robust onboarding process, and continued education and training. AAMCO University is an established resource for new franchisees to ensure they are fully equipped on Day 1. Much of what we share with potential franchisees is simply what to expect from our training, development, and operations support once they open their center.
How is today's consumer and marketing data helping you fine-tune your marketing initiatives? We operate in a test-and-learn marketing environment. We continually test and make improvements and changes based on the data and insights we gather along the customer journey. We begin with consumer behavior data and use that to build hypotheses on consumer preferences and their motivation to act on them. Then, we test to see what works in the real world to fine-tune initiatives. It is a living, breathing continuum.
Describe the evolving role of social media in your brand's marketing efforts. User-generated-content is incredibly important in both franchising and the automotive aftermarket. People go online for social proof of their profession/investment choices and their car repair needs. Most consumers investigate brands extensively before engaging, so it's more important than ever that we are on the platforms they use—both to answer their questions and to build trust.
How do you work with other internal departments and does technology help? Our technology team is a critical partner. We have regular meetings to map our customer journey improvements, discuss data security and privacy, and find new ways to leverage technology.
Do you see vendors as business partners? Why/why not? Our vendors are absolutely our business partners. Many of our long-term agencies have been integral in the development of marketing strategies and processes over time.
How have marketing strategies/tools changed over the past decade? How have you adapted? In the short time I've been at AAMCO, we have grown our digital footprint and matured our online presence significantly. The way search engines and consumers view local marketing has been the greatest single driver of our digital maturity. The ways we work locally with our franchisee markets has also changed over time and continues to shift as the need for scalable solutions in this complex environment puts pressure on everyone.
What advice would you offer to aspiring CMO executives? My advice is to foster strong relationships with your peers. Your ability to succeed as a CMO is tied strongly to your relationships with your CEO, CIO, CTO, COO, CFO, etc. Marketing as a discipline is interdependent on all other business units. No marketing program can succeed in a silo. CMOs who are obsessed with the customer have an opportunity and a responsibility to bring that perspective to each meeting on business growth, technology, finance, operations, etc.
Published: August 10th, 2021
Share this Feature
Recommended Reading:
Comments:
comments powered by

Disqus

Franchise Update Magazine: Issue 3, 2021
Conferences
InterContinental, Atlanta
OCT 18-20TH, 2022
MSA provides domestic and international franchise advisory services to franchisors and companies seeking to establish franchise and licensing systems.
Prisma has reinvented the marketing supply chain with an end-to-end solution that makes it easy to design, customize, order, download, print, kit,...