Change in the Air: Possible Early Indicators Of A Financial Thaw
Let's look at some recent trends. The stock market: trending downward. Franchise system sales: flat or downward in well over the majority of cases. Sales of new franchises: definitely on the downturn, almost dormant. How depressing!

And yet, in the last four weeks, I have been contacted by three groups about how they have dollars they want to invest in franchise systems; they have put on their buying paint. Two are parent companies of entities that already own franchise systems. They are satisfied with their current portfolio's performance and want to expand their financial exposure in the franchising arena. The other is a New York venture capital fund.

In each case, we are talking about big dollars, at least by my meager standards. Two funds mentioned $5 million to $100 million as their investment parameters; the third had a range that started at the others' maximum. All are hungry to find the right opportunities. None of these are vulture funds in the sense that they are looking for distressed companies on the verge of failing. To the contrary, they want companies that have solid management and sound concepts.

In an environment of doom and gloom, I find this exciting. It shows faith in the economy, something that is overtly lacking currently. All of the experts say the economic situation will turn around--eventually. In the case of these three investor groups, their search for investments suggests there are some fundamentally sound underpinnings in the economy and that, in time, the U.S. economy will re-emerge--although significantly overhauled in all likelihood.

The fact that these groups have singled out franchise companies is also refreshing. It shows the power of the franchise model. Personally, I have never been a rah-rah boy for franchising--that is, a believer in the principle that franchising, franchisors, and franchisees can do no wrong. I never believed in the Department of Commerce's 5 percent rule--that is, only 5 percent of franchises fail. Franchising, however, can be a powerful tool when all the ingredients of success are present. These include adequate working capital, capital for expansion, a solid, proven concept, an experienced and dedicated management team, and a competent pool of labor-franchisees.

When looked at under this microscope, many systems should seem attractive. The weak links in recent years have been a lack of attractive franchisees, and in more recent times, a lack of capital.

From a franchisor's perspective, one of the positive changes resulting from the economic downturn has been the increase in the pool of attractive prospective franchisees. Many of those who have recently become unemployed have the business experience to be solid franchisees. The lack of alternative job opportunities may force more of the right people to consider franchise opportunities. The wake-up call caused by the "Recession" may make many former employees realize there are employment opportunities beyond collecting a paycheck and punching a time clock. Fixed commitments--such as mortgages, second home, school tuition payments, and the like--also will motivate many to seek out alternatives to the traditional employment model, which may no longer provide viable opportunities.

The sticking point in the machine of franchising has been the lack of capital. The flow of capital has ground to a halt. Many franchisors do not have the funds to continue aggressively to promote and improve their concepts. More importantly, many prospective franchisees lack the financial wherewithal to come to the table in the first place, because of the unavailability of capital. The equity in their homes has vanished, their 401(k)s are now 201(k)s (as some with pessimistic senses of humors joke)--having lost half their value in recent months. In addition, the banks have closed their doors to borrowers--in some cases literally, and in other cases by figuratively stuffing their lending funds into mattresses.

But all say that the capital is there, just frozen at the moment. The recent expressions of interest in investing in franchise models seems to confirm this hypothesis.

Thus, for those who have capital and vision, there is opportunity. These three companies on the prowl do not, by themselves, suggest that prosperity is in sight. In fact, it would not be surprising if the heads of each group outwardly stated that things will still get worse. But the cautious optimism these groups exhibit, by looking to expand their investments in franchised companies, gives a glimmer of hope that the world is not about to end, and that franchising will have a place when the new economy is shaped.

Rupert Barkoff is a partner in Kilpatrick Stockton LLP's Atlanta office, where he heads the firm's Franchise Practice. He is a past chair of the American Bar Association's Forum on Franchising, and Co-Editor-in-Chief of the ABA's publication, Fundamentals of Franchising. His current "night job" is collecting stories on good and bad customer service, which will be used as the basis for a future book. Go to www.anecdatabook.com and submit one or several stories.
Published: July 20th, 2009
Share this Feature
Recommended Reading:
Comments:
comments powered by

Disqus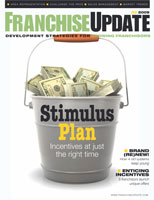 Franchise Update Magazine: Issue 2, 2009
Our accounts payable automation platform combines technology with simplicity & affordability. Save time and money, and automate your ap workflows...
April 25 - April 28, 2023, Caesars Forum, LV. The Multi-Unit Franchising Conference is the premier annual event for the country's leading...