City Beautiful?: The New ROI: Return on Inclusion
Franchisors seek greener pastures in urban concrete

Many franchisors have reached their limit on expanding into suburbia, but the imperative to grow remains strong. In response, an increasing number are training their sights on America's cities.The move to the suburbs has been a decades-long trend in the United States, and franchisors have followed suit. But more than half of the U.S. population live in the country's top 25 metropolitan areas, and nearly 80 percent live in the top 100 metro areas.Cities are complex, crowded places, running the gamut from blighted ghettos to luxury high-rises. Suburban commuters flood into them by the millions each day to work and shop, creating a vibrant marketplace. And the under-served inner cities are hungry for retail goods and services, jobs, and entrepreneurial opportunity, making them fertile ground for franchisors who take the time to learn, understand, and develop relationships with the people who live there.The Initiative for a Competitive Inner City (ICIC), founded in 1994 by Harvard Business School Professor Michael Porter, studies inner cities with a focus on economic development. According to ICIC, "he inner city retail market offers significant profit potential for retail companies now operating in the highly competitive, over-saturated suburban markets." According to an ICIC study, the country's inner cities contain:
8 percent of the U.S. population (22 million people), equal to the population of Texas;
8 percent of U.S. private employment (9 million);
850,000 establishments; and
$120 billion in annual retail spending.

While the aggregate numbers support growth, ICIC also cautions that some cities present better opportunities than others. (The complete study, "Realizing the Inner City Retail Opportunity: Progress and New Directions," is available at www.icic.org.)

In these times, and with numbers like those, can you afford to ignore the opportunities for growth these "under-served" markets represent?The pros and cons"The notion of an 'under-served' market is not a phrase I'm particularly crazy about," says John Reynolds, president of the IFA Educational Foundation, which created the Diversity Institute in early 2005. "Emerging or under-served markets implies a certain deficiency. I think it's more like new or unexplored markets. From a franchise development point of view, they are markets where you can be more competitive because other brands aren't there."

Stan Friedman is chair of the IFA's MinorityFran program, launched in February 2006 as part of the Diversity Institute's efforts to 1) build awareness of franchising within minority communities and 2) increase the number of minority franchisees, franchisors, suppliers, and employees.

"Franchisors are missing the boat if they don't look at those under-served markets as golden opportunities to create revenues for their business, and at the same time serve the community. There's a compelling case on a lot of fronts for coming back to inner cities and to under-served consumers," says Friedman, who helped lead the Urban Expansion Initiative for Blimpie International in 1998 as vice president of global development.

"There still will be challenges, but real estate is less expensive, the pool of people for jobs greater, and federal wage and tax credits and incentives are available," says Friedman. "All of a sudden your unit economics and startup costs are much better before you even open the door, compared with suburbia."

"There's definitely an opportunity in the urban markets," says Phil Wilkins, who owns four McDonald's restaurants in Lexington, Ky., and is a board member of the Diversity Institute. "The business model may be a little different. For example, in the food business there may be different taste profiles."

Cities represent "great opportunities for franchisors," agrees David Messenger, vice president of market development for ServiceMaster, whose four franchised brands (ServiceMaster Clean, Furniture Medic, AmeriSpec, and Merry Maids) total about 4,500 units worldwide. "Cities are fairly undeveloped territories for most of us."

Says Messenger, also a Diversity Institute board member, "Historically we've done a great job finding franchise owners in suburban areas, but we're focusing a lot now on the cities. We haven't done a great job of developing those markets."

Because many markets in the nation's cities are so undeveloped, that along with the down economy, "It may be that now is the time to be looking at some of those areas," he says, "because there will be some retail bankruptcies over the next months, unfortunately, and there may be some opportunities."

"If you're a property owner in these areas today, you're willing in many cases to make deals you would not even consider if it were not for these circumstances," says Ron Berger, CEO of Figaro's Italian Pizza, which has more than 100 franchises. "And therein lie tremendous opportunities for the franchisee and franchisor who are willing to accept a higher risk profile in exchange for significantly higher incentives and significantly lower investment."Says Berger, also on the Diversity Institute board, "You end up with subsidized wages, making a positive contribution to the community, and over time find superstars in the community who were underappreciated, couldn't get employment and got involved with gangs. We help lift them up out of poverty and that environment and give them opportunities and help them grow."The flip side, he adds, "is more than your share of training challenges, and finding employees willing to work within a system and a structure: 'Your shift starts at 4, not 4:39 when you amble in.'"Why aren't more franchisors city bound? Beyond the downside risks most often cited by reluctant franchisors--security and staffing issues--Friedman says, "Maybe it's just something franchisors haven't spent enough time thinking through."
Incentives aplenty
"There are tax credits and Enterprise Zone benefits for franchise businesses that will locate in these areas. But they have to look carefully at the markets and the areas and see if it makes sense for their business," says Reynolds. "Business locations are market-driven, so if a business has done its homework and figures out they can sell its product and services in a given market--plus tax or Enterprise Zone benefits--then it makes a lot of sense."

In addition to his role at IFA, Friedman is president and COO of ACI Franchising, whose franchise brand, RetroTax, administers federal and state tax incentive programs for companies. Some of those tax incentives saved Wilkins about $50,000 in sales tax on his equipment at his four McDonald's restaurants.

"When you use firms like Stan's to take advantage of tax credits, there definitely are some advantages to doing business in the urban marketplace," says Wilkins. "There's always development, but in today's market, you may receive a larger equity injection if you go inside. You're the catalyst, and if you get in on the ground floor your equity shoots up because you've helped improve the area."

Adds Wilkins, "Are people in the inner cities more cash-strapped? Sure. But if I'm a franchisor, maybe this is the right time to think about making that strategic investment. Do we have the resources to weather the storm so we get that equity injection and are ready when it bounces back? Where can we go strategically on the cheap?"

At Focus Brands Carvel, Cinnabon, Moe's Southwest Grill, and Schlotzsky's), "We talk to franchisees and say 'Look at those types of things, they could affect your overall performance," says Mark Whittle, the company's vice president of real estate. "But the bottom line is if we're going to make the investment, the neighborhood has to support the store without the incentives.

We're not going to do a site just because incentives are in place."To attract minority franchisees, franchisors offer incentives of their own. In late 2007, Focus Brands initiated its Growth Through Diversity program. The program offers minority franchisees a Feb10,000 discount on the franchise fee, Feb10,000 after the store opens, and Feb10,000 more after the first year if development milestones, operational standards, and marketing expenditure requirements are met. The National Restaurant Association named the program one of six finalists in its 2008 Inspiration Award, noting that Focus was "well on its way" to its goal of 10 such projects under development by the end of 2008.Figaro's Pizza offers a 5 percent discount ($1,750) on its initial franchise fee on the first franchise purchased.
Doing well by doing good
ServiceMaster Clean, based in Memphis, has teamed up with Houston Rockets forward Shane Battier to award franchises to deserving applicants. "We were looking for a spokesperson to help us attract more women and minorities," says Messenger. "We got to know him in Memphis when he was with the Grizzlies. His values matched ours and he has a passion for helping people get started in business."

In 2007, ServiceMaster launched the Shane Battier Franchise Scholarship. Winning applicants are awarded a commercial cleaning franchise license worth Feb31,900) along with two weeks of management and technical training including travel and accommodations); a laptop computer with accounting and proprietary software; marketing materials; and "Fast Start" marketing support for the first six months.

Four scholarships were awarded in 2007, and another four in 2008, says Messenger, "in the core of the cities in the under-served markets where we hadn't had anybody in the past in those markets." Those cities included Detroit, Miami, Houston, Austin, and Cleveland. In 2008, ServiceMaster committed to award 30 in four years (26 remain).In terms of social good, says Friedman, franchising in under-served urban markets 1) will change the landscapes of central cities; 2) provide residents with access to needed goods and services; 3) create entrepreneurs in the community; and 4) create jobs for the people who live there.

"Our company was simply eager to get minorities more actively involved in franchising, it could be anywhere," says Berger. He got involved in MinorityFran because of "a feeling that minority individuals maybe weren't getting the same kind of opportunities in general, and it was just plain good business for our company, for our industry, for franchising, to give these folks an opportunity to express themselves and grow through franchising."

Help is available "If you're serious about your commitment, there are resources available through the IFA to help you plot your course and bring your brand into markets that are under-served, and reach out not only to consumers but to potential franchisees as well," says Friedman. In the past, he says, it might have been more difficult for a franchisor to make a go of it in a diverse inner city market on their own.MinorityFran, says Friedman, seeks "to create the playbook and glean the best practices" of franchisors succeeding in expanding into cities, and share that intellectual capital with those who want to try. That involves relationships with many groups nationwide, including SCORE, local banks, La Raza, the National Urban League, and what he calls "an aggressive outreach initiative" through the U.S. Conference of Mayors.MinorityFran works with these groups and individuals to present one-day educational events in different cities, about a dozen in 2008. Eight or 10 franchisors set up at each event, which attract anywhere from 50 to 150 people, depending on how well their local partners on the ground do at spreading the word. MinorityFran also sets up at the IFA's West Coast Franchise Expo, Franchise Expo South, and the IFE in Washington, D.C.

Messenger, who is also a member of MinorityFran, has participated in the series of seminars offered in America's cities for minorities and women. "We've done six to eight in the past year," he says. "Working with economic development directors in urban markets is number one," he says. "What are some of the incentives cities are offering to attract franchise retail and food into their markets?" In these times, when there are many people forced out of business, there may be increased opportunities to work with city officials charged with developing their downtown markets, he says.

At Grins2Go, Harish Babla, founder and CEO, says his home-based mobile concept avoids real estate and staffing issues, making startup quicker and more affordable to urban entrepreneurs. "They are looking to make a modest investment, because they worked hard to save up. They're looking for the greatest opportunity to build the business up, and of course make some money," he says.

"Downtown living has become more attractive," says Babla. "Our concept is family-oriented, so as long as you have families in a downtown, our concept works." But with middle-class families as the brand's ideal customer, some adjustments are needed in cities.

"The challenge is making sure you give adequate market size to the franchisee, so the pockets of low income (in our case, who might not be the right customers) are discounted to assure the franchisee has enough customers. You have to be a little bit more generous because we all want our franchisees to succeed. Instead of arguing, just hey, give them more households.

Whittle agrees that an increasing number of revitalization, condo, and retail projects make urban markets "more appealing to us than two to three years ago." However, he says, "Generally speaking, for urban development I wouldn't say we have a specific plan different from any other plan."

The calculus is different for each of the company's four brands, though he says the company's two main growth prospects--Moe's and Schlotzky's--are not suited for lower-income areas. "Where we can do it is if we have the workplace daytime population driving a very strong lunch."

Carvel, however, with its lower price point, has seen some success in areas in Northeastern cities "that are pretty challenged economically," he says. Cinnabon works in high-traffic urban areas that have a lot of people coming and going each day."I've been doing corporate real estate for restaurants for about 22 years," says Whittle. "This is definitely the most challenging economic time I can remember." However, he also says it's an opportunistic time. "You might be able to get sites you never thought you could," plus better terms on rents, leasehold improvements, and landlord concessions."We're trying to encourage franchisees with cash to make some deals. Even if they make the deal today, it will take six months to open," he says. Securing a great site and a good deal today will position them for the turnaround when it comes.
First seek to understand
Wilkins does a lot more than operate four McDonald's. He's a speaker, consultant, author (Own Your Business, Own Your Life2), and owns two other businesses. He's also a Certified Diversity Professional through Cornell University. The program, he says, broke down the business of diversity and studied all its segments--strategic planning, recruitment, retention, supplier diversity, and more--with the goal of helping businesses become more profitable through diversity and inclusion.

He says many franchisors assume you have to be a diverse individual to go into a city. You don't, he says, but you do need to learn how to reach people where they are, not where you are. "Franchisors have to become engaged. What's their outreach? People are interested in opportunities, in ownership. 'How are you going to help my business grow?' There's a law of reciprocity that Corporate America needs to understand."

In meeting with business owners, he says, many spoke of inner city economic development "as the moral and right thing to do. For me, it's not only that, but a way to make more money--and you're in business to make money," he says.

"I'm of Indian descent and grew up in Africa. I'm a minority," says Babla. "People say minorities may need a little more help in getting into business. I think that's a little bit patronizing. They just want to get into business like anyone else."

In his 25 years in franchising, says Babla, "I never looked at myself as a minority so that I needed to be treated differently. Take care of the customer and you win."
"This is better than trying to make a political or moral case--the business case is the common language, the common denominator," says Friedman.

"People in the inner city and urban markets are in need and pretty much require that we're going to be a good corporate citizens," says Wilkins. In that light, he speaks of "the new ROI": Return on Inclusion. One port of entrée he suggests is to build relationships with suppliers, who then act as "influencers" or advocates to find new, local franchisees for the brand (see sidebar).

To find an excellent resource for understanding what potential urban franchisees are looking for, use Google to search: "Is This Dream for You?

A Minority Entrepreneur's Guide to Franchise Ownership" to download a copy.
Finally, according to the ICIC study, "Retail establishments that understand their inner city market and work closely with community leaders and residents have prospered in a broad range of environments. Indeed, detailed knowledge of the market and close community involvement are common elements of all the successful inner city retail operations examined.

"Successful retailers understand the idiosyncrasies of the inner city's densely populated, demographically diverse areas and adapt accordingly. While the benefits for retail businesses are readily apparent, so too are the benefits to the inner city community of attracting retail establishments."

Cities: Is it time for you to think this through?
Supplier Diversity Yields Big Payoff
National Diversity Solutions (NDS), in Lexington, Ky., works with franchisors and large multi-unit franchisees to "help them rework the fabric of their supplier channel to reduce costs and introduce diversity," says Stan Friedman, chair of MinorityFran. "It's more efficient to your operation and saves you money." NDS founder D. McGinnit-Mitchell, he says, "enhances your commitment to supplier diversity while trimming your budget."

NDS has a case study on its website (www.ndsolutions.org/casestudies.html) showing how it streamlined the supply chain of multi-unit franchisor Thomas & King, which has 90 Applebee's and 7 Carino's Italian Grill restaurants:
"This engagement identified savings in excess of Feb3 million; Thomas 09:45 / King realized over Feb2 million more than 27 percent) in savings in the first year over Feb22,000 saved per location). Diversity suppliers participated in 93 percent of all categories and won 71 percent of the business," according the NDS case study.For a profile this magazine did of Thomas 09:45 / King last year, see www.franchiseupdate-digital.com/areadeveloper/2008iss2.
Following their Clientele
Goddard Schools head for America's cities

Opening a franchise in an under-served market doesn't mean operating in atough neighborhood. In 2007, after 19 years of building all of its 300-plus franchised units in suburban settings, The Goddard School opened its first city location, in Columbus, Ohio--but not in an impoverished area. Under-served is under-served.

"This is new for us. Our schools have traditionally been in suburban environments, pretty much ringing a city. That's been our M.O.," says Joe Schumacher, Goddard's COO." Inside the company, he says, "Common knowledge was we were a suburban school and would always be one. No one questioned that." So why the change?

"We started looking at our growth plan for the long-term future," he says. "How many Goddard schools can there be in the country, and are we necessarily suburban-bound? We concluded that we weren't."

Customer demand and shifting demographics were important factors in the decision. "We got feedback from parents and others who either lived in or commuted to metropolitan areas and wanted a quality program, but couldn't find it."

For a growing number of parents raising families today, the lure of the suburbs has given way to the culture, history, and professional opportunities found in America's cities. "From everything we've read and researched, there's definitely a trend back to the cities," says Schumacher. Part of this movement, he says, may have begun in Dallas in 1998 with the 75-acre, Feb3 billion Victory Park development of Ross Perot, Jr.

What's different for Goddard about operating in a city? "Amazingly not much, at least so far," he says. "We thought it would be tremendously different." There are, of course some obvious differences. One is parking, not a problem in the brand's typical 1.5-acre suburban campus.

Another is security. "We pride ourselves on state-of-the-art security," says Schumacher. In the suburbs, anyone coming onto the school grounds belongs there. In a city, he says, "You have a lots more people walking or driving by who have nothing to do with the school."

One surprise in Columbus, he says, was privacy. With the school on the first and second floors of a metropolitan office building, people strolling by could--and did--look inside--including what Schumacher called some "unsavory" characters. Goddard quickly remedied that by blocking the view from the street.

The physical layout is also different in city settings. "Once you go inside, it's a typical Goddard school," though not a cookie-cutter version.

In 2008, Goddard opened its second city location, in Wilmington, Del. "We've been fortunate so far in both sites to have a fenced-in outdoor play area as part of the facility, as well as a substantial indoor play area."

A few other differences--positive ones--in the city locations. Parents tend to visit more since they often work nearby. "We have an open-door policy. They can come by any time they want and stay as long as they want." And parents who commute into the city now can spend more time with their kids en route. "We seem to have a higher percentage of infants initially in our two city schools than in our urban schools."

The cost of the two city locations is "about the same range as a suburban school," he says. And hiring is no problem. "So far, we have an ample supply of qualified folks. We think there are a lot of teachers who live in cities and commute to the suburbs," he says.

"Great things are happening in lots of cities, and with the economy now we're jazzed because we think we're going to get some great deals--even in Manhattan."
Published: March 2nd, 2009
Share this Feature
Recommended Reading:
Comments:
comments powered by

Disqus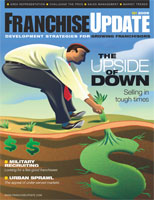 Franchise Update Magazine: Issue 1, 2009
Conferences
InterContinental, Atlanta
OCT 18-20TH, 2023
David Energy is a software-enabled retail energy provider bringing the power of visibility, savings and peace of mind to mid-market brands.
April 25 - April 28, 2023, Caesars Forum, LV. The Multi-Unit Franchising Conference is the premier annual event for the country's leading...