Cleaning Up: Dan Tarantin has Chem-Dry and N-Hance on the Fast Track
Dan Tarantin is president and CEO of Harris Research, franchisor of Chem-Dry and N-Hance Wood Renewal. Chem-Dry, founded in 1977, is a carpet and upholstery cleaning brand with more than 3,500 locations in 50 countries and provides services to nearly 10,000 homes daily. N-Hance is a cabinet and floor restoration service with more than 370 locations in the U.S. and Canada.
Tarantin was hired in late 2011 to reinvigorate and grow the brands. From 1999 to 2001, he was president and CEO of Jackson Hewitt Tax Service. During those years, the company doubled from 1,700 to 3,400 locations, customers increased more than 100 percent, revenue grew 200 percent, and EBITDA was up 600 percent. And there was more. He restructured $30 million of marketing initiatives to expand the customer base, increase brand awareness and influence, and boost client retention. The company was named the #5 overall franchise in 2000 and #3 in 2001 by Entrepreneur magazine.
Tarantin was only 31 when he was took the helm at Jackson Hewitt. It was the first franchise system he led, and it's where he fell in love with franchising. He says he had some very good mentors in the company that have remained inspirations to him ever since.
Along the way, Tarantin held other leadership positions including president and CEO of Direct General Corp., vice chair of Cendant Marketing Group, and president and CEO of Progency Marketing Innovations.
Now 47, Tarantin still brings a youthful exuberance to the job and still loves tackling challenges. Last year, Entrepreneur named Chem-Dry the top carpet cleaning franchise for the 27th consecutive year. Chem-Dry finished 2014 by adding more than 100 franchises in the U.S. and Canada and expanding its global network to 45 countries, and the company is maintaining that torrid pace in 2015: to date it has increased its global footprint to 50 countries and is on track for another year of strong growth.
Name: Dan Tarantin
Title: President and CEO
Company: Harris Research, Inc.
Brands: Chem-Dry: 3,500 locations worldwide (2,083 in the U.S. and Canada); N-Hance: 379 units in the U.S. and Canada.
Age: 47
Family: I'm originally from New Jersey and now live in Nashville with my family.
Leadership
What is your role as CEO?
I see one of my primary roles as being a recruiter. My top priorities are to bring on great new franchisees and then create a culture dedicated to serving franchisees. The single biggest impact I can have as CEO is to ensure that every employee in our company fully understands and embraces our mission of supporting franchisees and helping them to succeed. Once you're confident that you have the right people on board to execute the right culture, your focus shifts to team-building, which has a huge impact on a franchise system as well.
Describe your leadership style.
I operate with a servant leadership style. It is my job to surround myself with capable, committed people and give them the leeway to do their jobs, while also providing guidance when needed or desired to help them do their jobs. I have a few "pet areas" where I tend to get more involved than others, such as our annual convention and our franchise advisory council. Overall, I like to make myself available to help when needed, but I prefer to give people enough room and watch them succeed at what they do best.
What has inspired your leadership style?
My biggest mentor is former Burger King CEO John Chidsey. When working on his team I respected his leadership style and ability to inspire others. But when it gets down to it, I'm inspired simply by treating others the way I want to be treated and seeing them be successful. I like helping others just as I like and appreciate when people help me with my job.
What is your biggest leadership challenge?
Finding good people. Not only do you have to find people who are smart, successful, intelligent, and accessible, you also have to find people who are genuinely passionate about what they do and who are passionate about their customer. They also have to understand who the customer is. In our case, the customer is our franchisee. We need people with empathy because we're dealing with peoples' livelihoods, dreams, and families--we're not just selling them something. That's why I speak with each potential new HRI employee. No one gets hired until I speak with them and ensure they understand and are passionate about our mission to support franchisees to succeed. I grew up in a family with a small business, so I understand what it's like to be on the other side. But not everyone has that experience. It's my job to help them see things from the franchisee's perspective and help them understand how everything they do affects our owners' businesses.
How do you transmit your culture from your office to front-line employees?
I think culture starts with the mission that you establish for the business and communicate to your organization. Our company mission statement is: We are committed to the entrepreneurial success of our franchisees as well as industry leadership by providing innovative products and processes and unparalleled service, while enriching the lives of all of our customers and associates. I think that puts in very clear terms where our focus is every day. At the start of every employee meeting, we read our company's mission statement together out loud, and we also have a franchisee call in and share with us their story, concerns, questions, and feedback. It's a way for all of our employees to get to know these franchisees and interact with them, because they always come first. It is also important to make sure everyone knows exactly what impact they have or can have on peoples' lives.
Where is the best place to prepare for leadership: an MBA school or OTJ?
For leadership, I would definitely say on-the-job experience. There is no replacing real-life interaction. In real life, you see and meet people from all different backgrounds. You tend to see more diversity when you immerse yourself in the field than at a business school. Plus, franchising is a unique business model, something you really can't learn all about in a classroom.
Are tough decisions best taken by one person? How do you make tough decisions?
The process of making a complicated decision includes multiple people. I will ultimately make the final call, but it's important to get input and opinions from others as part of the process. It's a waste of money to put together a team of smart people and not ask for and incorporate their input. I like and appreciate hearing from others because it helps identify every possible scenario. It's better to make a wrong decision with all scenarios laid out in advance than to be blindsided by one you didn't even consider.
Do you want to be liked or respected?
It has to be both.
Advice to CEO wannabes:
The biggest piece of advice I can give, and the biggest key to success, is listening. Listening is the best way to learn, and it's important to listen to both employees and customers.
Management
Describe your management style:
I like to have a balanced split between managing groups and individuals. Some issues you address as a group, while others need to be dealt with one-on-one, and you have to know the difference. Generally, I do not micromanage, but I do like to get closer to and be more involved in certain individual projects.
What does your management team look like?
It is a very diverse team filled with people who have specific skills that I don't. Having a diverse team opens the door to different opinions and ideas. I also feel that diversity needs to happen naturally. You can't force diversity.
How does your management team help you lead?
They believe in the same principles that I believe in and play a key role in carrying out our culture. I have a great team that I love to support and get behind. The people on our team are never afraid to speak up, ask questions, challenge a thought, or instigate a conversation. They also work extremely well with our franchisees and model the kind of behavior we expect from everyone in our company.
Favorite management gurus: Do you read management books?
I'm not into following gurus or manifesting their philosophies and approaches in a company. I believe you have to know what's best for your individual company and team. However, I do read case studies based on real situations and the challenges companies have faced and how they handled them. I find that more meaningful and more beneficial than guru books.
What makes you say, "Yes, now that's why I do what I do!"?
I love when people get promoted or earn the ability to get promoted. I also love seeing franchisees do great things that in turn allow them to do great things for their families and for their staff.
Personal
What time do you like to be at your desk?
I am much more of a night person so I normally get to my desk at about the same time as everyone else, around 8 a.m. But I typically stay later than everyone else.
Exercise in the morning?
I'm more of a night owl, so I exercise at night.
Wine with lunch?
The days of "Madmen" are gone, so only when I'm on vacation.
Do you socialize with your team after work/outside the office?
Yes, but I don't foster a culture where that is mandatory. I respect people's wishes when they want to spend time with their families. I think that's really important. That being said, we do have fun, team-building social events. Most recently we enjoyed a baseball game and have a date this summer to go to an amusement and water park.
Last two books read:
The Big Short and Flash Boys, both by Michael Lewis.
What technology do you take on the road?
Believe it or not, I still own a BlackBerry. In fact, I just upgraded to a new one. I just love the keyboard. I also bring a laptop.
How do you relax/balance life and work?
I spend a lot of time working and traveling, so when I do spend time with the family, I make the most of it by being 100 percent focused on them. It's truly quality time.
Favorite vacation destination:
I will go anywhere that has a beach, any time of the year.
Favorite occasions to send employees notes:
I really like sharing the news of people getting promoted, and I like passing along the message that our employees can leave early before a holiday to spend a little more time with their families and friends. I also enjoy sharing any positive feedback from franchisees about one of our employees so they can see and feel how their work is making an impact.
Favorite company product/service:
I like Southwest and how they love their customers. They also follow one of my favorite principles: make it easy to do busy with me. They make it easy (or at least easier than the other airlines) to do everything from checking bags to making changes to flights you've already booked to booking rewards travel. And they bring their personality and have fun taking care of their customers.
Bottom Line
What are your long-term goals for the company?
To continue to help franchisees grow their businesses and expand in their markets, along with building brand recognition and value.
How has the economy changed your goals for your company?
The economy does not change our goals. It may change our approach and how we get there, but we are never going to change our goal of helping franchisees grow and be successful.
Where can capital be found these days?
Capital can be found anywhere if you have a great business concept with a great team of people.
How do you measure success?
If people are reaching their goals and are happy, that is success to me. Helping people realize their dreams is a tremendous feeling.
What has been your greatest success?
It really isn't about my success, it's about the people we help and the people we work with. If those people are happy and successful, that is my greatest success.
Any regrets?
The only things I regret are the few times where I didn't listen to my instincts. My instincts are pretty good.
What can we expect from your company in the next 12 to 18 months?
Even better support for our franchisees with the next set of initiatives and tools that we can give them. We will also be further solidifying our brands into the hearts of our customers and creating an even stronger emotional connection.
Published: January 13th, 2016
Share this Feature
Recommended Reading:
Comments:
comments powered by

Disqus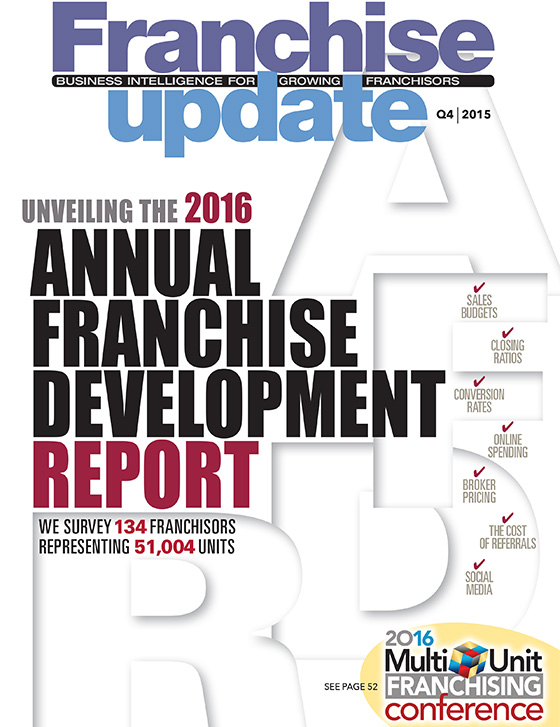 Franchise Update Magazine: Issue 4, 2015
ApplePie Capital provides a fresh new approach to franchise financing that is focused on your growth and success.
MSA provides domestic and international franchise advisory services to franchisors and companies seeking to establish franchise and licensing systems.