Closing More Deals in Tough Times
How sales pros trump the competition

Once a salesman complained, "What an idiot! I can't believe my prospect went with our competition." In quizzing him about the lost candidate, the troubled rep was clueless about the buyer's motivations, concerns, and goals in owning a business. My question is, "Was it the buyer or the sales rep who was the idiot?"

In today's uncertain economy, sales pros gain the edge by moving into their prospect's world. They probe, read, adapt, and outsell their competition by fully understanding and responding to how their candidates think and behave. Here are selling insights that may help increase your recruiting success.

Buyers expect responsiveness. Today franchise follow-up is undergoing a service crisis. According to Franchise Update's surveys, late or no callbacks to email requests are the norm rather than the exception; inquiring prospects often receive material two to three weeks later; and enthusiastic respondents are thrown into voicemail 58 percent of the time. You'll lose the race if you aren't responsive. Be first to their door and you'll win!

Buyers are seeking a relationship. Franchising is people-driven, not product-driven. Buyers smell product-pushers 10 miles away, which is why many salespeople fail at selling franchises. You can outperform competitors by focusing on a prospect's families, aspirations, and the health and wealth of their futures. By gaining their credibility, confidence, and trust, you're in the driver's seat.

Buyers don't know how to buy a franchise. Most of your prospects haven't purchased a franchise before, so how would they know how to go about it? You're the expert, not them. It's your role to take firm control of the investigation through leadership. If you don't, they will! If you fail to define the steps and timeline of your buying process early on, they'll create their own.

Buyers are highly impressionable and fragile. Every word you utter to a prospect is recorded in their memory bank. What you say and do will greatly influence their investigation. Minor errors have major impact, i.e., when your investment costs don't match your brochure estimates; when you take two days to return their phone call; when you misspell their name on your follow-up correspondence; when you ask the same question twice; or when you are 11 minutes late picking them up at the airport.

Buyers want ownership information. "How will your franchise help me achieve my business and personal goals? What are the benefits of your industry? What are the unique advantages of your franchise system? How will you train me? Can my family be involved?" Prospects don't contact you to find out more about the custom, curved counters in your stores, special white sauce on your noodle dishes, or torque ratios of your service equipment. They are interested in ownership opportunities, benefits, and lifestyle rewards your franchise offers.

Buyers share what they think if you ask. Often sales reps feel they are intruding by asking too many questions about their candidate and "where they are coming from." This is a mistake. Prospects want you to show interest in them. Ask questions about how they feel, their family's level of support, what else they are looking at and why, what their business strengths and shortcomings are, and what they want the business to do for them. These telling answers provide powerful direction on how to respond to their needs and interests.

Buyers process information in stages. Avoid overdosing individuals with too much information too quickly, or you'll prompt prospects to prematurely eliminate your opportunity. Or worse yet, you can overly excite a candidate at the outset with nothing left for an encore. So keep prospects engaged by wanting more, deflecting questions for additional information that you'll cover later in the process. "Joe, when we receive your qualifying application, then we can discuss financials from our disclosure documents."

Buyers' actions reveal their intentions. It's not what prospects say, it's what they do! When a candidate breaks an appointment without explanation or stops returning calls, it means he isn't interested any longer. Yet some franchise reps continue to chase these individuals. Don't waste valuable time with these deadbeats. Move 'em up, or move 'em out.

Understanding prospect behavior, apprehensions, needs, expectations, dreams, and personality styles can catapult selling success to the next level—empowering you with extraordinary insights that can benefit you and your buyers, and beat out your competition.
Published: October 27th, 2008
Share this Feature
Recommended Reading:
Comments:
comments powered by

Disqus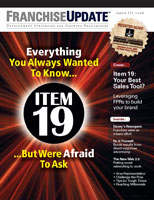 Franchise Update Magazine: Issue 3, 2008
In 2022 Empower Brands emerged when Lynx Franchising and Outdoor Living Brands united. Empower consists of JAN-PRO, Intelligent Office, FRSTeam,...
From lead generation to increasing sales, Hot Dish Advertising is the pro at getting your message in front of those who matter most--consumers...