CMO Q&A: Paul Macaluso, Moe's Southwest Grill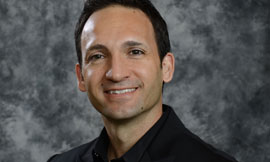 Paul Macaluso carries a unique distinction at Moe's Southwest Grill: he's the brand's first chief marketing officer. He hit the ground running in a role that began earlier this year, and his restaurant experience and insights into consumer thinking have helped him ramp up marketing efforts at the brand.
Macaluso is no stranger to Moe's. After serving as vice president of marketing for 18 months at the fast-casual chain, he was named CMO in January 2013. In the newly created role, he is charged with overseeing the brand's marketing and public relations functions, as well as catering and creative services. He says ongoing technology advances and rapid brand growth have posed marketing challenges that he has fully embraced.
Before joining Moe's, Macaluso spent more than two decades in restaurant marketing. At Taco Bell, he was involved with HR, operations, and numerous marketing positions. At Burger King, he served as director of product marketing. And at Sonic Drive-In he was vice president of day part and product marketing.
Describe your role as CMO.
I am responsible for leading the department and overseeing the strategy for driving profitable same-store sales growth for our 500-plus restaurants.
What's the most challenging part of being a CMO today?
The rapid change and continual advancements in technology are a challenge in terms of staying abreast of options and determining the right time to commit to a new program. At Moe's, some additional challenges I face are staffing and developing the marketing team to support such a rapidly growing brand. Also, it is a challenge to steward such growth and remain collaborative with our expanding franchise partner community.
What are the 3 most important keys to being an effective CMO leader today?
The first is to establish clear, powerful, and differentiated brand positioning and ensure there is alignment behind it throughout the internal organization and franchise community. The second is to develop a culture within the marketing team where talented and driven professionals work well together and challenge each other to grow. The third key is to stay focused on only two to three important goals to drive your growth.
How do you prepare a marketing plan and execute the strategies?
Our planning process is fairly straightforward. It begins with the standard SWOT analysis and an honest and transparent review of the current year's initiatives. We had the opportunity to go through a sharpening of our brand positioning about 18 months ago, so a brief review of that information was helpful. This year we also conducted a customer segmentation analysis, which gave us more focus and quantifiable goals than before. At Moe's, the most notable part of our planning process is that we finalize everything at a two-day retreat that includes several members of our franchise community who serve on a marketing committee. That group, along with several members of the marketing department and other cross-functional department heads, completes the marketing plan. It's an extremely collaborative process, and one that has led to much better alignment and execution throughout the year. With regard to executing our strategies, the entire company recently transitioned to the 4DX model of execution, which I highly recommend. It is based on establishing a few, clear, important goals, identifying and acting on lead measures, creating a scoreboard to track progress, and finally, establishing a regular cadence of accountability.
How do you measure marketing results and effectiveness?
Again, our number-one objective is driving same-store sales growth. So we have a weekly check-in on our performance and also include regular industry benchmarking. We also dig deeper into the components of that growth, and review it related to the specific marketing tactics of the promotional period. For example, if we are merchandising one of our premium ingredients, like our all-natural steak, we will monitor for increases in average check and mix shifts from chicken to steak. Another measure of effectiveness is our quarterly brand tracker, measuring all the fundamental customer awareness and perception indicators. We also track our database growth, both in terms of social media and internal lists, like our email and mobile ordering databases.
Discuss your core consumer marketing strategies and objectives.
Our core strategies revolve around three keys areas: 1) highlighting the quality of our core ingredients, which is known as our "food mission"; 2) introducing "craveable" new products that showcase phenomenal flavors on our menu; and 3) creating "shareable experiences" for our guests, both in terms of visits to our restaurants and through their digital experiences. Our objectives are very straightforward, and consist of growing same-store sales.
Describe your marketing team and the role each plays.
The marketing department is currently organized into four main areas: brand, field, creative services, and catering. The brand team oversees the development and execution of the brand strategies, promotional calendar, and all of the programs. It also oversees all media (including social), internal and external communication, and PR. The field marketing team is responsible for working with the co-ops of our franchise partners to develop and execute local media and promotional programs in conjunction with the national marketing and promotional plan. Our creative services group is full-service, including all TV, digital, radio, OOH, and local store marketing creative development. Finally, our catering group is responsible for developing programming and initiatives for growing our catering business, including standardization, training, and marketing.
How do you work with other internal departments, and does technology help?
The marketing department works with every other internal department at Moe's. We are still a fairly lean organization, so we get a lot of face-to-face time together. For the 25 percent of our team that is field-based, we have relied more on webinars and videoconferencing to stay connected.
How do you manage costs and budgets?
We establish our marketing budget in September for the next calendar year. This process involves establishing line-by-line budgets for each of the initiatives and programs to support the promotional calendar. The budget is reviewed and reconciled on a monthly basis and adjusted for variations in revenue. We also keep a portion of the budget in a contingency bucket to capitalize on unforeseen opportunities or address unplanned issues.
Do you see vendors as business partners? Why/why not?
Absolutely. We have to. We need vendor partners who understand our current scale, and that also see our industry-leading growth trajectory. That way, when we grow, they grow. It took us 13 years to get to 500 restaurants. We are on track to get to 1,000 in only 4 more. That's attractive for a lot of the vendor partners we do business with.
How have marketing strategies and tools changed over the past decade?
How have you adapted? Social and digital media are the two biggest areas of change we have used and benefited from. Because Moe's is only 13 years old, we have just recently grown our national budget to a place where we can scale traditional national media. Everything we have done to this point has been through PR and social media. We've been scrappy, and thankfully the positioning of the brand has been a nice fit with social media. We are now dipping our toes in the water with national cable advertising, but the most effective campaigns are those that will continue to leverage all facets of the media mix and are inherently sharable and organic.
How is your marketing/branding strategy developed, and how does it flow through the system?
Our brand strategy is developed collaboratively with several members of Moe's executive leadership team and franchise advisory council. We used an outside facilitator to help us shepherd this process. Once the strategy is developed, we follow a thorough communication plan to both the internal organization and the franchise partner system. Some of the most effective communication channels have been regional roadshows and a restaurant-level education video.
Published: December 18th, 2013
Share this Feature
Recommended Reading:
Comments:
comments powered by

Disqus
Find the support you need to find success with your small to mid-sized business. Explore the PEO services offered by Integrity Employee Leasing.
From lead generation to increasing sales, Hot Dish Advertising is the pro at getting your message in front of those who matter most--consumers...