Chief Smoothie Marketer: Rob Collins is Passionate about Innovation
Rob Collins is one of the new kids in town. The marketing veteran was part of Tropical Smoothie Cafe's five-member executive team hire this past October. As the new CMO at the fast casual brand known for its "better-for-you" food and smoothies, he promises to push hard on the brand's marketing efforts to get results and help the brand continue its recent growth surge.
The 20-year-old brand, which has grown to more than 600 locations in 42 states, has reported comp sales exceeding 26 percent over the past three years--and has signed 140 new franchise development agreements and opened more than 50 new locations so far in 2017.
Collins' background and experience should serve him well in this environment. Over the past 25 years, he has a proven record of developing and executing successful integrated branding and marketing campaigns. He's held numerous high-level marketing positions with companies including Paramount Parks, Nickelodeon, Universal Studios, Turner Entertainment Networks, and most recently, CMO for Carmike Cinemas.
As CMO at Tropical Smoothie Cafe, he is charged with overseeing the planning, development and implementation of the company's marketing strategies including branding, advertising, media, product development, insights and analytics, and customer engagement.
Like other CMOs, Collins is exploring new technologies and identifying ways to maximize those resources. "We recently unveiled an updated mobile app, which enhanced Tropical Smoothie's digital cafe experience by prioritizing convenience and placing control of on-demand ordering, entertainment, and payment at the guests' fingertips," he says. And, he adds, the brand just launched a newly designed website this fall that will further optimize the digital experience and provide simplified access to its online ordering platform.
Describe your role as CMO.
I lead the marketing department at Tropical Smoothie Cafe and oversee strategy to further develop the brand, increase guest engagement and acquisition, and drive consistent financial results for our 600-plus restaurants across the country.
What's the most challenging part of being a CMO today?
Differentiating our product offering to consistently attract customers in a competitive and growing marketplace. We're tasked with keeping up with consumer preferences so we can incorporate those into our product innovation and marketing efforts, which can be challenging given the constant evolution of industry trends.
What are the 3 most important keys to being an effective CMO leader today?
Flexibility, creativity, and strategic thinking. In our field, it's inevitable for things to not always go as planned. So as a CMO, being flexible and willing to adapt to unpredicted changes is crucial. Creativity will always be the backbone of effective leadership and marketing, particularly for us at Tropical Smoothie Cafe because the fast casual segment has become increasingly crowded over the past several years. For us to stand out, our ideas must be creative and out of the box. Last, the ability to think strategically is essential for success, and it's important to communicate to your teams the importance of forward thinking.
How do you prepare a marketing plan and execute the strategies?
For me it starts with a solid foundation. Before we start building out ideas and concepts, we first identify objectives and do extensive research on our customers' needs and desires so we are best positioned to meet them. When it's time to execute, I ensure that my team is thoroughly prepared and clear on goals and expectations.
How do you measure marketing results and effectiveness?
Of course we measure our sales and transaction results, but the great thing about marketing today is that we are able to measure our marketing initiatives in our 1:1 communication. That helps us to optimize our programs on the fly so that we continually get better at targeting our customers.
Discuss your core consumer marketing strategies and objectives.
For me, it's about making sure we have enough awareness about our better-for-you food and smoothie offerings to consumers who may not have considered us before. We generally find that when people try our products, they like us. As we begin that relationship with customers, we get to know them better and are able to deliver messaging and promotional offers that match their needs.
How do you go about creating a "customer-centric" marketing and brand philosophy?
We really understand the importance of being customer-centric. We pride ourselves on not only offering superb products and service, but also an overall experience that puts our customer at the core of our business. We do this by exemplifying our mission and values through our own practice, meeting our customer's demands by understanding their behaviors and interests, and fostering a community-like feel that deepens their connection to the brand.
Describe your marketing team and the role each of them plays.
Our marketing team is organized in several key areas. The integrated marketing team oversees brand, advertising, media, public relations, digital media, 1:1 communication, and creative development. They work to deliver the right message, at the right time, to a targeted customer on the right device. Our field marketing team provides support to our franchisees and local co-ops and takes the lead on local store marketing initiatives. Our research and analytics team provides us with business intelligence to how our marketing performance is affecting sales and transactions on a store level. The digital technology team is constantly developing ways to connect with our consumers through technology and doing all we can learn from their behavior. The product development and innovation team is continually looking at our product offerings and consumer trends and desires to make sure that we have menus and limited time offerings that meet the needs of our guests.
Why is it so important for the marketing department to have a "personal touch" when it comes to helping the brand connect with franchise prospects?
We aren't looking for just anyone to join our franchise network. It's important for us to work with candidates who share our guest-centric values and commitment to making better-for-you options affordable and accessible. Therefore, it's essential for us to connect with potential franchisees on a personal level to make sure that the relationship makes sense for both them and us.
How does this help your franchise sales and development effort?
I think it demonstrates to prospective franchisees that we are an organization that really cares about them and their success. We always have the filter to make sure that what we're doing is good for the franchisee's business. And knowing that, we want to bring on board the right type of franchisee: someone who truly believes in our brand and genuinely wants to be a part of our ongoing growth and success. As a result, we have had several existing franchisees expand within their territories, with around half of the development agreements signed this year coming from franchisees adding new locations to their portfolios.
What ways/tools do you rely on to do this?
We rely on multiple franchisee recruitment tools that help us connect with the right candidates, including external PR and digital marketing resources that communicate our success and brand differentiators to prospects. We also use analytics to identify the best markets for our brand to target for expansion, and seek out potential franchisees and multi-unit operators who may be looking to diversify their portfolios in those areas.
Do today's prospects expect more from the franchise marketing department? What, and how do you provide it?
Yes, as marketing gets more sophisticated and targeted, franchisees expect us to be able to help them reach their target markets in their trade area. Over the past several years, Tropical Smoothie Cafe has become one of the strongest franchise opportunities in the fast casual segment and, as a result, franchise prospects come to us expecting top-notch marketing strategies. Our proven business model has continually helped our franchise network achieve success in their respective markets, and marketing is an integral component of that. We work hard to ensure we are always available for every franchisee and help them develop personalized marketing plans that fit the unique needs of their individual territories.
How is today's consumer and marketing data helping you fine-tune your marketing initiatives?
Consumers are very vocal about what they want. We take it upon ourselves to listen to their feedback and use it to develop initiatives that we know will resonate with them. By analyzing their dining habits, spending behavior, and what they're attracted to, we're able to market to them in a way that's appealing and authentic.
Describe the evolving role of social media in your brand's marketing efforts.
We've been integrating social media with our marketing efforts more and more over the last several years, and there is a lot more to come. While our social presence has expanded across new platforms, the key for us is to develop content that speaks directly to our customer, encourages engagement, and, most of all, is authentic to the brand. It's been an effective tool for us. As a result, we're investing in paid resources to amplify our efforts, such as boosted posts and targeted ad campaigns.
How do you work with other internal departments, and does technology help?
We have a lot of cross-departmental collaboration and we use internal intranet platforms, webinars, shared cloud documents, and brand-wide newsletters to stay connected.
How do you manage costs and budgets for the marketing department?
We budget based on our national ad fund royalty projections and build a plan to meet our strategic objectives from that. We constantly monitor the performance of our marketing programs and reallocate funds to continue to maximize our investment.
Do you see vendors as business partners? Why/why not?
Yes, absolutely. Vendors are an essential part of our business and we really see them as an extension of the team. They help us achieve the goals we set for the brand and are as much a part of our success as we are.
How have marketing strategies/tools changed over the past decade? How have you adapted?
Technology has had the greatest impact on our marketing strategies. With consumers' increasing dependency on it, we've really had no choice but to adapt. And we've done so happily because it's given us the opportunity to connect directly with our customers. We recently unveiled an updated mobile app, which enhanced our digital cafe experience by prioritizing convenience and placing control of on-demand ordering, entertainment, and payment at the guests' fingertips. We're also launching a newly designed website that will further optimize the digital experience and provide simplified access to the online ordering platform.
How is your marketing/branding strategy developed, and how does it flow through the system?
We have a company-wide strategic planning process--obviously marketing is a huge part of that--and through that process, it gives all departments the focus needed to reach our long-term objectives.
What advice would you offer to aspiring CMO executives?
Surround yourself with smart people... and then listen. Be passionate about innovation. Never settle for the status quo. Listen to your customer. Be a voracious reader and embrace new trends and concepts.
Published: January 27th, 2018
Share this Feature
Recommended Reading:
Comments:
comments powered by

Disqus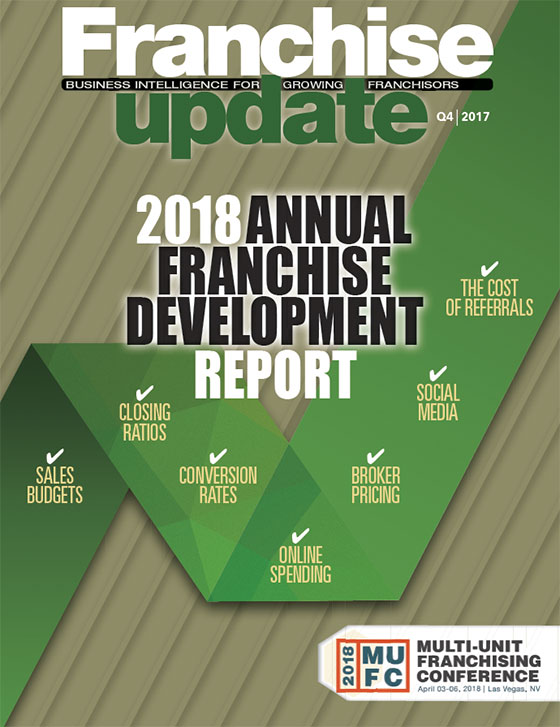 Franchise Update Magazine: Issue 4, 2017
Clayton Kendall provides franchise communities nationwide with comprehensive branded merchandise programs leading to greater brand exposure,...
Leasecake is location management made easy – from lease contracts and licensing agreements to ASC 842 compliance. Never miss a deadline, stay ahead...