Coffee with a Kick: 30 years of building a following
Chris Ruszkowski describes himself as the "Bad Ass storyteller." That's because, he says, "Not only do I get to promote some of the best-tasting coffee in the world, I also get to promote products that come from one of the most fantastic places in the world: Hawaii."
To be clear, he's senior vice president of marketing for Bad Ass Coffee of Hawaii, a growing coffee brand known for its premium sourcing, roasting, and high-quality blends. In his role, Ruszkowski oversees the brand's marketing communications, vision, and advertising planning, including social media and local store marketing for every Bad Ass Coffee franchisee. With more than two decades of experience with brands including Quiznos, McDonald's, Breckenridge Brewing, and Einstein Bros., he's no stranger to marketing.
Bad Ass Coffee of Hawaii has been brewing great coffee and growing a cult following for more than 30 years. "People remember us from vacations spent in Hawaii, Florida, and Virginia Beach, to name a few," says Ruszkowski, who's headed up marketing for the brand since early 2020. "Our name is very recognizable and disruptive. As a marketer, you couldn't ask for more."
Ruszkowski says he approaches his job with a data-first mentality. "We get excited when we hear data. Data equals insights," he says. "We rolled out a new POS in 2021, and the data from that and our loyalty platform allows us to understand what is going on with menu mix, pricing, and merchandise sales trends—all from dashboards at our fingertips."
He's introduced strategies that have resulted in aggressive sales growth and double-digit jumps in annual average unit volume sales over the past 2 years. The brand now has more than 20 franchise locations, with another 70 shops in various stages of development.
"We're entering an era of rapid growth, and are looking to double our nationwide store count by 2023," says Ruszkowski. That's pretty Bad Ass.
Describe your role as SVP of marketing: I have one of the best jobs in the world. Bad Ass Coffee of Hawaii has been growing a cult of brand loyalists for more than 30 years, and that plays nicely into our growth strategy. Not only is the name attention-grabbing, it comes from a place of legends. Bad Ass Coffee of Hawaii pays tribute to the hardworking donkeys that carried the coffee down the steep volcanic mountainsides. I lead a team that oversees brand voice and marketing strategy. Our goal is simple: Grow awareness and sales growth for our family of stores, while supporting our franchisees. This ranges from grand openings to brand loyalty, social, product promotion, design, and more.
What's the most challenging part of being the head of marketing today? The challenges today are the same as when I started on the advertising agency side at McCann Erickson decades ago: Define and defend your market position, and find the best ways to reach your audience. This leads to keeping up with the mediums (technology) that will most effectively reach our customers. Understanding who your customers are is only part of the equation. Knowing how and when to reach them is the key to success.
How has Covid-19 affected the way you've led your brand's marketing efforts? We have learned to appreciate flexibility. In early 2020, we identified a need to improve our loyalty and mobile ordering offerings for our franchise base and customers. We also started menu innovation that streamlined SKUs and supported items that deliver great experiences and can travel well. By focusing on these two elements, we were able to provide our franchisees with the competitive tools that customers are looking for, especially as Covid-19 changed ordering habits and expectations.
What are the 3 most important keys to being an effective marketing leader today? 1) Customer. Understand your customer and how they compare to and differ from those of your closest competitors. Learn how to lean into the offerings and positioning that differentiate you from the competition. 2) Competition. Understand the competitive landscape and find ways that your team can experience and see what is going on out there beyond a digital screen. While understanding the competitive landscape, never ignore gaining insights into indirect competition. 3) Marketing Technology. ABL: Always Be Learning. Marketing technology moves fast. It continues to be important to understand where it's going as it relates to your customers' expectations, and to determine what's best for our franchise owners.
How do you prepare a marketing plan and execute the strategies? As we set our goals related to marketing plans, I like to start from the inside out. Success starts at the store location and works outward. We begin with the four-walls, in-store experience and move into the store's four surrounding blocks. Then we reach out within approximately 4 miles of the stores—the Bad Ass 4x4x4 LSM approach. In basic terms, local store marketing is at the center of all our efforts to build sales. Today's version of local store marketing starts with digital—a focus on smartphones and being found at the right times, by the right people. This can evolve into many tactics that build on our strategy. We place importance on proximity marketing, search, and extending into geo-based digital buys. Within the store, we will rely on our staff to aid in the growth of loyalty numbers and to support limited-time seasonal product messages throughout the year.
How do you measure marketing results and effectiveness? We obviously start with tracking store sales. Then we look at sales during times of promotion and advertising. We also put a strong focus on growing our loyalty database, so the percentage of loyalty guests per store is something we'll closely watch. Last, we're encouraged to track and see growth associated with our online ordering at the store level.
How do you go about creating a customer-centric marketing and brand philosophy? It's important to understand our customers and the insights around how they're using and interacting with Bad Ass Coffee of Hawaii. In the coffee category, we know that our premium Hawaiian coffee is a big reason they fall in love with our brand. However, we recognize that customers are busy, pressed for time, and seek out efficient and consistent buying experiences. Therefore, we made a commitment to building our loyalty and online ordering program, which puts the customers at the center of decision-making. Last, we understand that customer psychographics, demographics, and behaviors are different across our locations, which are open from as far west as Hawaii and east to Florida. We'll look to understand our stores' customers at the local level and look for common threads that we can use for insights.
Describe your marketing team and the role each plays. We have a team dedicated to the franchise stores' success. They focus on grand openings, store promotions, product launches, and local store market advertising, including digital and proximity marketing. We also have a customer service lead that helps with questions that come in from social platforms. Last, we have team members dedicated to growing our retail merchandise items, such as Bad Ass Coffee of Hawaii shirts, drinkware, and more.
Why is it so important for the marketing department to have a personal touch when it comes to helping the brand connect with franchise prospects? The marketing department plays a key role in the storytelling of the brand. There are direct connections to understanding our customers and how to communicate our brand positioning to them. As franchise owners open stores, they become the voice of the brand in their communities, and the marketing team helps to get them comfortable with our story and how they can make a local impact. Beyond understanding and feeling passionate about our brand story, we want prospects to truly understand what we do for them, and what they need to do for themselves to be successful. All this can be achieved when the marketing department has one-on-one conversations with prospects.
How does this help your franchise sales and development effort? From the development side, our prospective franchisees know that we're looking for people who embrace our brand story and core values. During the discovery phase of the sales process, they're able to evaluate their ability to connect to our brand. Finding the right candidate matters. We're selective in the process and we want our prospects to be, too.
What ways/tools do you rely on to do this? Our high-touch, individualized approach gives us an opportunity to interact with and get to know our candidates. Beyond that, we're able to tout our multi-layered marketing programs. Of course, a key element to that is local marketing, so we spend extra time ensuring they understand how our team will provide a marketing road map that will ultimately help contribute to their success.
Do today's prospects expect more from the franchise marketing department? What, and how do you provide it? Not necessarily more, but they rely on the marketing department for ongoing guidance, especially around marketing technologies. As mentioned earlier, our markets differ across the country, and we rely on our stores to understand the market opportunities that may work best. Then it is our job to partner with them to provide solutions.
Describe the evolving role of social media in your brand's marketing efforts. Humans are interactive. Social media has opened new doors for brand engagements, and we value that. Social media allows direct lines to customer insights and allows for responsive messaging. It's an always-on medium and we understand its role and how important it can be, especially in responding to guests. We have a tool that allows our marketing team and franchise owners to see a central dashboard of reviews. We can then reply to and engage with those on a timely basis, all contributing to our strong customer relations and guest loyalty.
How do you work with other internal departments, and does technology help? Marketing plays a key role in the overall strategic direction of the brand, which makes working with other internal departments essential. We are an <ohana> (family) and need to stay connected. Therefore, we do rely heavily on technology and in-person interaction to communicate and align on strategy.
Do you see vendors as business partners? Why/why not? Partners. As mentioned, technology moves fast. We can't keep up with the trends alone and expect our business partners to bring us insights specific to their areas of concentration. I like taking calculated risks, but I want to be sure I'm partnering with companies that have my back and base their recommendations on insights they have proven or invested research in, to better understand the place in the market.
What advice would you offer to aspiring marketing executives? Take advantage of getting diverse marketing experiences early in your career. I started my marketing career working at advertising agencies. That allowed me to get experience working in various categories, ranging from pharmaceuticals and technology to financial and packaged goods, and even tourism. On the agency side, I also got experience with brands like McDonald's, Einstein Bros., and Breckenridge Brewing. It was my experiences working with restaurant clients that made me realize that I loved the restaurant category. In short, get experiences that will lead you to a career that gives you flexibility and experience in an area that you love.
Published: January 30th, 2023
Share this Feature
Recommended Reading:
Comments:
comments powered by

Disqus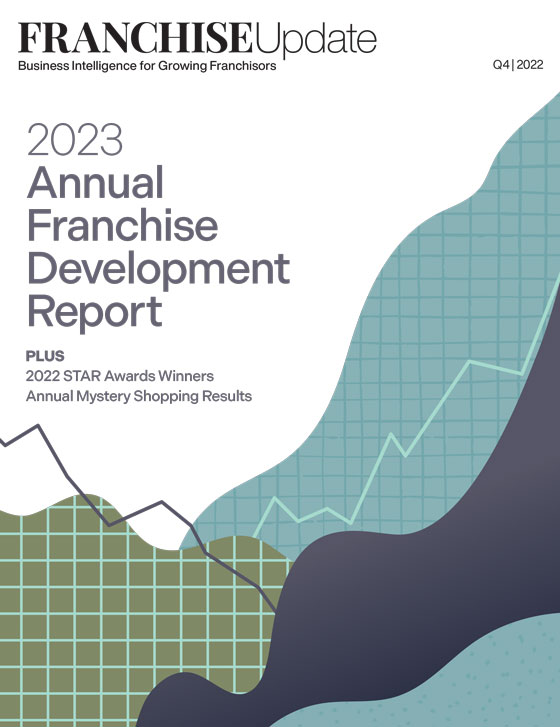 Franchise Update Magazine: Issue 4, 2022
From lead generation to increasing sales, Hot Dish Advertising is the pro at getting your message in front of those who matter most--consumers...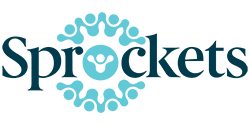 Sprockets is an AI-powered platform that helps franchisees maintain healthy staffing levels and improve employee retention. Our sophisticated...